Unlike before today accessories have greatly acquired fashion status. They are no more limited to functional use only but at the same time are fashionable also. One such accessory is leather gloves. Except saving hands from cold, dirt etc. they also give stylish look on wearing. They have earned status of most classic fashion accessory and are favorites of all.
Leather gloves are in existence since long time before. And with time they keep rising in many respects like colors, styles and designs and today have taken a modern twist. Earlier women used to wear them on regular basis. At any time of the day women used to wear but today they are kept aside for special occasions. Leather gloves are highly admired and have acquired top position in the fashion world. In prom, weddings, cocktail party etc. everywhere women are seen flaunting style in them. Outfit also gets great boost wearing long leather gloves. They not only enhance persons personality but also raise look of attire.
Though gloves are available in variety of fabrics like satin, taffeta etc. but leather is most preferred amongst all. The reason is its softness, durability, functionality, fashionable and protective qualities. It is very soft and imparts same softness to hands also. Leather fabric is classic enough that it is impossible to reject it. Also leather gloves show versatility with shapes, styles and designs. In addition they are also greatly admired for their lastingness and excellent style, comfort and high quality.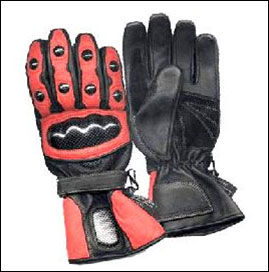 Be it any occasion leather gloves bestow effortless beauty. Just pull them off, wear and all you are all set to rock. Prom, cocktail party, wedding, ball, formal occasion, informal occasion etc. whatever the occasion is leather gloves are appropriate for wearing. They come decking with various designs over them for a beautiful look. Embroidery designs, cut work designs, prints etc. are few popular ones. In styles wrist-level opening leather gloves impart smart look. They either have snap closures or buttons on opening part. Women do not need to take out hands completely from gloves but just open at the wrist and take hands out. Leather gloves are also fashioned in interlacing design and are very sexy in appearance. Some have buttoned opening. Knot opening leather gloves are also very stylish to look at. Tie up leather gloves are also available.
Leather gloves are made up of different leather hides. The commonly used ones are lambskin leather, cowhide leather, buffalo leather, deerskin leather, suede leather, patent leather etc. Apart from these, other hides are also used in their making. Such a great versatile nature is the main reason why they are so close to womens heart.
Gauntlets and Mittens are two popular styles of long leather gloves. Gauntlets are Accessorize yourself with the elegance and warmth of leather gloves and add an elegant touch to appearance.
Source: www.articlealley.com