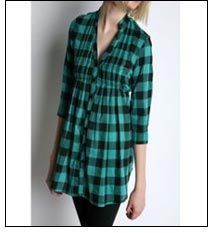 Designer tunics are the perfect attire for modern woman. Tunics can be worn for casual outings, parties and are equally comfortable wear at work. Tunics, because of their versatility and availability in so many fabrics and designs, have become a rage with the young and old. Trendy tunics have flooded the markets but you must know how to choose the best and create your own unique style statement. The advantage of wearing tunics is that you can team them up with denims, skirts, churidars, salwars etc. Tunics in all colors and fabrics are in this season. So you dont have to worry about making a fashion mistake when buying them. You can fill up your wardrobe with as many designer tunics as you like and mix and match them to get a brilliant look. Designer tunics are multi purpose. You can wear the same tunic with trousers and go for work and after work if you have to catch up with friends just change into a chic A-line skirt! You will definitely look smart and stand out in the crowd.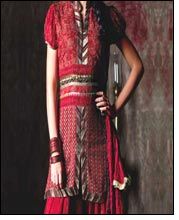 Indian tunics look fabulous in any material, like georgette, crepe, silk, cotton etc. You can get a variety of work done on them keeping in mind your choice. Simple cotton printed tunics look really nice when you are headed for work. If you want something more ethnic, then you might like kurtis with chikankari embroidery work. A pink kurti with white leggings or olive green kurti with maroon leggings combination looks excellent enough to be worn to a wedding or family get-together. However, if you are headed for a party you might want to grab some trendy indowestern dresses. Gowns in georgette fabric, with a complete Indian look and matching stoles have found immense popularity with young ladies. For the coming winter and fall season, a purple or magenta gown in raw silk base, done up delicately with beads, stones and kundan work should look exceptional in any party or special event. You must buy custom made dresses. This gives you the perfect fit and makes you feel immensely confident.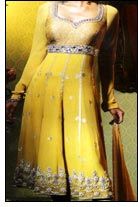 It is very easy to find the latest indowestern dresses online. There are many online western dress tailors. But how can you be sure that what they are offering is in keeping with the fashion trends? How can you be certain that the colors, designs and styles offered by them will suit you well? Decide for yourself what you desire and then shop online from trustworthy places which offer you a good combination of traditional and modern dresses. Angrakha style and anarkali style are the best bets for indowestern style dresses this season. Angrakha style kurtis make you look very feminine and different. The brighter the color the better you look. You could choose combinations of maroon-black, Pink-purple, beige-maroon etc. You could choose full net sleeves to make the kurti look stylish and give a winter look as well. Anarkali style kurtis can be slightly moulded by any experienced designer to give a frock like look. You can add frills to your kurti to make you look younger and modern.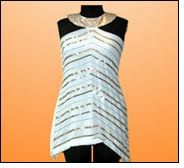 A common confusion for many women is the choice of evening dress. Nothing works as remarkably as a black sexy evening dress. If you think you already have had enough of this all time dress and want to try something different then you must try different styles of skirts. With skirts you can wear tunics or spaghettis as per your choice and comfort. Fish cut wrap around skirt enhances your figure and makes you look feminine like never before. A purple or red straight skirt with some self designing and a few gold coins or small stones would look alluring. Full circular skirts are ever green wear. Just wear them with matching designer tunics and stoles and you wont have to look at anything else. However, if your target is to be the envy of one and all then smocked tubes dress and Spaghetti slip dress look fantastic.
Remember that indo western tunics are stylish, fashionable and more over economical to buy. Make sure to shop for the right colors, right tunics, and right styles from the right places.
Indowestern.net is one of the leading sites specializing in latest Indowestern dresses. From skirts, to tops to tunics they feature the most chic and up-to-date fashion garments of the time.
Source: www.articlealley.com