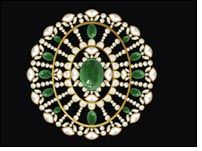 One can have with him/her different kind of jewelleries like stone jewellery, artificial jewellery, gold jewellery as well as diamond jewellery. Indias synthetic jewellery is extremely popular and is the preference of many married as well as unmarried girls. The commencement of the trend to wear jewellery started in India about 200 years back. The starting times saw Indians wearing turquoise and shells which later changed to gold and diamond jewellery worn by Indian men and women. jewellery was thought of as a saving by the Indian citizens and the kings used to wear jewellery to demonstrate their prestige and power. In India diverse styles are linked to diverse regions like; the state of Delhi is well-known for its Kundan stones, Andhra Pradesh and Orissa makes filigree gold jewels, the state of Jaipur is well-known for enamel art and meenakari, artificial Gold jewellery is also available in India that gives the impression of real gold jewellery and looks as beautiful and gorgeous as the real gold jewellery. Traditional jewellery from different states of India is also apex rated jewellery all over the world. The inspirational and fancy traditional jewellery is a unique work of trendy styles and ancient art. Traditional jewels can make you shell off from your pockets heavily due to the famous look and traditional history attached with them.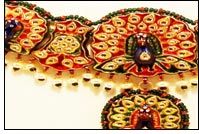 Wearing traditional jewellery in modern times is considered to be a class symbol by many people.Items of shrine jewellery are extremely costly due to the complex hand labor put in by craftsmen on them. Holy place jewellery is generally linked with traditional dancers. A very famous jewellery design of jaipur, Meenakari jewellery is a conversion of ruler Shah Jahans artistic vision to a sculpture. Meenakari jewellery of jaipur is the jewellery usually linked with Mughals and includes enameling stones and gems.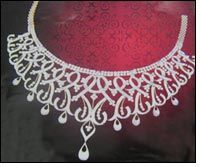 If you are on a look out to add a few fresh pieces of jewellery to your jewellery set, then Indian gold and diamond jewellery collection should be at the crest of your preference list. For hundreds and hundreds of years now Indian gold and diamond jewellery makers are recognized by the world as the best craftsmans of the world. Indian gold and diamond jewellery is one of the costliest jewelleries of the world and many countries have signed contracts with India for regular supply of the stones. The jewellery trade made Indian jewellers very popular in the West by the Silk Road, as they speak, is history. Women liked in western countries what the Indian jewellers developed and Indian jewellery makers were keen to distribute them as well.
Indian jewellery is obtainable in different trends and designs and in different stones like gold, diamond, ruby and others. jewellery by Indian craftsmen was made in different styles like in shape of bracelets, necklaces, rings and earrings. jewelleries were crafted with matching dresses and different colors and designs. From the plain yet good-looking to the eye-popping flamboyant, Indian jewellery designs are as flexible as they are good-looking.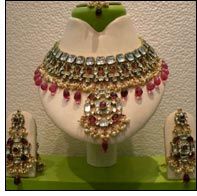 Indian jewellery designs are very tempting that even a single try is enough for anyone to get addicted to them. A pearl necklace you may find less appealing in comparison to a gold necklace made by an Indian craftsman due to its beauty and style. Thanks to the developing coordination between the Indian jewellery market and the web that its now easier than ever for you to access the Indian jewellery. One now doesnt even need to go to India to access the Indian jewellery designs.
Reversing and reshuffling pages of the past would guide us to the beginning of the Indian jewellery industry. But the exact point of establishment of the industry is still a mere blur. The tale of the growth of Indian jewellery industry is dated back to the times of Vedic era. The sacred Mahabharata and Ramayana are completely stuffed with images of ornaments that men and women of that time and age wore. In fact even prior to the invention of metals, Indian rulers are said to have ornamented themselves with jewelleries made of wood and other shining materials, which are effortlessly accessible. India had become the largest exporter of stones by the 3rd century B.C. and that was a big turning point for the Indian jewellery industry.
The Gems and Jewellery business can be classified into a range of subordinate segments like gold, colored stones, diamonds, pearls, silver Jewellery etc. But still the key segments of trade in India are diamonds and gold. Indian market dominates the world diamond trade market. In India only 11 out of 12 diamonds are polished, mimed and cut. Indian civilization is not only the largest trader of gemstones but also the largest consumer of gold and diamond all over the world. On an average India consumes 850 tones per annum. of diamond and gold each year. The gems and Jewellery trade holds important significance in India as the country is a very big exporter of gold and diamond and the trade provides service to about 1.3 million citizens of the country indirectly and directly.
Extremely unorganized trade characterizes the business, labor concentrated operations, raw material and working capital intensiveness, export orientation and price instability of gold particularly. Demand for diamond and gold Jewellery is increased by the weddings and festival seasons, rising affluent and middle rank population and increase in the per capita expenditure on comforts.
Although India plays a very vial role in terms of consumption and processing of Jewellery and gems the country is still amongst the lowest in the list of countries, which mine gold and diamond. India imports rough diamonds and gold along with other metals. Diamond is sourced from countries like Australia, South Africa, Switzerland, U.K. etc and diamonds are purchased from countries like Israel, UK, Belgium, U.S.A., etc. With international force to enhance beneficiation in rural South African mining areas, latest polishing and cutting centers like Angola, Namibia, and Botswana are emerging, dropping Indias supremacy in the diamond and gold processing.
Source: www.articlealley.com