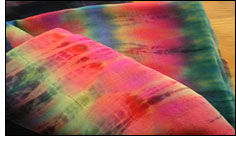 Chiffon fabric has its signature style of softness. It is soft, see through and light. Chiffon fabric can be used in different purposes. But chiffon fabric can be made from many types of materials like cotton, synthetic fibers or rayon. Its a natural, see-through quality is due to how it is made. The quality and the sensations of it on your skin vary enormously, depending on what material the chiffon has been made from. Basically for its wonderful and sensational quality silk fabric is used. From silk fabric chiffon is made and this type of chiffon fabric is the best quality of all chiffon fabric. Chiffon fabrics wonderful impression and marvelous texture is due to certain weaving techniques.
As it has been said that chiffon fabric can be made from silk or cotton fabric. But silk chiffon has a natural brightness which has excelled it from other types of chiffon like cotton fabric. You can catch it once when you will look at the fabric. If it is made from real silk fabric then it would have a natural glow within and reflect the glow while wearing. But on the other hand cotton chiffon fabric is missing the natural glow and apparently looks dull and least glittering. Real silk is glimmering and the chiffon made from silk has a natural brightness to it. Apart from glittering and gleaming you can test a chiffon fabric by touching the fabric. Silk chiffon fabric has a soft sensation when be touched. When you lift the chiffon fabric it is light and gives a sensation that can be described as floating - completely without stiffness, it just follows your every move. If you compare this to chiffon made from cotton or polyester, it is a huge difference - these types are usually not nearly as light and they tend to be stiffer and not as directly responding to your movements as chiffon silk is.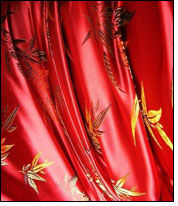 On the other hand chiffon made from rayon or synthetic fibers is stiff and rough. It ends with a feeling of all discomfort ability and stickiness. Clothes made from chiffon fabric can be either rough or soft. It all depends on the fabric it is made of. If the chiffon fabric is made of pure silk fabric then it would be cent percent natural and durable. You will feel comfortable in this fabric texture as it will make the air pass and make the wearer feel easy and free. It will make the movements of the wearer free and gentle. But on the other hand chiffon fabric made of synthetics is not like this as it makes the dress more muggy and suffocating. But silk chiffon fabric is not like this. This is why it is the best choice for summer clothing. If you want to have the best, silk chiffon fabric is definitely the choice for you. It does make a huge difference both for the eye and for your own sensation when wearing it on your skin compared to other types.
Chiffon Fabric, Stretch Fabric and Silk Fabric are very important for the textile industries. The Redtex, Inc. supplies these fabrics to almost all textile industries in US.
Source: www.articlealley.com