By: NehaDewan
Shantarams eyes were weary. But he couldnt suppress theproud smile on his face. A masterpiece all the way, he thought to himselfgiving the nine-yard wrap one last look.
A brush of colour, a touch of tradition and an entire yearof laborious craftsmanship... the meticulous weaves had finally taken shape.And it had been worth all the days of working round the clock for Shantaramsfamily. After tying the knots on warp and weft threads, dyeing, colouring,weaving and finishing, the beautiful double Ikat Patola saree wasready.
Its not just the Patola saree of Gujarat that isimpressive. In fact, the saree in itself is perhaps the most innovative garmentin the history of India. Whats more, its holding out in the era of slowdown.The brisk business speaks volumes.
Sample this: Many leading retail houses in the country admitto 15-20% increase in saree sales over the last year. Even expensive designersarees are now being bought by a whole lot of 20-somethings. A visibleindication of saree sales being untouched by slowdown blues. Industry estimatespeg the saree market at a massive $12 billion in India.
Experts say that the demand is steady despite the economicslump. Sarees like the Patola command a niche market with primarily the NRIsand affluent lot buying them from us. Our sale of sarees has in fact gone up by20% over the last year, says S K Chaturvedi, MD of Gujarat State HandloomHandicrafts Development Corporation which was formed in 73 for revival ofhandlooms and handicrafts of Gujarat.
Various other states of India, too, can be credited formaking the saree an iconic sensation. Each saree mirrors an effortless storywoven around the countrys royal tradition and heritage. With their uniquecharm and appeal, it is little wonder that sales have still been soaring at atime when spending on other categories have seen a sharp drop.
A peek into the past also offers interesting insights intothe story of the saree. It was Maharani Indira Devi of Cooch Behar who made theidea of French chiffon sarees extremely popular in the royalcircle. Princess Niloufer from Hyderabad wore fashionable chiffon sareesshowing off asymmetrical sequin work. Then synonymous with royalty, the sareesglory exists even today.
States, including Gujarat, Maharashtra, Tamil Nadu, West Bengal and Orissa, narrate stories of rich heritage spun into this elegant garment.While Gujarat is known more for its reversible double Ikat Patolas, it is thefine silk Kanjeevarams that are synonymous with the South.
Likewise its the Paithani which are famous in Maharashtra and Ikat sarees which are dominant in Orissa. The fine silk and opulentembroidery in Banarasi sarees from Uttar Pradesh make them highly sought after,while Kantha work and Balucharis are prominent from Bengal. The Uppada silk saree is typically of Andhra Pradesh.
Not surprisingly, each of these sarees are quite expensive.Bright coloured Kanjeevarams are the famous reflections of the art and craft of South India. Made by craftsman in Kanchi and characterised by lively colours,the quality of silk used is extremely fine.
Gold zari work can be significantly seen on them, alsomaking for a good investment. The premium range in these is between Rs10,000-Rs 15,000. But besides the popular Kanjeevaram, there are other sareesin Tamil Nadu too which are equally well-known.
Attracting global fashion houses
BROCADES, tissue sarees, Thagadu and Sarboji sarees alsoform the exclusive range in silk sarees. Tissue sarees, usually worn by the brideare woven in gold thread and are priced mostly upwards of Rs 1 lakh.
Mr Jairam, MD of Rasi Radha Silk Emporium in Chennai, a 110-year old textile firm in Chennai, feels that even though fewer people may be wearing it now, a growth in demand is still being seen. "The saree is not dying as we have seen a steady growth in their demand over the years. We saw a steady growth of 17% till October. The dip in sales post October has been marginal. It is a significant part of the wedding market, hence the sales are not affected as much," he says.
Nalli Group of Companies, a leading player in the textile and retail business, has also been experiencing year-on-year growth in saree sales. "It's more of a perception that the saree is going out of fashion. They have been clocking good sales and growth every year," says Lavanya Nalli , president of the Nalli Group of Companies.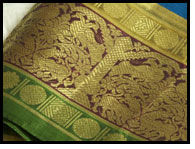 The South, in fact, is known for its wide range in saree wear besides the Kanjeevarams. Also famous is the Mysore Silk saree which is known for extensive and rich zari embroidery on the borders of the saree. From Andhra Pradesh, the pure silk Uppadas display geometric designs and intricacy, requiring a lot of skill and a few months to produce, thus pushing up the cost of these sarees.
The sarees of Gujarat are no less magnificent. The reversible double Ikat Patola, one of the most famous sarees of the state, can range anywhere between Rs 80,000-1,50,000! Woven in Patan in Gujarat, it takes over a year of painstaking effort to make one such saree. Besides the Patola , there is also the Bandhini saree which is the tie and dye saree of Gujarat.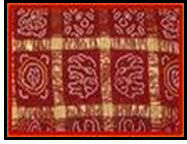 Another popular saree mostly worn in weddings is the Gharchola saree which is woven in Khambat while the embellishment is done in Kutch and Jamnagar. Mainly worn in wedding ceremonies, the red and white combination in these sarees is a preferred choice.
Adds Mr Chaturvedi, "Gujarat is famous for various types of sarees. In the Patola, the craft and motif is very intricate. The yarn is dyed in such a way that the motifs form beautifully on the saree. It is symbolic of the rich craft of India."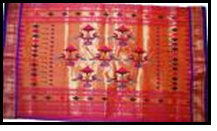 Equally enchanting is the hand-woven Paithani saree of Maharashtra which is a distinctive style featuring bird motifs as well as stars, lotus, flowers etc. A Paithani could range anywhere between Rs 3,000-Rs 1 lakh or above depending on the way it is designed. Made of pure silk, these use gold embroidery extensively. However, in recent times even silver threads topped with gold are a common feature, thus bringing down the overall cost of the saree.
But if you thought the saree's popularity was only restricted on home turf, think again. International fashion houses such as the French fashion house Balenciaga included the saree in their creations as early as 1937. And in 2007, Nicolas Ghesquiere, creative director of the fashion house reintroduced the saree in a glamourous avatar showing innovative drapes in his collections. He even had an entire line dedicated in Fall 2009 for the Paris Fashion Week called the Sari Silhouette Collection!
Experts, however, feel that continuous steps need to be taken to ensure a steady sales growth for the saree. Rita Kapoor, author and researcher, for 'Saris of India' volumes & 'Handcrafted Indian Textiles,' has been involved in several initiatives to revive the evergreen wonder. "The saree has to be re-introduced as a contemporary garment that can be woven in many new ways as it is so flexible and can be constantly refashioned. Only then can the looms that are facing a threat from cheap imports be given a new lease of life," says Kapoor.
In fact when it comes to innovation, the varied drape styles of designer sarees has increasingly been attracting the younger generation. Fashion designer Ritu Kumar, whose collection comprises a large variety of sarees in metallic work, says that a lot of innovations are taking place by designers to attract the younger buyers.
"The drapes are very versatile now. The blouses are also more innovative in cholis, halters, strings and backless styles. One can drape the saree depending on the blouse being worn. For evening wear, it is now fast becoming a preferred option by women in their mid 20s," she says. While styles may come and go, this is one clothing item that continues to have its loyal base of customers. An ageless wonder all the way.


Originally published in The Economic Times, dated 5 April 2009