Natural and Eco-friendly Products have been popular; the fiber with natural function will be certainly more popular in the years to come. Original bamboo fiber is the true natural bamboo fiber, it is also called as natural bamboo fiber or Bio Bamboo Fiber, but not bamboo viscose fiber (namely viscose fiber from bamboo). Original bamboo fiber belongs to bast fiber, the feeling of original bamboo fiber is similar to linen/hemp/ramie etc, but antibacterial and deodorizing properties are much stronger than linen/hemp/ramie and bamboo viscose fiber. Original bamboo fiber is obtained from natural bamboo by using physical and mechanical method without any chemical additives. The production of original bamboo fiber as following: Natural raw bamboo →bamboo strip → steaming of bamboo strip → crushing and decomposing → biological enzyme degumming → fiber carding →natural original bamboo fiber.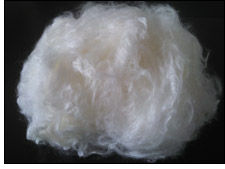 Principal length of original bamboo fiber is 90mm, it can be also cut as 38-40mm for cotton spinning system purpose or other length according to different purpose. Original bamboo fibers fineness is average NM1686 (around 6dtex) due to its production flow and method. Original bamboo fiber can be spun 100% original bamboo yarn and blended original bamboo yarn with other fiber, such as cotton, viscose, modal, tencel, milk, polyester, silk etc. The highest count for 100% original bamboo yarn can be spun Ne28. Original bamboo fiber can be made 100% weaving fabric, but it is better to be less than 50% original bamboo fiber composition for knitting fabric, otherwise the feeling will be hard.
Original bamboo fiber preserves the characteristic of bamboo itself due to natural production process, so is has excellent functional properties, such as antibacterial, deodorant, anti-UV, cool etc, the moisture absorption and release are so fast. Original bamboo fiber is a kind of biodegradable natural fiber, at normal temperatures, original bamboo fiber and original bamboo products are quite stable, but under given environmental conditions, original bamboo fiber can be decomposed into CO2 and H2O.
Original bamboo fiber is the best raw material for socks because of excellent naturally function. Original bamboo socks is most suitable for athlete or someone who have very stinky feet and dont dare to take off their shoes in public, the feet will be not stinky and wet after taking off shoes, everyone like it very much after trying original bamboo socks, even never want to wear any other socks due to its comfortability and functionality, original bamboo socks is the best choice to prevent athletes foot, it is also durable, not easy to be broken. Composition 30% to 50% of original bamboo fiber is quite enough for deodorizing purpose, also blend with other fiber, such as cotton can cut down the cost and improve the feeling of socks.
Suzhou Shenboo Textile Co., Ltd as the ONLY manufacturer of natural original bamboo fiber in China, has successfully developed and produced various original bamboo yarn, socks, fabric, towel, garment, beddings, scarf, cap and nonwoven fabric etc.