Mens suit nowadays is synonymous to fashion and style. Most men of 20th century owned at least one suit which they wear during formal occasions and other special events. The demand for stylish and trendy mens suits noticeably increased during these days when designers and trendsetters all over the world revolutionized the tailored clothing and suits for men's wear fashion.
Today mens suits were redesigned and fashioned into well-cut, tailored suits to complement and fit the taste and style of modern men. It became more fashionable and elegant looking that most men would desire to have in their wardrobe.
In the early decades mens suits were already a part of every mens clothing, but why mens suit is considered to be a must have to every men nowadays?
Aside from the fact that mens suits gives you the elegant and stylish look that you desire, mens suits are considered to be the most versatile piece of clothing for men. There are different types and styles of suits that can be wear in various events and formal occasions. Because of its elegant and fashionable effects, mens suit can be paired to whatever piece of clothing.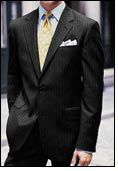 Another importance of mens suits is that it defines your unique character and personality, either you are an ordinary students or a prominent figure in fields of business and politics.
The suits magnifies the confidence and masculinity of the wearer during significant occasions and events. It also emphasizes and projects the stylish and fashionable character of the user. Mens suit has undergone various reinventions in order to match and meet the demands of fashionable suits for modern men.
Mens suit can also be a wise investment for long lasting clothing if handled with proper care.Prices for mens suits may vary depending on the brand and fabrics used. There are suits that are very expensive but expect a high quality. Nowadays budget is not a big problem if you want to buy a suit. There are a lot of online stores for mens clothing that offers variety of mens suits and mens clothing that have low prices but with high quality.
Another reason why mens suit is a must have for men is its versatility for style and season. You may think that mens suit is exclusive only during winter season or you can only wear it during formal occasions then you are perfectly wrong. Mens suits today has evolved from the thick woolen material into a more lightweight and defined textile specifications like cotton and linen in order to fit from various seasons. Also today the cut and design of mens suit was reinvented making it fashionable and can be paired perfectly to you slacks and denim. So you wouldn't mind wearing your suit even in casual and informal occasions.
These are just few reasons why mens suit is a must have to mens list of clothing. So, what are you waiting for, own one now and be fashionable.
Author is the Webmaster and Author of suitsmen.co.uk, a company in line with selling quality men suits and men coats.
Source: www.goarticles.com