When there is modern design on khadi cotton and khadi silk, people will like it more. There is a blend of traditional with the modern style. This concept is quite popular in the fashion industry as well. Indian garments are known to create such a unique blend of conventional with modern, which is manufactured no where else in the world.
Handloom, sericulture and handicrafts are popular across the globe. There are more number of customers for handloom products rather than machine made products. You can get intricate work and fine designs only in the hand made products manufactured by the small scale and cottage industries. Promoting such industries will in turn eradicate unemployment in the rural countries. It would also bring about decentralization of the industrial sectors.
It forms a perfect gift for a special occasion too. Bed spreads, beautifully embroidered table cloth, woollen items, kanjeevaram sarees, kitchen wares, bibelots, scarves, shawls, textiles, embroidered and knitted goods, zari items are made in cottage industries. Most of them prefer wearing hand woven sarees made in cottage industries due to the intricacy of work and its durability. You can get your sarees customized and get an embossed look by creating a base in gold and the pattern can be done in silk.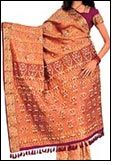 Minakari work, kanjeevaram work, party sarees, bandhani, patola, embroidered tinsel work, gujrathi brocade, paithani, gadwal, chanderi and maheshwari, bollywood types and baluchari from the east India, you will find a volley of saree types. Gujarat, Haryana, Western Uttar Pradesh, Rajasthan, and Western Madhya Pradesh are known for their handloom work. They are more popular for their dyeing rather than weaving techniques. You can find online gallery of Indian Paintings, consisting of magnificent Madhubani paintings, mysterious Warli paintings, Patachitras, Tribal Paintings, Thangka Paintings and minakari paintings too.
Businesses to business directories were created in order to meet the demands of the consumers. Online presence of handicrafts was required to make it easier for consumers to buy their gift items and for manufacturers and artisans to reach out to them. There is a greater need to manufacture something new to keep the customers interest going.
Government has encouraged such sectors due to its contribution to the Indian economy. Lot of women have found a job and have yoked the financial responsibilities of their family. Ruralites who were earlier unemployed, have now found a job. It has also encouraged self employment in many rural areas. They are trained to produce textile based handicrafts, soft toys and other utility items.
Source: www.articlesbase.com