Silk Sarees are integrally linked to South India. Kornadu Saris originate from the state of Karnataka in India. The specialty of these traditional saris is that they incorporate a technique of mixing the cotton yarn with silk yarn. The cotton yarn that is used is usually blue in color, while the silk yarn can be of any color than blue. Contrast colors of yellow, orange, white or even light blue renders a completely ravishing look to the sari.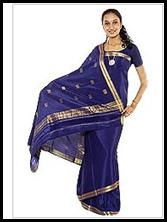 Traditional saris of South India are characterized by a plain one-color body with an ornate Pallu. The Pallu is considered to be the most important part of the sari, which is adorned by intricate work. The borders of the saris that run throughout the length have different kinds of work and patterns. These borders can either be of the same fabric as the sari or a little different. For instance they may be made with more of silk fabric or that of cotton fabric.
While traditional silk sarees are usually completed with a broad golden border, it is not always the same with Kornadu Saris. Gold thread work as well as plain thread work is also used all over the fabrics to make them look different and attractive. The traditional Kornadu sari is, however, accentuated by stripes or checks in its body. These stripes or checks can either be of the same color or of contrast shades aligned horizontally or vertically throughout the saris.
As is well known, the younger women of todays generation opt for light weight sarees that are easier to carry and are not high on maintenance cost. Silk and cotton mixed fabrics are the best option in such situations. Kornadu Saris also come along with matching blouse pieces, which can be styled as per your choice of fashion. Thus, traditional Kornadu fabrics can easily be given a trendy look with a stylish halter-neck blouse or even a deep-neck or sleeveless blouse.
The fabric of the saris should be such that it does not need elaborate maintenance or too much care. It is only then that a traditional sari will find place into the wardrobe of todays fashion-conscious women. Apart from marriages, women of today also find saris to be an elegant evening wear or a comfortable yet stylish option as day-wear and also in some cases as office-wear. Apart from the young generation women of any age can carry these beautiful cotton-silk Kornadu saris with lan.
Kornadu Sarees in a way present to the world a reunion of modernity and tradition. Modern women, thus can boast of wearing a traditional silk sari but with a modern twist to it. It is the pattern and the amount of cotton or silk yarn used in making a Kornadu sari that determines its price. If you are ready to shell out a good amount then you can opt for the ones with intricate pallu-work and a fabric, which has more of silk in it than cotton yarn. Various retail outlets all over India help give you a wide selection of Kornadu Sarees.
Image Courtesy:
http://www.indianwomenclothing.com/traditional-dresses-women/south-region-traditional-dress.html
Source: www.articlesbase.com