By: www.like.com
Are you tired of all the sandals and shoes out there which is becoming more of the run-of-the-mill style that everyone has? If you are, then show off your excellent fashion sense and be different with a pair of ankle cuff shoes! With such a bold design, not to mention that they look absolutely sexy, you are sure to attract enough attention as though you are a celebrity parading the latest fashion! Great to be worn in a more casual environment, a pair of ankle cuff will show your trendy and fun side and is definitely an attention grabber, should you intend to be!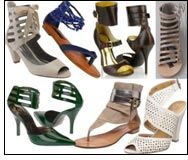 Be the first to be wearing this season's latest trend in footwear when you reach out for a pair of these high heel ankle cuff shoes. The high heels work well with an ankle cuff design because it gives a sense of height to the wearer. High heels also work perfectly no matter where you are, be it the office or on the dance floor! To make the ultimate fashion statement, go for designs with a cutout cuff design and multiple strap details at the vamp. Sexy yet stylish, you are sure to make Paris Hilton go 'that's hot'! Alternatively, for something a little on the 'minimalist' sense of style, the design with a simple cuff and a single strap vamp works just nicely. Add shiny jewelry for just the right amount of glamour.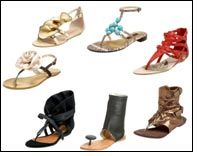 If you are looking for something chic and fun but doesn't come with the pain normally associated with high heels, a pair of flats ankle cuff would be the absolute perfect solution for you! Flat sandals also make it easy to pull off that casual, relaxed look. Designs which feature leather would work best when you need a pair of shoes which are absolutely comfortable and allows your feet to breathe. With a back zip at the heel, it makes taking off and putting on a pair of these babies as effortless as a beach sandal! Adding small details such as lace ups and pleated details at the cuff and vamp will ensure that chic look ever-present any time of the day!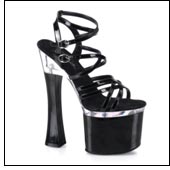 Nothing works better to show off that sexy, flirtatious look other than a combination of strappy styles with ankle cuffs. This is why the strappy ankle cuff is such an awesome piece of footwear! Inspired by ancient gladiators, the strappy designs have now evolved into women's footwear in a very successful way! For a pair of this shoes which will fit perfectly to your feet, consider those that come with a wide, buckled cuff and slim straps across the vamp. This way, the shoes wrap around your feet to provide complete support and unparalleled comfort all day! Other than that, a simple yet sexy design such as the strappy ankle cuff with a single narrow vamp works perfectly well with a mini or short skirt!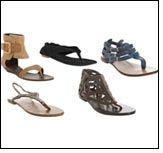 A thong sandal is usually worn in a relaxed and laid back environment. Match it with ankle cuff and you get something which is truly extraordinary! Making a great impact in the fashion world, the thong ankle cuff is definitely something for the fashionista out there! Choose designs made from soft leather to feel extremely comfortable even if you have to be on your feet most of the time while a clinched cuff helps to keep the pair of shoes firmly wrapped around your feet. To achieve that sophisticated look, designs featuring soft shearling around the cuff should do the trick, guaranteed to make you feel like a fashion superstar!
With ankle cuff styles being firmly established in this season's fashion trend, it is the only reason why you should have one in your wardrobe! Perfect with any outfit, they are also great for any occasion!