Handmade, easy to use, remove and keep, with low maintenance requirements, jute and bamboo rugs are a very good option for many costumers. They can be used in different rooms: living room, dining room, kitchen, bedroom, and even in the bathroom and outdoor. They are both water resistant and easy to clean up in case of dirt, dust and spilling; the natural fiber gives a great look and it doesnt necessarily need dyeing or painting, due to its beautiful natural aspect.
Jute fiber is obtained out of the stalks of many plants which grow in humid and hot climate. The stem fiber plants are found in India and look a lot like hemp and flax. The final weave is very durable, since the jute fiber is known for its durability. Thus, it is ideal for fabricating sturdy yarns and fabrics. The colors vary from light tans to browns, noticed in the rug. This is what makes the jute rugs one of the luxurious rugs used in sitting rooms and bedrooms. The display of jute is a soft natural luster, best fit into a relaxed modern environment.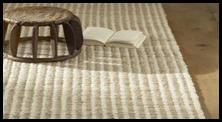 Prices for the jute rugs differ based on the material, border configuration, size and shape. Specialists can advise you in choosing the right rug for your room, depending on your preferences. Jute is generally recommended for light-traffic residential applications.
Bamboo is by far the toughest plant on the planet and most certainly grows the fastest. The bamboo rugs are 100 percent made by bamboo, coated in multiple layers of polyurethane coating for protection against staining and scratching. They work perfectly with all types of flooring: hardwood, marble, carpet and tile and you can choose from a variety of sizes, designs and finishes.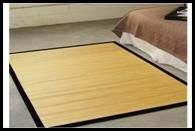 Bamboo rugs are highly resistant, waterproof and require low maintenance. You can use it in different locations of your home, such as: living room, dining room, even bathroom. You can put it under the dining table and chairs, due to its durability and resistance to high traffic. It comes in many colors and sizes, its light, easy to handle when you need to move it. You can order it in small or big sizes: for the living room in big sizes of in the bathroom in small sizes; you can even use it on the beach because it easily folds and its easy to carry.
When youre talking about jute rugs and bamboo rugs, luxury, style and good taste are the common words of description for the environment where the rugs are located. Nowadays people are inclined to use such materials to transform their daily environment into a relaxing, comforting zone, where life becomes just a little better. If you purchase one of these rugs, quality and durability come altogether for a good price for common people.
Image Courtesy:
http://www.decoexpression.com/img/flooring/carpet.img.jpg
Source: www.articlesbase.com