Babywear or kidswear in the age group of 0 to 3 years hasundergone a tremendous change, receiving a great impetus as a style statementby parents all over the world, making the suppliers to shift their focus tothis segment of the apparel industry.
Indiasapparel industry contributes nearly 8% of Indias total exports. It is theworlds second largest producer of textiles and garments, having a share of3.3% of the world market. There was a drop in garment exports from India by 2.64 per cent to 10.64 billion dollars in 2009-10 compared to 10.93 billiondollars in 2008-09. But the projected growth rate for 2011-2012 is expected tobe 20% in value terms. Kids wear segment captures nearly 15% of the totalgarment exports in India. At a time, when the rest of the apparel industry wasreeling under the economic slowdown due to recessionary forces, the kids wear continuedto show an upward swing.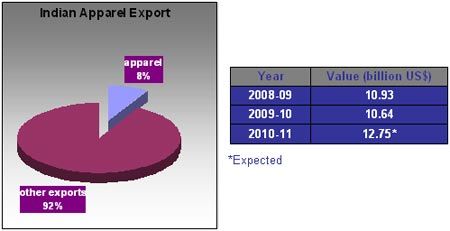 Reason for Growth


This sector is growing at the rate of 10 per cent per annum, which makes it one of the fastest growing segments in apparel industry and leaving room for huge untapped potential for organized players to grow in future. The major international clients for Indias kids wear are from EU, UK, France, Germany, Italy and Spain & Non-EU countries, US, Canada, Japan and Australia, as their demand for high quality cotton garments is well catered bythe Indian manufacturers. The main manufacturing hubs in India for these garments are located in Tirupur, Bangalore, Mumbai, Chennai, Kolkata and Delhi.
Babywear or the kids apparel market comprises of organizedand unorganized sector, with the latter constituting the bulk share in thedomestic market. However, it is the organized sector, which is exclusivelydominating the export market. There were few players in this segment till fewyears ago, but many players have entered in fray with the growing demand in theglobal market. The driving factors for this growth in demand has been seenlately in the change in global trends, where childrens wear has become a majorshift of focus of international brands, who have introduced kids wear as their productline extensions, such as Gap, Ralph Lauren, Armani, Gucci and Fendi. India has been a favourite destination for sourcing for all kinds of apparels by theinternational buyers, preferably as it the second largest producer of cottonyarn. Other drivers, that helped to boost the growth, can be seen in thecapabilities of the manufacturers to offer innovative designs, host of valueadditions, highly integrated infrastructure, personalized quality control,unbeatable prices, skilled workforce at reasonable wages, flexibility inhandling small orders, strong economy and robust domestic market.


Current Scenario


The most popular among kids garments meant for the exportmarket includes unisex designs in rompers, jumpsuits, pajamas, night suits,caps, while, dresses, skirts, blouses sell well for the girls range and pantsand shirts for boys in the age group of 0 to 24 months. Designs vary from plaincuts to fashion style cuts, depending upon the requirement. Garments are beingoffered for the low-end, midrange and the high-end segment, with export pricesvarying from 0.50 USD to 10.0 USD. Popular garments such as rompers, jumpsuits,night suits, frocks and dresses for the casual wear category are available inthe price slab of 1.0 to 3.5 USD, both in knits and woven fabric. They havesimple patterns and carry light value additions, while the formal wear falls inthe 4.0 to 10.0 USD price slab. New releases have more of mix n match offabric, frills, laces, ribbons, strings, patchwork, smocking, appliqu andcrochet work. Hand and machine embroidery, with sequin and Swarovski are used forhigh end models. Raw edges, pockets, stitch detailing, metallic insertions inboys garments are very popular, while strap shoulders tops/blouses anddresses, multi-layered skirts and pumpkin shape bottom-line with embroideredand curvy hemlines are the latest trends in girls wear.
Indian manufacturers/exporters are closely following theglobal fashion trends through participation in international fairs/exhibitions,fashion shows and through vigorous traveling and interaction with buyersglobally. Most of the bigger companies have hired international designers in India or abroad to promote their business.
These garments are being offered in a variety of fabrics both for domestic and international markets, such as pure cotton, voile, cambric, poplin, cambric, poplin, sheeting, lycra, corduroy, 100 percent polyester, poly-chiffon and georgette etc. They are also using knit fabric like Interlock, Single Jersey, Terry and 1 x 1 Rib. Both woven and knit fabrics are available in solids, checks, stripes, prints, screen and rotary prints. Suppliers are aware of eco-friendly needs and are using organic dyed trimmings also, along with organic cotton fabric. They are non-allergic, skin friendly and comfortable to wear. Organic natural dyes are being prepared from various fruits, flowers and leaves to prevent the use of chemicals and pesticides to make the garments skin friendly and also imparting medicinal properties to fabrics. The color palettes for babywear include white, soft pink, purple, lilac and blue, red and navy blue. The fabric choice, color and design are based on seasonality, culture and environment, varying from country to country. Since India offers very good quality cotton, international buyers prefer 100 percent cotton for babywear mainly as it provides comfort and softness to the child. Different types of washes, such as enzyme wash and bio wash is provided as per the demand of the buyer.
Cotton apparels market was hit sharply due to the sharp rise in prices of raw cotton during the end of 2009 and start of 2010, increasing by about 35% to 40%, though it has stabilized now. As a result, the prices of garments also increased by about 10% to 20% or more in some cases. The price forecast for the next six months tends to increase by 5% to 10%, mainly due to high inflation costs, increased fuel and raw material costs.


There has been an invigorated growth in the domestic market as well as a consistent growth in the export market for Indias kids garment. Manufacturers/exporters attribute the growth factor to the wide scope of designs arising from the variety of fabric choices, colors, patterns and trimming options, which they offer to the buyers. But a major pointer to the success of the Indian export is the strong emphasis laid by the manufacturers on the advanced technology and improved infrastructure. Most of the companies are equipped with fully automatic and semi automatic machines, CAD and computerized embroidery machines, increasing the production capacity, improving quality and reducing delivery lead time. Stringent Quality Control to check anti pilling, shrinkage, metal detection and colour fastness have been taken by the manufacturers to handle rejections and to achieve buyers satisfaction. This has enabled them to maintain long term business relations.
Advantage India in baby-wear exporters
The export situation for garment industry in 2009 had improved slightly but as the recession in US and Europe continued, it did not allow the market to rebounce back. Hence, most of the manufacturers of kidswear as was the case for other categories of the apparel industry, tried to reduce production capacity, opt for smaller volumes and to lower the profit margin. In 2010, new challenges are being faced by the manufacturer/exporter in terms of the Euro devaluation and delay in payments from the EU countries.
Raw cotton prices and currency issues will be driving development in the industry. Raw cotton trade in India has been facing problems due to black market trading resulting in increase of yarn prices and garment makers want this issue to be resolved. Some players had shifted their focus from US in 2009 to Australia, Canada and new markets in Europe like Finland and Sweden (which consume a lot of organic cotton) because of the decreasing demand. Manufacturers specializing in organic cotton have been able to capture a better share in the market. Recently, there has been a slight shift of global buyers focus from China to India as their prices have seen a hike. This shift is likely to benefit the Indian industry.
The forecast of cotton production in India for 2010-2011 is expected to be 25.0 million bales, making a surge of 6% as compared to last year. This is going to ease the erratic supply. Though the suppliers in India are in favour of strict government regulation to discourage exports of the raw material in order to help the finished clothing product, both for the domestic and export market. Inspired by global trends and influenced by new lifestyles, sports and environmental issues, the Indian players feel there is immense scope in the kidswear segment. More players are entering the market, especially the top global markets. They are working on new themes, styling ideas and patterns, involving value addition and artwork. Color schemes play a pivotal role in the design imagination. Indian suppliers seem to have an edge over the Chinese counterparts in high end models or fashion wear at better pricing because of the skilled manual workmanship, involving hand embellishments and embroideries.
By:
Fibre2Fashion