Printing plays a special role in value addition of silk for both apparel and finished products. In the local market, printed silk has a higher share than many other natural and synthetic fibers. Majority of the silk fabric processed in India is printed in cottage sector by traditional method such as screen printing following either direct or discharge style. The printers who had been earlier using direct and basic dyes, have now taken to acid metal-complex and recently to reactive dyes.
During printing although the dye and the other ingredients of the print paste start getting dried up, some transfer of the dye inadvertently takes place from the reservoir paste to the fabric. But majority of the dye transfer takes place during the fixation stage, i.e., in steaming. After fixation, fixed dyes, unfixed dye and some adjutants will be present on the fabric, while unfixed/non-transferred dye, thickening agents and decomposition products of adjutants will remain on the fabric in printing paste phase.
Since textile printing in India is carried out largely in the cottage sector, even little dye stuff left on the fabric after post-printing process is undesirable, more so in case of precious silk. The authors present the details of a study conducted on the different washing practices prevailing in the industry and their merits.
Details:
While the unfixed dye results in poor fastness, the thickening agent and some of the adjutant could yield unpleasant features that remain on the fabric. It is, therefore, necessary to wash the unfixed dye and other adjutants of print paste.
Normally, printers in the cottage sector, wash their silk printed goods according to their processing conditions. Investigations have been conducted on pre- and post-printing operations pertaining to silk. However, no systematic effort has been made to study the different washing operations adopted for washing off these materials from the printed silks.




In the present study, the efficacy of different washing cycles followed in commercial printing units has been investigated.
Pre-printing process
A plain woven soft silk fabric (39 g/ m2) was used for the study. The fabric was degummed and bleached in a single bath using the following recipe: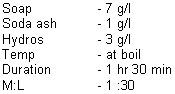 The degummed and bleached fabric was washed thoroughly in soft water and dried.
Printing and post- printing processes
The printing and post-printing details are furnished below: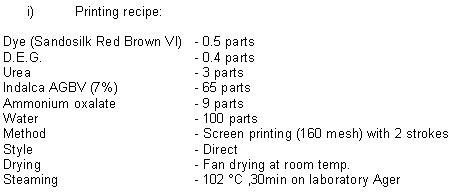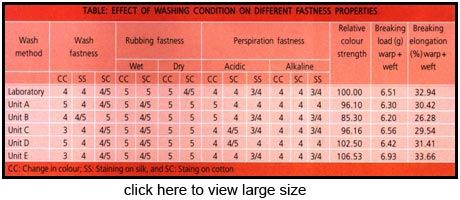 Washing
Washing was carried out in laboratory and five commercial printing units under their washing cycles. The washing cycles are discussed below:
Laboratory wash: Washed with soft water at pH 7-7.2 for 5 min. at room temperature, and cold rinsed four times in separate tubs.
Unit A: Washed with Sando pur DKI at pH 7-7.2 for 5 min at room temperature and cold rinsed four times in separate tubs.
Unit B: Washed with acetic acid and soap (Nylofix) at pH 6-7 for 5 min at room temperature with a M:L as 1 :35 and cold rinsed twice in separate tubs. Then, treated with 4.5 ml/ltr. acetic acid for 5 min at room temperature with a pH of 3 and M:L as! 1 :35.
Unit C: Treated with 7.5 fml/lt ADW (wetting agent) at ~m temperature with pH of 6-7 for 5 min with a M:L of 1 :35. After washing in cold water once, it was washed with 0.5 ml/ltr. soap oil NIX40 at room temperature and at pH of 6-7 for 5 min with a M:L of 1 :30. Then, it was cold rinsed twice in separate tubs, and finally, treated with 1.5 ml/ltr. acetic acid for 4-5 min at room temperature and at a pH of 4 with a M:L of 1 :30.
Unit D: After washing in cold water twice, it was cold rinsed and then washed with 1 0-15g/1 NIX40 for 5 min at room temperature and a pH of 6 with a M:L of 1 :30. Finally, it was cold rinsed four times in separate tubs.

Unit E: It was washed with 2 and 1 g/I Sando pur DKI liquid for 5 min and 2-3 minutes, respectively at room temperature and at pH 7 with a M:L of 1 :80. After cold rinsing, it was treated with 1 g/I acetic acid for 2-3 min at pH 4.
Tests
Fastness to washing, rubbing and perspiration were measured as per IS: 3361 - 1979, IS: 766- 1956 and IS: 971 - 1956, respectively. The change in colour of each specimen and staining of adjacent fabric was assessed by using gray scale. The colour strength was evaluated by using Data color (3890) computer colour matching machine apparatus interfaced with a computer. Tensile strength and elongation were studied on Instron.
Fastness properties :Rubbing fastness is not affected by different washing cycles, while the wash fastness in case of units C and E was poor with respect to change in colour. However, in lab wash, units B, C and E, the staining on silk in acidic and alkaline medium for perspiration fastness was moderate.
Colour strength: Excellent colour strength in the sample of unit E may be attributed to the retention of unfixed dye which comes out and stains silk both in acidic and alkaline perspiration, and also results in the change of colour in wash fastness. Poor colour strength in unit B may be due to the treatment of soap (Nylofix) and acidic acid in the first washing cycle which strips off colour from the washed samples.
Tensile properties: The breaking load [w+f] of the washed samples varies from 6.20 to 6.93g and 26.28 to 33.66%, respectively. The breaking load does not vary significantly with different washing cycles. However, the lowest elongation in unit B may be due to the stiffening of the washed samples with the treatment of higher amount of acetic acid to the last step of the washing cycle.
Conclusion
Silk printing units wash their printed items with different washing cycles which are always kept as a trade secret. However, not much change has been found in the evaluated parameters while comparing some of the washing cycles followed in small scale sectors. From the present study, it is found that the washing cycle followed in unit D is superior to others
The authors is with Central Silk, Technological Research Institute, Bangalore and RSTRS, Guwahati