Introduction:
Though mens apparel in India was expected to increase at a CAGR of 14.1% for the period 2008-2010, there was a slight dipin the export growth of mens shirt for the period Jan-March 2010, decliningfrom 182.82 in 2009 to 149.88 million Euros in terms of value to EU countries.
CAGR of Mens Apparel market size 14.1 percent

Total Indian market size INR 16900 Crore in 2009

Total Indian market size INR 24100 Crore in 2012 (*Expected)

Total Indian market size 43.9 Crore pieces in 2012 (*Expected)
This was primarily due to the economic meltdownand competition from giants like China, cheap labour available in Bangladesh, Vietnam and Cambodia. Also, Sri Lanka, technologically advanced, had duty free advantageto Bangladesh, posing a major threat to India. The Indian domestic market hasno doubt posted a very strong growth in the shirt segment. Mens shirts marketin India is valued at Rs.16, 900 crore, which is 36 per cent of the total menswear market in the country. This market is growing at a CAGR of 9 per cent andis expected to reach Rs.24, 100 crore by 2012. In terms of volume, the mensshirts market is 37.5 crore pieces, which is 23.2 per cent of the total menswear market. It is expected to grow to 43.9 crore pieces by 2012.
| | | |
| --- | --- | --- |
| | Value (INR) | Volume (Pieces) |
| 2009 | 16900 | 25.30 |
| 2010* | 19260 | 31.71 |
| 2011* | 21620 | 31.52 |
| 2012* | 24100 | 43.90 |
* Expected (Allnumbers in Crores)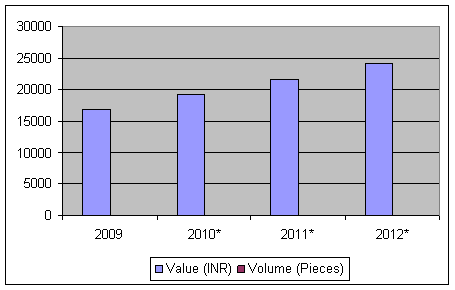 Mostof the manufacturers/ exporters have made themselves indispensable to thebuyers by making new style developments, which has led to increase in theirsales volumes from India. Market is looking better today as growth of 10% to20% has been seen by most of the players and they are optimistic of a promisingyear ahead. This is primarily due to the fact that Indian makers have acceptedthe challenges of the competitive market and are offering the best sourcingsolutions to their buyers. Further Indias political stability and economicresilience even in the face of global recession has made a strong impact in theworld economy. Reducing MOQ and working on small orders for even 500 pieces issaid to be a crucial factor in enabling the Indian suppliers to withstand theglobal recession.

This segment of the mens apparel industry has the major chunk of its export market in the European countries, i.e. Germany, UK, Spain and France. USA, Latin American and Middle East countries are the other important markets for the India made mens shirts. The major manufacturing hubs for mens shirt in India are Chennai (the leading center), followed by Bangalore, Tirupur, Mumbai and Delhi & NCR regions. Jaipur is emerging as a fast growing hub also.
Major Trends
Design patterns have undergone a complete change as the new styling has drifted more towards unisex and feminine look for mens shirt. The new trends are based on wild and adventurous themes with mix n match pattern for the casual models and embroidered designs for the designer models. Mix n match of fabric, like the checks, stripes and floral matched with plain fabric, stitching and value addition have given a modern and bold look for most of the companies mens shirt range. They include piping on sleeves, multi-stitching, contrast bands on collars and sleeves.
Some designs carry dart cut or the Princess seam and curved bottom hemline depicting the feminine touch. Raw edged hemline and small pockets accentuate the hip hot look to the shirts. Casual shirts having loops both on the roll on sleeves and shoulders are doing well. Multi pockets usage on the front panels and the sleeves is making a strong appeal.
Embroidery is making a big mark in the design trend, light & heavy embroidery adorn the mens designer and fashion shirts. Tunic style shirts are showing the female look, enhancing the unisex trend dominating the mens shirts category. Bellow pockets and new styled pockets add to the casual free spirit look sought by the males. Contrast collar bands, double layered collars, contrast colors stitching, foil & flock, raw edges on the bottom-line and arm holes give a vintage and funky look, while plackets with extension etc are all the updated trends. Styling with different panel cuts, stitching; embossed buttons and pockets are the latest design executions.
Among washes, the suppliers are offering heavy washes, soft enzyme, silicon, wall blast, paper touch, heavy wash, dip dyed (with double toned colors) and rubber washes to add to the design features. Players have introduced many innovative washes for the garments, inspired by the international fashion trends, like the leather wash, oil wash, spray effect wash, bio enzyme wash, anti static wash, sand wash, peach wash and perfume wash.
Fabric base are mainly cotton and cotton blends in woven, solids in 40/40s, 120/64, 50/50s, 170/72, 60/60s and 92/88, stripes in 260/40s, 280/40s, yarn dyed in 40/40s, 2/40, checks, floral, dobby and jacquard. Besides, linen 60s, poplins, voiles and pleated fabrics are regular materials for mens shirt with elite look designs. Unigender fabrics such as gauze, crepe, cotton slubs and textured fabrics are preferred by men for their soft and convenient touch, as the latest trends. Organic cotton, which is costlier by nearly 35% to 40% to the normal cotton, is now extensively preferred for the high-end shirts.
Basic white, neon colors, dirty look, pastel, beige, lilac, daylight yellow, white and olive are the most favoured color choices for mens shirt category. However, most of the manufacturers are offering customary colors, a lot of tie-dye and over dyed colors on demand. Color themes are seasonal and vary country to country.
Market future
As in the case of other apparels in India, there has been a hike in the prices of mens shirt also and this has attributed to the high cost of raw cotton, threads, other raw materials and the increase in transportation, power and labor costs. The segment can be categorized into three price slabs. The low end mens shirt falls in the price bracket of 4.0 $ to 6.0 $, the midrange placed at 6.0 to 8.0 $ and the high-end shirts range starting from 8.0 $ going up to 15.0 $.


Price Mens Shirt
| | | |
| --- | --- | --- |
| Low end price | Medium term Price | High end price Range |
| 4.0 to 7.0 US$ | 7.0 to 14.0 US$ | 15 US$ & above |
The price differences arise from the choice of fabric constructions and textures, prints variation, depending upon the printing technique, cuts and stitching details. Other factors, which impact the price level are the type of washes and the value additions provided to the garment. They depend upon the embroidery work, metal studs or the buttons design and quality. In some cases, players also use real Swarovski for high-end models.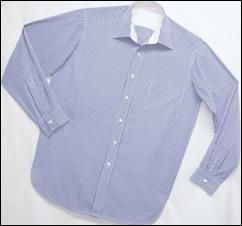 The industry faces a lot of challenges from within, problems such the lack of fully advanced mechanism of production by most of the small and midrange players, power situation, labor laws and fabric sourcing. To overcome logistics and infrastructural problems that hamper growth, it is important to be flexible for smaller quantities, follow modular systems and implement lean manufacturing practices and conveyor systems. Labor laws need to be amended, power situation to be improved and new fabric mills need to be encouraged.

The design innovations and their executions are supported by the manufacturers in house designing and production capability. Some of the big companies are fully equipped with in-house facility, right from fabric procurement stage, to design development, manufacturing, QC facilities and packaging. They are adhering to the international quality norms of being eco-friendly, with efficient solutions to waste materials and the usage of azo free dyes and pigment prints.

The industry hopes to see a revival by 2010-2011 and Indian manufacturers are working on innovative fabrics (organic cotton), textures, washes, wrinkle free finish, color fastness and competitive prices. Mens shirts are today identified more as a global fusion of styles made in Indian sourced fabric.