By:- Fibre2Fashion.com
Textile technology is currently emerging as one of the worlds best, with newly developed items in the environment friendly and green-growth sector. It has been pertinently supported by technology sector and the industrial processing sector. Preview in Seoul is a business trade show which has special highlights on high-tech technologies, functional & eco-textiles, and over and above, presenting outstanding and distinguished textiles.
Preview in Seoul: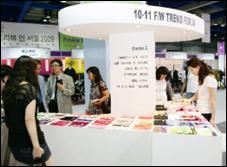 Preview in Seoul was first organized by the Korea Federation of Textile Industries (KOFOTI) in January 2000. KOFOTI is a central textile organization of Korea which performs leading role in reinforcing the international competitiveness of Korean textile products. The event swiftly became one of Korea's premier textile exhibitions aiming to create superior value through promoting active exchanges and building partnerships between overseas visitors and Korean textile companies.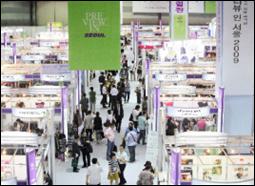 Success History of the Preview in Seoul- 2009 Event:


The 2009 event was organized in an impressive way, acquiring the participation of 214 companies, with 11,477 visitors from 42 countries in search for distinguished textiles in Korea. A growing number of Korean companies highly recognized in world-class exhibitions, participated in the event introducing textiles that combine high functional & eco-friendly and the latest fashion trends. Items such as glossy and shape memory textiles, high-tech functional textiles for outdoor wear applications, home textiles, industrial textiles and knit with differentiated design for maximized added value, silk print, embroidery, lace, and many more were featured therein.
Preview in Seoul 2010:
Preview in Seoul 2010 Koreas premier international textile exhibition, is planned for execution in the COEX B Hall, Seoul, for three days from September 1st to 3rd. The event is organized by KOFOTI featuring world-class multifunctional and eco-friendly technologies that will drive the future development of global brands. Over 370 booths, and 230 companies from Japan, U.K, India, China, Uzbekistan, Pakistan, Taiwan, Indonesia and other countries around the world will be showcased at the exhibition.
Theme of the Fair:
This years event will focus on high-tech functional textiles, a prime showcase for Koreas competitive edge in technology applications, and eco-friendly textiles, the next-generation growth driver for the global textile industry. As a specialized exhibitions in textiles such as fibers, yarns, fabrics, textile materials, design, smart textiles, and fashion information technology (IT), exhibits in PIS will reflect the latest sensibilities and trends from all over the globe.
The participating companies will showcase their competitive and diverse products by displaying a wide variety of textiles including eco-friendly and recycled textiles; memory and metal textiles; high-tech functional textiles for outdoor apparel; Rayon and acetate textiles including Tencel and Modal; home and industrial textiles; and jacquard, print and post-processed collections that aim to achieve high added value through unique and differentiated designs.
Facilities and Infrastructure:
A city of 10 million people, Seoul brings enormous number of consumers. Located in the heart of Seoul, COEX enjoys all the benefits of a prime location. Directly connected with Seouls subway system, and the City Air Terminal, transportation becomes easier. COEX proves to be a world-class convention, and exhibition venue surrounded by hotels, stores, and the biggest underground mall in Asia.
By:- Fibre2Fashion.com
Participants at the Event:
Koreas top textile companies that will participate this year include Youngtex, Shin Heung Corporation, Paka Textile Co., ST OneChang, Young Poong Filltex and SungShin R&A Co. These companies that have proven track records and world-class product lines that have been featured in such major global exhibitions as Premier Vision in Paris and Texworld. Other leading companies at the show include YoungDo Velvet Co., J.S. Finetex, JK Tex Co., HyupSung T.R.D. Co., Shinil Ind., Alpha Fabric Co., JungOne Trading, K.I. Textile Co., and Woowon UMF.
Concept of the Event:
The event proposes to explore, and expose practical trend guidelines, thereby providing the buyers, and participants with future insights in textile, and fashion business. With a right blend of glamour, and moderation, subtle and sophisticated beauty is born. Rightly highlighted by luxurious, and elaborate decorations, the fabric value is highlighted through rich hand feel textiles, and reinterpreted decorations suggesting novel styles. Recycled eco fabrics are indicators of sustainability. A wide range of functional fabrics will be featured in the event.
An ideal platform for Global Brands:


Preview in Seoul 2010 will also support business activities between buyers and participating companies. The trend forum will display marvelous textiles by the exhibitors adopting world-class technologies and fashion trends with strengthened index functions. Other events including the trade show which will present apparels selected and made from exhibitors textiles, business consultation meetings with prior matching of buyers and exhibitors. There will also be a business reception for buyers and exhibitors which will help create business opportunities for both parties Furthermore, this years exhibition will also include 13 in-depth seminar programs to provide new insights into trends and provide sourcing guidelines.
Preview in Seoul is gaining high recognition as "Global textile exhibition" as more and more overseas exhibitors and visitors are showing their presence. For the 2010 event, Preview in Seoul is preparing for a new take off as Best sourcing platform for global brands."
Reference & Images:
&sec=article&uinfo=<%=server.URLEncode(2882)%>" target="_blank">http://en.previewinseoul.com