The retail industry
Organized retail in India constitutes a very little share of around 7.8% of the total retail market. Of that 96% is in the ten biggest cities, and 86% in the biggest six. Through the 1990s organized retail added just 1million sq.ft. of space a year. From 2001 onwards, the pace quickened dramatically and 2003 alone saw an addition of 10 million sq.ft. retail space. As per the Marketing Whitebook 2009-2010, Indian retail market is estimated at US$ 280 billion but organized retail is estimated at only US$ 14 billion. The sector accounts for over 10% of the country's GDP and 8% of total employment of the nation's workforce. Growth in the retail sector had fuelled a rapid mall building scenario across the country, with the total number of malls expected to increase to 600 by 2010 from an estimated 300 by end of 2007. Several retailers, including Indian corporate houses, are foraying into the retail sector through different formats, unlike foreign retailers who usually maintain three to four formats.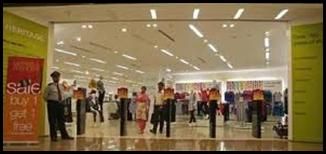 Such growth was aided with an unprecedented pattern of increased consumption. Multiple factors responsible were favorable demography with roughly 60% of the total population below 30 years of age, higher disposable income of middle-class consumers due to employment in IT, increasing number of working women, easier consumer credit with low interest rates, aggressive marketing by companies and change in consumption pattern with high aspiration levels, within the framework of the economy growing at a robust rate of nearly 8%.
The economic meltdown
But then the US went into recession and India tried its best not to succumb to the global crisis created by the flight of capital of the FIIs. To curb the liquidity crunch the government designed stimulus fiscal packages which was expected to expand disposable income and generate demand. Despite such initiative to contain the impact of the global slowdown, economy-wide data revealed that quarterly growth plummeted from 7.6% in Q2 to 5.3% in Q3 2008. The stock market slumped and the rupee too devalued. Companies initially planning on lay-offs and job-cuts subsequently settled for salary cuts or re-allocation of human resources, after encountering stiff opposition. Industrial output in October 2008 was below its level a year ago, an unprecedented occurrence since 1993. There had been a sharp fall in production of consumer durables and non-durables and consumption growth is at a 4-year low. Global consultancy firm KPMG says that India's retail sales fell to 11% in December 2008 from 34% in December 2007. Presumably in this scenario, the assumed GDP growth of 8% to 10% during 2007-2010 in ICRIER's report to Union Commerce Ministry, 2008, leading to 45%-50% growth in organized retail would have to be revised for 2010.
Impact on consumers
Malls as a single-point destination for shopping, food and entertainment appeal simultaneously to the browsing, the brand-conscious, the quality-conscious, the ambience-seeking, the discount-seeking and the impulsive buyers. Studies reveal that when a shopper has a planned list, there is a difference between the list and the products bought reasons for which can be attributed to the factors in the store. In the malls, along with the air-conditioned shopping ambience, quality products, service, convenience and comfort, consumers are offered in-house parking, coffee shops, entertainment in multiplexes, gaming facilities, play areas for children and food courts; which have transformed the mere activity of shopping, movie-watching or dining, to an experiential, lifestyle activity. But amidst growing fear of a severe slowdown that will threaten future earnings, urban consumers have become apprehensive. Though they are buying the day-to-day essentials, it's the impulse buying that is minimal, with consumers preferring only compulsory purchases as per predetermined list. So the volumes have gone down as shoppers are choosing to spend less. Customers have become price-conscious due to weak market sentiments and are not willing to buy anything overtly expensive. In some cases shoppers are shifting back to traditional stores to get assurance of quality at reasonable pricing.
A curious trend has been observed among consumers of luxury goods in "Luxury Considered", a global report by Ledbury Research for the De Beers Group. As the global economic climate worsens and consumer-fatigue with mass-marketed luxury products escalates, there is a shift from conspicuous consumption governed by status and prestige needs to discerning consumption marked by greater scrutiny of product quality, craftsmanship, preference for exclusivity and heightened awareness of social and environmental responsibility so consumers gravitate towards fewer but better things that represent genuine value. A study by Rural Marketing Association of India shows that spending on marriages and travel for pilgrimages also has not shown any reduction. Weddings and celebrations account for 58% of non-routine expenditure. Thus requirement-based shopping does not reflect any decrease.
A survey conducted in Kolkata among urban shoppers in May 2009 reveals that consumers who have been directly hit by the slowdown have tightened their belts and are re-evaluating their buying patterns. The rest, though aware of the economic environment, report no significant deflection in consumption pattern. For instance, Mrs. Sushmita Ghosh (42 years, housewife, husband employed in a nationalized bank) claims that as a salaried class they have not had any cut in their monthly income, so their spending pattern remains largely unaltered. But Mrs. Gopa Ghosh (38 years, housewife, husband runs a travel agency) mentions that since people have now curtailed on elaborate, expensive vacations, their business has witnessed a decline. Thus when previously every weekend in a month meant a visit for the whole family to the mall for shopping or watching a movie in a multiplex, it has now been curbed by giving one or two weekends a miss. What earlier constituted unpremeditated purchases like apparel, gifts and other non-essentials without prior planning presently requires a month's budgeting and scheduling of the purchase. Mrs. Rakhi Dutta Roy (33years, housewife, husband employed in the merchant navy) echoes the weaker consumer sentiment when she states that her cautious attitude towards shopping is augmented by a growing fear of a sharp crisis in the future, which with a further decline in international trade and commerce, may affect her husband's employment. She has curbed her impulse buys and is deferring unscheduled purchases.
Impact on retailers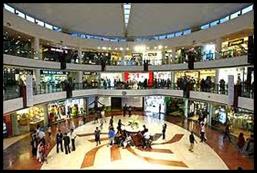 In the face of deteriorating consumer sentiment, malls are finding it difficult to attract footfalls and occupancy rate is also slow. With dipping sales figures, retailers profits have gone down by over 35% as compared to last year. Even during the festive season from October-December 2008, when consumers loosen their purse-strings, products usually in high demand have not seen enough takers. Cheaper items are selling more as compared to expensive items. Same-store sales have contracted. Retailers are scaling down expansion plans or shelving them temporarily to minimize immediate capital-intensive ventures. India Retail Biz reports that Pantaloon Retail India Limited is adding 2.5million sq.ft. of retail space instead of 4million sq.ft. originally planned for next financial year beginning 1st July, 2009. To optimize cost, they are integrating management, marketing, human resource and IT departments of units into one. Shoppers Stop is also studying options for cost rationalization. Spencer's Retail has closed 56 stores and while focusing on large format stores, plan to add 15 Hyper stores in the next two years. Vishal Retail has closed large warehouses in Kolkata and Mumbai until current situation of economic slowdown reverses. Adidas, Raymond Apparel, The Mobile Store, Gini & Jony and Crossword are closing down stores, re-locating and expanding where business is viable. One of the chief reasons for closing stores is that real-estate rentals had doubled in the last three years constituting upto 35%-40% of operating costs in high-end locations. Retailers are re-negotiating rentals to 15%-20% or proposing rentals on a revenue-sharing basis. Where such negotiations fail, decreasing footfalls coupled with sky-rocketing operating costs render the business proposition unviable and they exit. Thus TierII cities where retail real-estate has not reached unrealistic proportions, are noting rapid growth in organized retail as compared to urban cities. Ancillary to stores facing severe cash crunch, retailers are delaying payment to suppliers and with stores finally downing shutters, staff requirement is declining resulting in jobs becoming redundant.
So rather than open more stores, retailers have shifted their focus to consolidate and improve operations by enhancing efficiency and profitability through effective supply chain management, to save inventory and logistic cost and check on wastages. To build up customer loyalty, renewed efforts are being made to undertake intensive relationship marketing and improve in-store service. Retailers are also pushing private labels to protect their profit margins while promoting sales by offering special discounts or other value-for-money schemes.

Future prospects
However with the subsequent revival of the boom period, growth of organized retail and consumption is expected to take a higher trajectory. Consumers presently conditioned into sparing behavior will eventually unleash their pent-up demand for preferred brands. So the present phase can be favourably construed as an opportunity for the retail industry to realign its operational structure, study consumer behavior and build consumer-centric strategies. On a greater platform, a mall leaves an indelible impression on its immediate catchment area and further. Apart from changing the physical skyline, it has a spill-over effect to the human web associated with the mall. Consumers change their consumption patterns, their lifestyle activities and inculcate the mall-culture which provides further growth opportunities for the fledgling retail industry. Also the importance of the retail industry as a job and wealth creator cannot be undermined. This leads to a process where one generates the other and is simultaneously transformed, paving the way for the socio-economic revolution to gain greater ground in India.
Presence of Indian retailers through various formats:
Future Group: Pantaloons, Big Bazaar, Food Bazaar, Central, Home Town, Fashion Station, eZone, Planet Sports, Ethnicity
RPG Group: Spencer's, Spencer's Hyper, Music World, Books and Beyond
Tata Trent: Westside, Fashion Yatra, Landmark, Star India Bazaar (Tesco)
Bharti Retail: Easyday, Easyday market TM, Bharti Walmart
K Raheja Group: Shoppers Stop, HyperCity, Crossword, Stop & Go, Mothercare, HomeStop, Gourmet City
Reliance Retail: Reliance Mart, Reliance Value, Reliance Select, Reliance Trendz, Reliance Jewels, Reliance Digital, Reliance Wellness, Reliance TimeOut, Reliance Footprint
Impact of the slowdown:
Sales growth for Dec 08 quarter slid to 15% from 65% (Sep) and 61% (Jun)

Net profits fell by more than half, after declining 15% in September 08 and growing 8% in June 09

Footfalls declined, same-store sales succumbed, discount periods extended

Consumers continued to spend on groceries and food, curtailing discretionary spending on electronics and furniture

FMCG cos. curtailed supplies to retailers for default in payments

Retailers scaled-back expansion plans

Retailers shut down unviable store formats, relocated stores to stem losses

Retailers lowered operating costs by re-negotiating rentals, electricity cost and rationalized employee salaries

Customized product assortment in each store to suit particular locality, improve processes

Spruced up consumer experience, scaled down back-end infrastructure to save on capital

Worked on inventory optimization by lowering no. of units of a particular SKU
About the Author:
The author is Assistant Professor in Trinity-IMI International Business School (An RPG Enterprise initiative).
Source: http://www.articlesbase.com/
Image Courtesy:
ibtimes.com

business.rediff.com