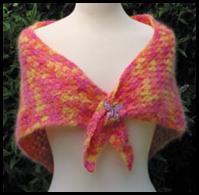 Angora Shawls are one of the most wanted clothing items of women. Extra soft texture, remarkable beauty, warming quality and excellent insulating are the key features which make angora shawls so unique. Few years ago angora shawls were only meant for providing warmth, but now they are a modern fashionable clothing item too. They are naturally available in brown, white and gray color. But now the wool can be dyed to get desired color for making colorful angora shawls. Angora, being an extremely soft fabric, reason behind is that it is obtained from the downy coat of rabbit named "Angora". The world renowned Angora shawl from India, which is considered to be the foundation of the Sikkim state, is experiencing a touch of modernization.
The traditional design of the handloom is now on its way for some makeover, both in its production techniques and designs. For shawl aficionados and collectors, this is great news considering that the Angora wool, from which the Angora wraps are made, is famous for providing warmth and having unparalleled smoothness. The handloom, as well as the handicraft department of the Sikkim state, is embracing new patterns and procedures so as to boost the Angora wrap's popularity. Their main aim is to incorporate embroidery as well as new motifs in the shawls, which definitely adds more flare to the hand-made stoles and gives them new look altogether. To make this possible, a group of local Indian women and specialists on this industry were especially sent to the state of Himachal Pradesh so that they may learn new methods to improve the quality of shawl making.


These women are even sent to Kullu for a thorough training. Today, new motifs and designs are present in almost all the shawls of the Sikkim state. Consumers are making favourable responses on the merger of embroidery and innovative designs. Hence, the Handloom department is geared on using more information technology for creating contemporary designs. In their institute, they have added the Computer Aided Design (CAD) competence so they can make modern designs through CAD. With more than 32 centers throughout the state, the department of Handloom is bent to protect its art and craft through intensive training, as well as providing jobs by employing the youth of the state.

Angora shawl is absolutely a produce to look at for people who arrange to have a glance at the Sikkim state. As mentioned, the fabrics are manufactured from the Angora wool, acquired from Angora rabbits which are raised locally. Hence, this place is the best to look for those fabulous and genuine Angora stoles. It's not surprising that many people created a huge demand for Angora shawls. People look for these as they are warm and at the same time, utterly stylish. Though you may find very few colors (originally in three different hues - grey, white and brown) among these, the quality is uncompromised; and with these new designs, its' a must-have for people who visit or Sikkim or those who simply appreciate this useful piece of garment.
Source: www.articlebase.com