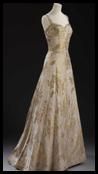 The level of artistry and intricacy achieved by Indian handloom fabrics is supreme and beyond the reach of modern machinery, preserving its heritage and culture. Undoubtedly cotton was the first fabric which has been used splendidly by Indian artisans. Silk and woollen follow. In the world of handlooms there are muslins of Chanderi, silk brocades of Varanasi, the ikats from Andhra and Orissa, the tie and dye from Rajasthan and Gujarat, the phulkari and khes of Punjab, jacquards from Uttar Pradesh, the phenek, tongam and bottle designs from Assam and Manipur, so on and so forth. And in today's date Indian handlooms are going global in a big way and have found support from the designer community too. Ritu Kumar who has created a distinct style of designing, always gives ample focus on the ancient traditions of Indian craftsmanship in contemporary terms. Her boutiques usually presents you with a comprehensive platform surrounding the top quality of Indian design that includes specially produced range of high fashion garments and accessories using silk, leather and cotton. She believes that Handlooms not only represent an industry but the cultural heritage of India and it's our responsibility to promote handloom as much as possible.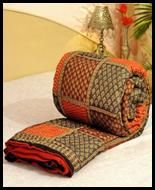 Other fashion biggies like Raghavendra Rathore, Narendra Kumar Ahmed and Anamika Khanna translated various elements picked up from the Rajasthan (known for Hand block prints, tie and dye, Bandhej) onto their designs and colour palettes. Not only designers, politicians too are doing their best to promote Indian textiles. For those who know Jaya Jaitly only as a politician- she is the founder President of a Crafts association Dastkari Haat Samiti and was instrumental in setting up the widely popular Dilli Haat. The lady recently opened one more store of 'DHS' with Poonam Bahl of 'Muave and Pink' at Khan Market. It's not a shop with shelves bearing branded products. The dcor is so that it creates a feeling of crafts. We want people to come and browse here. They can pick up things one usually misses in the jumble of Dilli Haat such as these wire cycles, found on Delhi streets that usually go unnoticed. Moreover, through this store I want to show how beautiful Indian craftsmanship is" says Jaya.


Maneka Gandhi who was present at the launch said "I always believe in Indian skills and craftsmanship, they are our culture and we should be proud of them. One can see me always wearing either cotton or khadi. For me the Indian Handloom industry's journey is a unique effort to combine art, craft and handmade textiles with multiple forms of creative expressions". Dastkari Haat offers hand made products by craftsmen across India, allowing more discerning customers to pick up little wire cycles, carved wooden boxes, textile paperweights and folders made out of recycled maps and even fish wall hangings made out of organic cloth. You will also get to see the variety of stoles, bags, cushion covers, vividly coloured grass and palm-leaf baskets, madhubani art on tin trucks, fresh jams and organic cosmetics from women's income groups in Uttranchal.
The handicraft stalls are allotted on a rotational basis to craftsmen from all corners of the vast and varied land of India, usually for fifteen days thus ensuring that different handicrafts are available to visitors at each visit, and also enabling them to buy authentic wares at prices that have not been inflated by high maintenance costs. The Delhi Haat is indeed a window to the world of rich cultural vivacity present in India. So if designers and politicians are doing their best to promote Indian craftsmanship and handloom sector then why should we be left behind? May be it's time to move on from haute couture and prt a porter to rich Indian heritage and textiles.
Source: &sec=article&uinfo=<%=server.URLEncode(2929)%>" target="_blank">http://www.articlesbase.com/
About the Author
Stylekandy wrote this article on behalf of &sec=article&uinfo=<%=server.URLEncode(2929)%>" target="_blank">Fashion Week Models Photo for more information on fashion and beauty related product and tips for Style Tips For Women and fashion deals online you can visit stylekandy.com