The fully Fashioned Sweaters can be classified in five different shapes, Set-in Sleeve, Straight, Raglan, Saddle Shoulder and Classic. Examples of these styles are given in pictures given below. The beauty of the garment lies in the accurate fitting of the union points of front back and sleeve. The common mistake is that most of the times, as these panels knitted and not woven, the loops compensate for the deficiencies of the shapes of front, back and sleeves. The garment may measure accurately but the expert eye will always know that because of the inaccuracy of panels, the stitches or knit loops do get distorted and are not aligned any more. A very nicely made garment when placed on a table shall have all the courses and whales in straight lines, which at times becomes very difficult to achieve and the arms of the sweater shall extend at the same angle as that of the shoulder slope. The sleeves shall not puff out at the shoulder joint nor shall they cave in. Therefore the most important measurement in a sweater is the slope of the arm hole as the angle so created shall be the angle of the sleeve joint as well. Surprisingly the shoulder slope is not given the due respect by the knitters that it demands.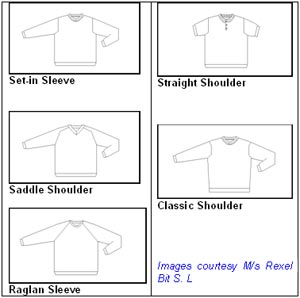 The calculations of knitting specifications are based on combination of simple mathematics and the Pythagoras theorem of Geometry. In most of the cases the dimensions given by the customer are as given under in two different sets, the first one where the sleeve length is given as under sleeve length this practice is more common in UK and the other in which the sleeve length is given for the upper part of the sleeve.



About the Author
The author is the Executive Director of Sportking Institute of Fashion Technology, Ludhiana and has working experience of over thirty years in knitting. He is also a qualified professional in Total Quality Management, Kaizen and Lean Production. He has his own company in the name and style of M/s Techknit Overseas Pvt. Ltd. and has worked as Indian agent of the top three computerized flat bed knitting machine manufacturers for many years. Currently he also looks after the interests of Toyota Tsusho India Pvt. Ltd. an Associate Company of the famous Toyota Automobile Company of Japan for Punjab and surrounding areas. He is also working as a Marketing Consultant for a Chinese Machinery Manufacturing Company and as TQM consultant for a few Knitwear Companies.