International retailing giants offering clothes and accessories are flocking to the Chinese mainland to tap the huge potential of so-called "fast fashion". The phrase is taken to mean clothing collections which are designed and manufactured quickly, are affordable and are aimed at mainstream consumers; it's otherwise known as "throw away" fashion. Gap, one of the biggest garment retailers in the US, announced at the end of June of its decision to venture into the Mainland market by opening flagship stores in Beijing and Shanghai before the end of 2010. It also disclosed plans to provide Chinese consumers with online shopping services.


While overseas garment retailers are gearing up to China's "fast fashion" market, local manufacturers are also poised to join the race.

Vancl, established by the founder of online retailer Joyo.com, launched two rounds of light box advertising offensives on the metro and public transport systems in Beijing and Shanghai during May and June respectively.

The outdoor advertising debut of famous Mainland writer Han Han and teenage idol Wang Luodan, as Vancl's ambassadors, drew plenty of media and cyber attention.
Marketing success

The crucial factors contributing to the success of "fast fashion" are novelty, trendiness, uniqueness and low price. The approach mainly targets young people. As Mainland consumers have only just learned about "fast fashion", first movers like Zara, H&M, Uniqlo and C&A were able to capture a sizeable share of the market early on.

"Fast fashion" brands rely on several factors to establish their foothold on the Mainland. For a start, they have a short product life cycle, from product development to marketing. They closely follow fashion trends (rather than setting new trends), produce designs of the season (not ahead of time), and pay attention to the span of consumption.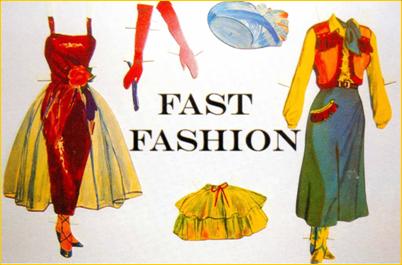 The second factor is "speed". Speed is the core value of "fast fashion". The entire process from planning, design, display, placing orders, production and delivery normally takes between 120 and 160 days. H&M and Zara can have their products on the shelves within two weeks of holding their quarterly shows.

An affordable price is what attracts young people to "fast fashion". The prices of H&M clothing range from Rmb99 to Rmb299. Zara's prices are slightly higher. At Uniqlo, T-shirts sell at only Rmb59 and jeans at Rmb99. There are also bargain items selling at about Rmb39 each. Where it comes to fashion design, H&M usually co-opts famous designers to boost its brand image. Zara's positioning is slightly higher. It basically toes the line as a low-end, big brand by imitating the designs of top luxury brands. Uniqlo produces mainly essential items, with a focus on practicality. These brands are selling products at low prices but with top rated store images. Their high-end shopping environments and designs help consumers shake off the "cheap goods are inferior" catechism. These brands attract not only students but also a growing middle class following. For example, Uniqlo is a national clothing brand in Japan but its "low price strategy" doesn't work on the Chinese mainland. It had to close two of its nine stores in 2005.
The slow growth of traditional marketing channels was what prompted Uniqlo to choose the online platform to make its breakthrough. In April 2009, the store chain joined hands with Taobao.com to open its online flagship. It became the best performing store on Taobao.com within 10 days of opening. The Uniqlo online flagship store posted an average of one transaction per second in its early days, with total transactions and visitor numbers equivalent to the total of all the chain's physical stores. So Uniqlo's nine-year presence in the China market turned out to be a breakthrough into digital sales. E-commerce is also beginning to grow in popularity.Vancl, for instance, launched a massive online advertising campaign and achieved massive success. Its sales volumes increased by 300 times over three years. The business-to-consumer (B2C) mode of business helped establish Vancl as a household name in online sales. Now Vancl receives over 30,000 orders and sells some 100,000 units daily, with average daily turnover exceeding Rmb 6 million. Its men's wear, ladies' wear and shoes are all selling well. Daily transactions of some hot selling items even exceeded 100,000 units on peak days.


Originally published in: The Stitch Times, September-2010