India is a country with rich traditions and skills of its craftsmen. It is not surprising, that the country is having a niche in the knitwear sector as well. Knitwear industry in India is all set to have a major take-off in the global forefront.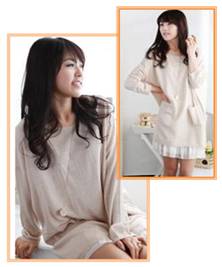 Indian knitwear industry is more than a century old. Calcutta, the cultural capital of India, and the commercial capital of East India owns the credit of giving verve to this industry. The initiative started with a small hosiery unit, which later grew multi-fold during the years. Currently, Indian knitwear makes a significant contribution to the countrys economy, and employment. Several other units support this sector by making relative products.
Ludhiana in Punjab, Tirupur in Tamil Nadu, Delhi, Bangalore, and Mumbai are the important knitwear centres. Almost 100 different types of wool are manufactured in Rajasthan, popular varieties being joria, magna, chokla, jaisalmer etc. These varieties are blended with other relevant fibres. With the advent of ideas from international designers, domestic industry is flooded with fashionable knitted apparels.
Export Market for Indian Knitwear:
Export market for Indias knitwear is showing positive signs of growth. It is steadily emerging as one of the fastest growing export segments. Textile accounts for 30% of the total exports of the country, and knitwear comprises 45% of it; volume wise. The role of knitwear within textile sector shows an increasing pace, as being preferred comparatively over woven garments due to their virtues of comfort, stretchability, easy care, and the pattern of being built within the knitted fabric structure. While the domestic market is mainly based on festive and summer seasons, export markets are mainly based on summer seasons in the West. Mostly apparels with cotton knit is preferred in the export market.
Export figures were maintained at `11,500 crore during 2009-10 and recorded a 10% increase this year. Main markets of exports for India are US, Canada, popular fashion houses in Europe, Australia, Japan, and the Middle East. The country faces fierce competition from the West European markets, Hong Kong, Bangkok, and Taiwan. Despite all the competition, India has carved a niche for its knitted apparels in the global market on the foundation of its quality, competitive pricing, and innovative styles. While style plays an important role in the domestic market, fabric quality, and finish of the apparel is given prime consideration in the foreign markets.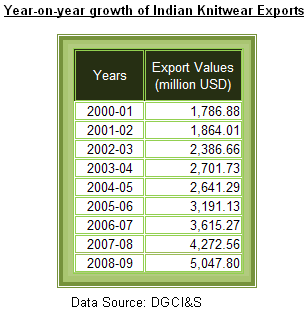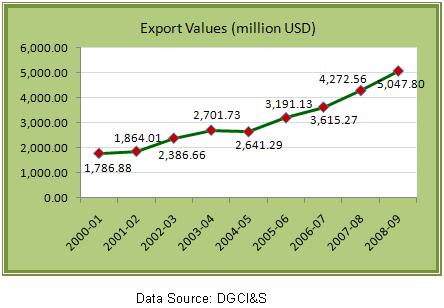 Main items of export apparels are mens T-shirts, ladies tops with exquisite embroidery and sequins, sportswear, jogging suits, night suits, and boxer sets. Initially Ludhiana and Calcutta were the main production centres. Currently Tirupur has developed into a major production centre exporting approximately ` 850 crore worth of knitted apparels. This is almost 40% of the total knitted apparel exports from India.
Various styles are available matching with the requirement of every country, and the domestic market. While double sinker body makes a popular export item, interlock is favored by the domestic market. Embellishments such as slogans, patches, laces, funky prints, wooded beads, and zardosi are preferred both in India and abroad. Formfitting tube tops, sweat shirts, and jogging pants are liked by the body conscious people of other countries.
The industry is aptly groomed with creative skills, and polishes its designing skills to match with the international standards. Taking the aid of international designers, Indian manufacturers are able to follow worldwide trends and manufacture apparels with mind blowing permutations and combinations. During the 80s, knitwear market took a swift take-off, and cotton knitwear became very popular, even in offices, and informal functions. Today designers from all around the world look at knitted garments with interest.
Indian knitwear industry is rich in raw material sources, and is one of the largest producers of cotton which favors the knitwear sector. Its highly trained manpower, competitive spinning sector and value chain is also at its favor. The diverse nature of the industry aids its manufacturing facilities, apparels made, cost, fabric needs, and the quality of its output. On the contrary, its fragmented nature, due to reservation of production for small companies has distorted its competitiveness. Globalization is now posing a threat to the local markets, and exporters.
The Government has introduced new textile policies to enable reasonable prices, fabric quality, and ensuring sustainable employment and economic growth of the knitwear sector. With the Indian knitwear industry well aware of the global trends, it would not take long before the country makes its presence noticeable in the global market.
References:
1. &sec=article&uinfo=<%=server.URLEncode(2978)%>" target="_blank">http://www.indiaprofile.com
2. &sec=article&uinfo=<%=server.URLEncode(2978)%>" target="_blank">http://www.ludhianabds.com
3. &sec=article&uinfo=<%=server.URLEncode(2978)%>" target="_blank">http://www.southdreamz.com
Image Courtesty:


image.yesstyle.com