By: Shramana Ganguly Mehta
Market Share for Ladies Category in India to Jump Three-Fold in Four Years

The rugged fabric is desperately seeking female attention. With women constituting only 8% of the `4,700-crore Indian denim market, the fabric is keen to drape the fairer sex. Denim makers say men led the 10- fold jump in consumption over the last 15 years and now, it is over to women to lead the next growth phase. At present, for each 100 men who own a pair of jeans, there are 15 women. This ratio will change to 100:30 by 2015, predict garmenters, even as designers work on newer trends that would appeal to women.

Latest Trends/Designs in Women's Jeans:
Lightweight denims and front pleating are in
Vintage fits, such as the "mom" jeans, continue to be popular
Dungarees and denim short-alls are shaping up to be a key festival staple
Authentic denim colours are in vogue with an emphasis on warmer colours with worn and laundered looks
Traditional labelling, person­alised embroideries are in
Pockets are a key detailing focus
Chunky, contrast zip accents adorn side seams and pockets. V­intage fits, such as the "mom" jeans, continue to be popular


Vital Statistics:
India has the capacity to produce 650 million metres of denim per annum
Close to 300 million metres of denim fabric is consumed by Indians annually
In US, the per capita per unit pur­chase stands at 1.9 jeans
In India, the per capita per unit purchase of denim stands at 0.3 in 2010
Men comprise 75% of the denim market in India against 8% women
In US, the per capita jeans ownership stands at 8 while in case of woman it is 7
In India, the per capita jeans ownership is between 0.25 metre-0.30 metre



Ashish Dhir, head, Fashion Practice at Technopak, says women's denim category would grow 23% much faster than men's 15% annually. The market share of women's denim too would grow from 8% t0 25% by 2014.

So, be it a pair of jeggings (skin-fit style), a coloured jeans for a flashy teenager or a denim trousers for a working woman, retailers expect women to end saturation in the market.

The Indian consumers are still far away from their American counterpart, but are fast catching up. Denim exponent Sandeep Agarwal of b2b portal denimandjeans.com says: "While an American purchases 1.9 pair of jeans per annum, Indians buy 0.3 units currently, a ten-fold jump over 1995 levels. Further, with Indian women yet to accept jeans, there is ample opportunity for the category to grow. While in case of men, the urban-rural ratio of denim consumption is 70:30, in case of women it is 100% urban. In cities, women in the age group of 15-45 purchase around 1.7 jeans per year, against 1.9 jeans bought by men annually, adds Dhir.

Subir Mukherjee, marketing head of India's largest denim-maker Arvind Ltd, says denim is awaiting a trigger which could come from C and D (towns and villages) pockets.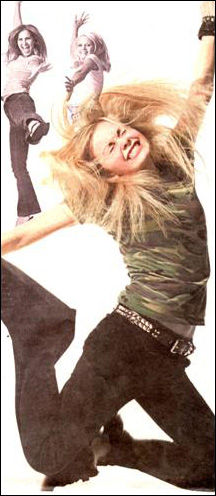 With women not in the loop of the fabric, all retailers have focused on the category for growth, he says. "While acceptance of denim would require a change in mindset, India should expect women in big numbers to take to denim in the next five years. The category should grow to at least 30% then, "says Mukherjee who has seen composition of stretch denim fabrics that are typically used in women's denim growing from 10-12% to more than 20% over the last few years. Arvind Ltd supplies fabric to Levi's Strauss, Lee, Wrangler, Pepe and Spyker.
Apparel retailer Pantaloons too has witnessed tremendous excitement in the category. Zahid Shaikh, (head marketing) at Pantaloons says: "Denim is an ever popular fabric and the usage is increasing tremendously day after day. Denim is the largest category for Pantaloons next to women's ethnic wear." Pantaloons retails denim brands like Bare Denim, UMM for men and women and Jealous 21 for women.
Rahul Mehta, president of Clothing Manufacturers' Association of India, who supplies denim garments to retailers like Pantaloons, Big Bazaar, Lifestyle and Reliance says sociological changes have given a big boost to the women's denim category in India. "Five years ago, for 100 denim garments-stitched for men, mere 2- 3 would be for women. Now, it is 100: 10-15 and five years from now, it would be 100:30-35," he says.
Mehta reasons that with young adults and women accepting slim-fit denim jeans as a bottomwear against their ethnic pyjamas or churidars, there is a cultural revolution that is sweeping the denim retail. "Girls have begun teaming their knits, kurtis, kurtas with either a pair of jeans or jeggings, a new concept in India. In fact, owing to their closeness in tenns of comfort, feel and look to an Indian bottomwear, denim jeans are being adopted subtly and in an ethnic manner by the Indian women," says the garmenter of Mumbai based Creative Garments Group, for whom women's jeans contribute 50% to the kitty.
Taking a cue from the consumer, Arun Sirdeshmukh, (chief executive) at Reliance Trends has introduced jeggings at ` 499. "Brands are n playing their games keeping in mind that teenage girls, working women and new-age d mothers have begun adopting denim in their n everyday lives," adds PR Roy, (director), fibre2fashion.
Originally published in The Economic Times, Ahmedabad dated October 28, 2010
Image Courtesy: jeanspassion.com