With the new fall season comes great new fall fashions for girls. This fall, designers are all about reinventing classic shoe styles and coming up with creative new looks that have never been seen before. There are more styles and varieties than ever before, so no matter what your style is, you'll definitely find a pair of shoes that suit your sense of fashion. Here are some of the current trends for girls' shoes.

Boots

Boots are always fashionable for fall, and this year they are everywhere. One look that is back again is the classic, knee-high look with either a flat, chunky heel or a spiky stiletto for a night out on the town. If you are a bit more daring, go for the over the knee boot. This trend looks great with a little mini skirt and leather jacket for a stylish night out. If you prefer a more casual, daytime look, go for a pair of brown leather "riding" boots for a look that is sophisticated and preppy.


Booties

Booties are a much newer trend, and the look can be seen everywhere from the catwalk to the high street. Booties are different than regular boots in that they combine a shoe and a boot together so you get a very versatile shoe that can be worn with skirts and jeans alike. For a really edgy boot, go for an ankle bootie with a heel and a peep-toe front. If you want a casual daytime look, check out booties with a small wedge in muted colours like gray and taupe.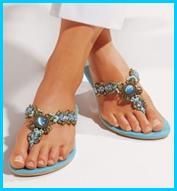 Flats

Flats came into fashion several years ago and are not going away anytime soon. The combination of comfort, simplicity and style make this type of shoe a staple for every girl. This year you can find a variety of different flats from very glitzy, sequined flats perfect for the nighttime down to the simple brown loafer that looks great with school attire. Another trend for flats this season is the animal print. For a look that is fun but can be worn with many different outfits, look for an animal print in black, white and brown colours.

Trainers

Trainers never really go out of fashion as they are the most comfortable shoes available. This season you can find really fun trainers in a variety of shapes, colours and patterns. For street trainers, go for a really bright, retro look that can be paired with jeans for a very cool outfit. If you are shopping for athletic trainers, go take a look at the technologically advanced features that are new this year. There are some really great shoes that give you the support and performance you want. There are even trainers designed to specifically sculpt the backside as you walk.

Whatever style shoe you go for, be sure to have fun with it. This season is all about the small details and bold shapes and colours. Take risks this season and you'll be sure to be the envy of all your friends.

The author is a fashion and clothing trend spotter.
Source: http://www.articlealley.com/
Image Courtesy:
bellebysigersonmorrison.blogspot.com
sofeminine.co.uk
gamespot.com
fgmarket.com