Barabanki handloom cluster produces wide range of products, which are highly demanded worldwide as well as in domestic markets. It is the heart of Zari and Applique cut- work.
Barabanki Cluster falls under Uttar Pradesh State in Barabanki district. There are around 50,000 weavers and 20,000 looms at Barabanki and adjoining area. In addition, there are number of traders and auxiliary support providers. The annual turnover of Barabanki cluster is projected to be Rs. 150 Crore. The main products are Scarves, Shawls and Stoles, which have a good export market. The mobilization of resources and labour is gaining impetus producing refined results day by day.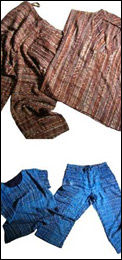 Raw Materials:
Basic Raw Material: Silk, zari, cotton, polyester, jacquard loom, dori, etc.
Decorative Material: Peacock feathers
Coloring Material: Bukani (colour powder)
About 95% of the revenue of this handloom cluster is exportable. Most of the services are contracted out by cluster players in order to meet huge demands in a limited time period. The Barabanki cluster provides for scarves and stoles and some of the designs have exportable significance in some of the Middle East and European countries. Dyeing techniques of the cluster have shown improvement and numerous dyeing houses have been established so far for quality upgradation.

Process:
Initially the design is handrawn on the paper and then shifted from paper to the yarn to weave through warp and weft. This Jaal effect is hovered from top of the loom and attached to the warp threads and only the controlled warp threads are elevated as per the design. Extra weft threads of zari/ silk are inserted in the raised portions, row by row, along with the running weft thread.Jala device has been replaced by the punched cardson; the jacquard looms for these brocade decorations. Gyasar the Tibetan woven offerings are very closely woven. Apart from the silk/zari thread peacock feathers are used in a satin weave to produce an entire surface of the feathers. The motifs are rushed on different colours like dark red, yellow, blue and white satin ground with use of gold and silver zari.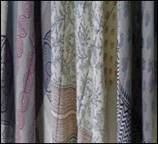 Applique and Cut technique
Chikan Embroidery is characterized by the art woven by white threads. It can be weaved from the front as well as back of the cloth. Some stitches are worked from the front of the fabric, others from the back. There are mainly six types of stitches that are done for the Chikan embroidery purpose.

Pulled work (known as jaali), which means a gap with a prickled web, peeping through which we can see the other side easily, and khatao, applique-and-cut technique, where one section of fabric is hemmed on to another piece and afterward cut away.