The Cotton Market
Cotton, which is a basic raw material for the apparel industry, can now be used as an example to define a scarce resource in any economic context. The recent past has seen a huge hike in the prices of raw cotton.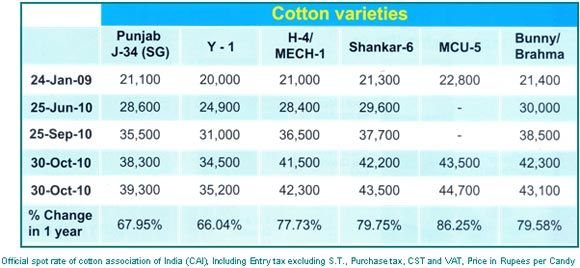 Due to this unprecedented increase in cotton prices, apparel manufacturers and exporters are in a tight spot. Overseas buyers - especially in the United States and the European Union - are still emerging out of the worst economic recession in 70 years and thus unwilling to pay higher prices.

While world over cotton is increasingly becoming a scarce commodity due to demand supply mismatch, the domestic industry is not being able to avail the home advantage of a good cotton crop. During September 2009 and October 2010, India produced around 300 lakh bales of cotton against 290 lakh bales of cotton which were produced the previous year. When the whole world faced a dip in the cotton production by five per cent, India recorded an increase due to 40 per cent increase in minimum support price (MSP) of raw cotton in 2008-09. However, given the world shortage, exports picked up rapidly leading to shortage in the yarn industry.
Balancing the Demand Supply Mismatch
To bring some balance between domestic use and exports, the Government suspended the registration of raw cotton export shipments indefinitely from April 19. Even after this ban, the price of cotton did not come under control as export contracts worth more than 79 lakh bales were already registered. Subsequently, the Government decided to put a cap of 55 lakh bales for 2010-11 on cotton exports effective from October 1. Any exports beyond this limit would be charged a prohibitive duty.
However, this did not bring sanity in the yarn prices. Cotton yarn prices rose by 71-83% in last 16 months.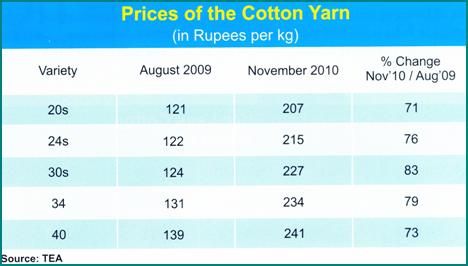 Addressing the industry's concerns, AEPC chairman Mr Premal Udani said "Cotton yarn prices have increased by an astounding 100 per cent in the last year. The last two months witnessed an increase of 30 per cent in the prices of yarns. Due to this apparel exports are down by eight per cent in the last 6 months, just as yarn exports are up by 35 per cent in the same time frame. Already 250,000 people have lost their livelihood from the industry. The present increase in yarn prices has resulted in clothing becoming expensive by 25 per cent for the common man. The government has capped raw cotton exports, but not cotton yarn exports, which is a raw material for the value added industry."
He even met key government officials and political leaders like cabinet secretary at the prime minister's office K. M. Chandrasekhar, principal secretary T. K. A. Nair, textile minister Dayanidhi Maran, commerce secretary Rahul Khullar and former Madhya Pradesh chief minister Digvijaya Singh.
Issues of Concern
High cotton yarn prices -- up by 83 per cent, no restrain on exports; leading to distortion in demand and supply

Non-availability of home advantage

Fabric price shot up by 38 to 90 per cent

Loss of opportunity to export garments by India, due to uncertainties in supply prevailing in China and Bangladesh

60 per cent of our cotton goes to China and 40 per cent of our yarn to Bangladesh; India helps build their capacities at its industry's expense.

Appreciating rupee against major currencies

Withdrawal of certain benefits by the government like: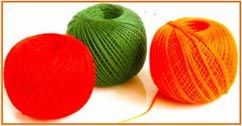 Reduction in duty drawback from 8.8 per cent to 7.5 per cent

Withdrawal of two per cent focus market scheme to USA beyond October 1

Withdrawal of two per cent interest subvention on pre and post shipment rupee export credit
The appreciating rupee is also coming up as a big hurdle in the way of the Indian apparel exports. The rising rupee translates into higher dollar prices, making our Indian products less competitive in the export market and also the dollar profits earning less rupee profits.
Adding to all this, the rollback of duty drawback and special incentive of two per cent have negatively affected the garment industry of India.
These issues have left the retailers and the manufacturers of garments with no choice but to look for newer options to stay competitive in the market while taking care of the latest fashion and increasing demands of the consumers.
Higher Margins of Yarn Processors Inflating Prices in India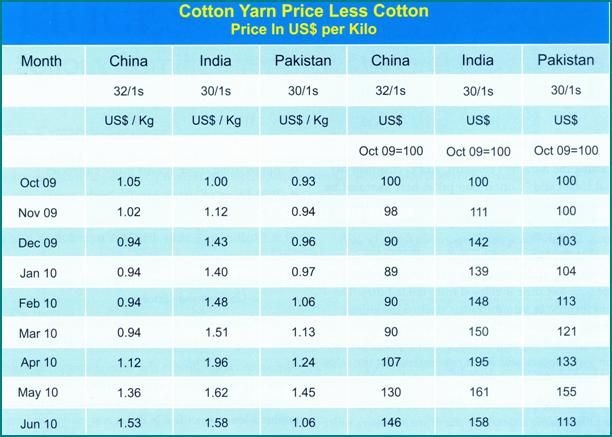 According to Emerging textiles, a leading online textile and apparel portal, the reason for the spike in yarn prices in India is not fully explained by the cotton price rise. Infact, margins, i.e. price of yarn minus the price of cotton in India, is one of the highest, and increased in 2010.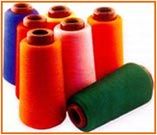 The yarn price rise has translated to higher fabric prices. Fabric prices have jumped 50 to 60 per cent in the last one year, leading to cost escalations.
Garment exporters cannot pass on these increases to their buyers, nor can they absorb them as they are already under pressure due to strengthening of Indian rupee vis-á-vis US dollar and euro.
Originally Published in Apparel India, Dec-2010 (Vol.2 Issue 11)
Image Courtesy: redsuit.com.au