The Cotton Market
Cotton, which is a basic raw material for the apparel industry, can now be used as an example to define a scarce resource in any economic context. The recent past has seen a huge hike in the prices of raw cotton.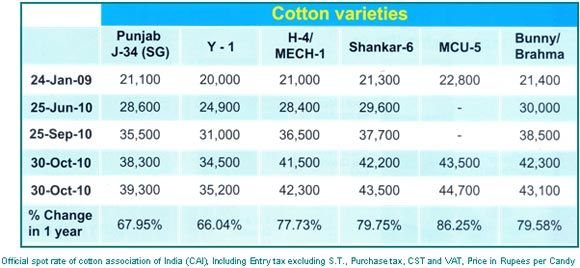 Due to this unprecedented increase in cotton prices, apparel manufacturers and exporters are in a tight spot. Overseas buyers - especially in the United States and the European Union - are still emerging out of the worst economic recession in 70 years and thus unwilling to pay higher prices.

While world over cotton is increasingly becoming a scarce commodity due to demand supply mismatch, the domestic industry is not being able to avail the home advantage of a good cotton crop. During September 2009 and October 2010, India produced around 300 lakh bales of cotton against 290 lakh bales of cotton which were produced the previous year. When the whole world faced a dip in the cotton production by five per cent, India recorded an increase due to 40 per cent increase in minimum support price (MSP) of raw cotton in 2008-09. However, given the world shortage, exports picked up rapidly leading to shortage in the yarn industry.
Balancing the Demand Supply Mismatch
To bring some balance between domestic use and exports, the Government suspended the registration of raw cotton export shipments indefinitely from April 19. Even after this ban, the price of cotton did not come under control as export contracts worth more than 79 lakh bales were already registered. Subsequently, the Government decided to put a cap of 55 lakh bales for 2010-11 on cotton exports effective from October 1. Any exports beyond this limit would be charged a prohibitive duty.
However, this did not bring sanity in the yarn prices. Cotton yarn prices rose by 71-83% in last 16 months.