Sonepur cluster concentrates on the manufacturing of tie & dye and Bomkai designs in a saree. This cluster makes plain cotton sarees, simple silk sarees with Bomkai designs together with dress materials for women.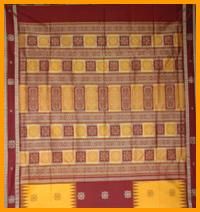 Introduction
Sonepur lies in the western zone of Orissa. This cluster is renowned for its unique Bomkai patterns also known as 'Bandha'. The Bomkai pattern is created by Jala technique on the fabric. The weaving practice has been very old and historic and contains traces from as old as 600 B.C. The designs are inspired from the caves of 'Khandagiri'. The cluster is dedicated completely towards silk weaving with Bomkai patterns.
Sonepur handloom cluster had started focusing on silk weaving especially the Bomkai design in the late 1980s. It is famous for its weaving because of the production without using any extra machinery like Jacquard and Dobby. In the Bomkai patterns, both the warp and the weft are coloured in different combinations. On the borders, warp alone is processed, while for Palavas and Anchal of sarees, weft is processed and overall saree designs, both the warp and weft are processed.
In the earlier days, the weavers here not just made use of cotton yarn but Tassar silk, wool and lotus stalks were also used. During 14th Century, Sri. Ramai Dev used to reign in Patnagarh, where he relocated 100 weavers from M.P who initiated Tie and Dye weaving in Orissa. The caste of those weavers is known as Bhulia. Orissa used to export handloom to south-east Asian regions like Thailand, Java, Borrneo and Sumatra in pre-independence epoch by the way of sea.

Marketing

Master Weavers play the most vital role in the marketing of the products. Weavers work as employees under Master Weavers also known as Mahajans or Sahukars. They obtain raw material for the weavers to produce materials and as the product is ready, it is marketed by Master Weavers. The remuneration provided to the weavers is in the form of wages on daily basis or monthly basis.

Weavers also work independently in the cluster. It is too difficult for them to market their products due to lack of sources and they have to sell their products as and when they are prepared. To carry on their living they need to find the buyers immediately. It is impossible for them to wait for the sales for a long period due to their weak economic conditions and need of livelihood. In fact the frequency with which he sells products determines his economic well being. The irony is that, on an average a weaver takes two weeks for making of a product and four weeks for selling it. For all this period his capital is stuck. This forces him to sell his products at a much lower price, making futile all his efforts and hard-work in making that one piece of product.