After all the perplexity of soaring yarn prices, and a resulting decline in the apparel exports, Indian apparel exporters are now feeling optimistic. Did the export capping on cotton yarn really help the domestic apparel makers? Whats in store for 2011?
Indian apparel sector was under the pressure of rising prices of cotton yarn for quite some time. During the past three months yarn prices have increased by 40%. This has resulted in an increase in the price apparels which trigged an adverse decline in apparel exports incessantly for the past 7-10 months. After months of ordeal, now apparel manufacturers have a reason to cheer up.
Cotton Yarn prices affect apparel exporters:

EU and US make a major market for India's apparel exports accounting for an 80% share. Soaring prices of cotton yarn have caused a drastic fall in the apparel exports. The hike in garment costs has made the international buyers to seek options in the neighboring countries of Vietnam and Bangladesh, as they proved to be cost effective.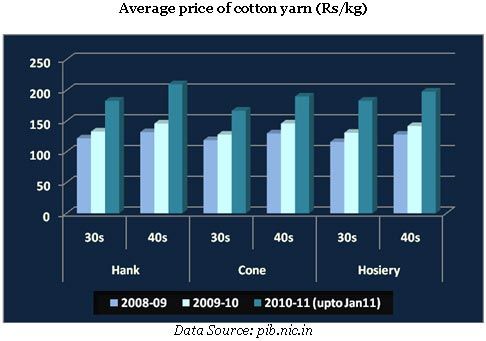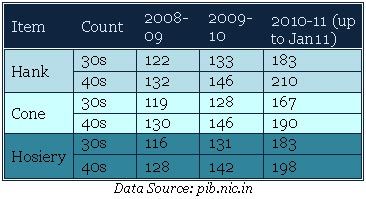 Minister of State for Textiles, Smt. Panabaaka Lakshmi has been quoted as saying, that apparel exports during 2008-09 was USD 10383.26 million, and declined to USD 10046.89 million during 2009-10. The Minister further stated that production of raw during 2008-09 was 290 lakh bales, and has increased to 295 lakh bales during 2009-10. Similarly production of cotton yarn also experienced an increase of 12.6% for the period 2010-11 (April-December) comparatively over the corresponding period of 2009-10.
Industry analysts predicted that higher fabric costs would cause a further decline by 3% bringing the exports down to USD 10200 million during 2010-11. Garment industry provides livelihood for more than 7 million people in India. As, more than 50% of the garments are exported, the sector was severely affected due to the price hike of cotton yarn and apparels.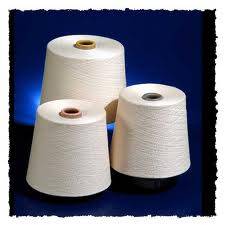 Apparel sector sees a silver lining:
Apparel industry is seeing silver linings since December 2010. After months of decline from May till November 2010, apparel sector is currently in the recovery path. As per the data released by AEPC, after December 2010, there is an increase in the exports up to 40% with apparel exports touching 1 billion USD. This is a positive indication compared with the November figures which were 7.10 million USD. Apparel exports for three months ending December 2010 were 2,438 million USD, which is higher when compared with the corresponding period of the previous year; 2009-10, which were 2,398 million USD.
Government, capping the yarn exports to 720 million kg for FY 2010-11 is facilitating a steady supply of cotton yarn in the domestic market. Earlier domestic apparel makers were not having sufficient quantity of cotton to meet their production requirements. With the ceiling of exports of cotton yarn is believed to control the soaring yarn prices much to the relief of the domestic apparel makers.
Favorable spots for 2011:
AEPC is optimistic that the export figures will reach 11 billion USD for 2011. Based on the stability of raw materials, the council also predicts a further growth of 10%. Textile retailing which is currently estimated to be around
3, 15,000 crore is predicted by industry key players to witness a drastic growth and reach
9, 90,000 crore by 2020. With many manufacturers changing their raw material source from cotton yarn to polyester, demand, and price is likely to decrease. Economic analysts feel that prices of cotton yarn will not increase after one or two months.
The CEPA agreement (Comprehensive Economic Partnership Agreement) signed with Japan for USD 5 trillion GDP is positively expected to boost the growth of the knitwear sector exports. This is one of the biggest agreements ever signed by India.
Challenges for 2011:
Nothing in this world is an unmixed blessing, and so is the apparel sector. Though cotton prices are under control, an increase in the near future is expected. In Tamil Nadu, which is regarded as a textile hub, court has ordered for the closure of some dying units. This is likely to affect the performance of the knitwear industry, earn the dissatisfaction of foreign buyers, and delay in pending contracts causing a deterioration of goodwill for apparel exporters. Soaring prices of raw cotton, and a resulting increase in the prices of cotton yarn had forced some industry players to show down their operations, resulting in a job loss for many.
Despite all the confrontations, cotton, and cotton yarn remains the main traded agricultural raw material. 2011 offers a promising year for cotton growers, apparel makers, and apparel exporters.
References:
1. Cottonguide.org
2. Indiacurrentaffairs.org
3. Business-standard.com
4. Indiainfoline.com
5. Indiaretailing.com
6. Apparelmakers.org
Image Courtesy:
1. bossgoo.com