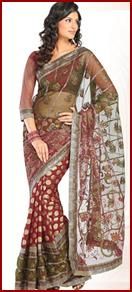 Sarees continue to rule the fashion circuit even stepping into 2011. One of the most popular choices with women not only in India, but the world over, this beautiful garment continues to be a strong contender whether it is for a special occasion or for casual wear. Though it is traditional attire, sarees are now worn by women of all age groups both in conventional and contemporary styles. So lets take a look at what is fresh for this new year.

One of the more strongly emerging trends carried into 2011 is the party wear saree. More and more women both nationally and internationally are turning to sarees for party and cocktail attire. Party wear sarees are a graceful and sensuous alternative to a cocktail dress and definitely sets you apart from the crowd. Gorgeous sarees in materials like net are a new favourite and sarees in georgette, faux georgette, chiffon and even satin continue to be a favourite in the party scene. Tons of sequin work and decorative bling are design aspects that are here to stay as well as appliqué work.

Another emerging trend is the love for designer sarees. Indian women nowadays and even women outside the country are turning to top designers like Manish Malhotra and Neeta Lulla for their Indian wear. Designer sarees are great options for bridal wear and dressy functions. With so many well-priced collections out there, they are a great way to add some 'brand' value to your saree collection as well as your wardrobe in general.One big trend this year is printed sarees; and not just your regular feminine, floral prints either! Sarees with bold prints, graphic images, geometric shapes and block and screen printing are big in 2011. Unusual prints with an ethnic, tribal flair are fabulous for adding a big punch of personality in this traditional garment. Such sarees can be dressed up or down and are a fun way to express your style sensibilities. Plain sarees with beautiful borders and retro design blouses are being seen big time on the Bollywood red carpet - a mix of old world glamour and contemporary styling.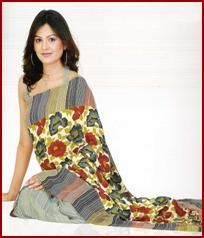 The colour palette is evolving too. While pastels, pink and reds remain all-time classic saree colours, it's time to go bolder with colour choices! This year experiment with deeper, more saturated hues of your favourite colors like bottle green instead of light green or a rich aquamarine blue instead of sky blue and so forth. Another new trend is bright pops of colour; while an all-over bright saree can be an eyesore, touches of brightness in colors like lime green, hot pink or a contrast shade, look fresh.

Source: http://www.articlealley.com

Image Courtesy:
sareepuram.com
entertainment.webshots.com
partyandweddingdresses.com