What does the ancient land of the pharaohs have in store for the future of its textile sector?
Egyptian textile industry is very ancient dating back to the age of the pharaohs. The country is the pivot for vertically integrated textile industry in the Middle Eastern region. The country involves complete production process right from the cultivation of cotton, to the making of yarns, fabrics, and ready made apparels. Textile and apparel industry is the second largest sector, next to agro, and plays a major role in shaping the Egyptian economy.
Industry Overview:
Apparel sector accounts for 3% of GDP and 27% of the industrial output. 25% of the total industry is focused on textile production, of which 12% are engaged in home textiles, 8% in cotton yarn, and 5% in other textiles. Public sector dominates the production industry with 50% in spinning, 60% in hemming, and 60% in weaving. Private sector owns 90% of the garmenting side of the industry. Spinning and weaving sector is being dominated by the large scale industries with a strong influence of public sector.
As per a research data of 2010, its textile sector consists of 3,243 companies with a total investment of 3.2 billion USD. Textile industries of Egypt produce 315 million apparels, and exports 305,000 tons of cloth and apparel annually. US constitute 80% of the countrys export market, followed by EU and Arabian countries comprising the remaining 20%.
White gold of Egypt:
Cotton cultivated in Egypt has international appreciation for its excellence. Egypt had contracts with 23 international countries for cotton exports amounting to USD 140.882 million during 2009-10. Egypt has many favorable factors that have made it attractive in the global textile arena. Core areas for investment in Egypt are cotton cultivation, yarn making, spinning, weaving, dyeing, knitting, and RMG sectors. Egypt imports yarn from Turkey, India, Pakistan and Turmenistan, and grey fabrics for RMG industry from India, Bangladesh, and Turkey. Main markets for Egypt are the Arabian countries, EU and US. Cotton and textile fabrics ranked third in the countrys exports accounting for 25% of the total exports.
Factors benefiting Egypt in the global market:
Egypt has adequate labor resource. Wages are competitive and stable. Government runs various training programmes, continuously upgrading the skill sets of the labors. The location of the country facilitates quick and easy exports to other countries such as Asia, Africa, and Europe. It is closer to US than its counterparts which makes it a preferred sourcing location. Egypt is equipped with 15 commercial ports facilitating its exports.
Comparative analysis of labor cost of Egypt with other countries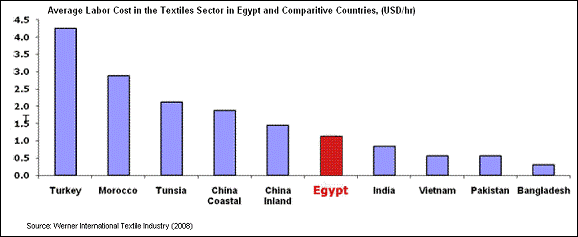 Textile industry has clustered in the main areas of Egypt.
The Canal region is dedicated to denim production and imports of thick cotton yarns. The Suez Canal facilitates its exports to Europe and Asia.

The Alexandria region facilitates exports through its ports.

Middel Delta region where new players are establishing their business.




Mr Mohamed Midani, Board Member of Midani Group of Companies discusses the textile scenario of Egypt at length with Fibre2fashions team.
What factors make Egyptian textiles competitive in the global arena?
"Egypt is an evolving country; so far we have achieved very promising scales in fields of industry and economics. We have a lot of good points that encourage us to improve and compete like electricity cost, labor cost, export funding".
What are the challenges you see for the textile sector?
"One of our major problems in our industry is not having our main raw materials PET Chips produced in Egypt in enough scale, so we have to export it from outside which eventually decreases our competitive abilities a bit."
Which countries are the major markets for Egyptian textiles?
"Knitwear market size is growing rapidly and it is very promising in the near future, especially about countries like India, South Africa, Spain, Morroco, Algeria, Pakistan and others. These countries are major consumers and main targets for knitted fabrics."
Where do you see the industry in the years to come?
"I truly believe that within couple of years to come i.e. may be 3 or 4 years ahead, we will witness a great increasing in the potential, I am very optimistic about that."
Healthy working conditions in the QIZ zones:
Egypt offers a favorable cost-effective environment due to its infrastructure, reliable low cost electricity, gas and water utilities. It has signed a QIZ agreement with US and Israel stating that 35% of its commodities are made in a qualifying zone and minimum 10.5% of its products are made from Israeli materials. This agreement enables Egypts manufacturers tariff and quota fee access into the US markets.
The recent documents of Wikileaks, as published in The Telegraph reveal Egypt as a competitive sourcing country, with a positive reputation for cotton exports. Officers from the New York's Jones Apparel Group state that they do not see any negative environment in the QIZ factories. This gives Egypt a competitive edge among its Southeast Asian rivals.
The Telegraph reports Kesavi Murali, the Senior Compliance Specialist in the Middle East for Jones Apparel Group saying, "In addition to favorable customs treatment under the QIZ, production in Egypt provides cost advantages and efficiencies in production lead time since Egypt is located closer to the U.S. than most other suppliers. While other producers such as Bangladesh, Madagascar, and Sri Lanka have lost market share, Egypt has gained market share".
Despite all the positives, the country still has to take care of a few factors. The Telegraph quotes Murali saying, "Egypt was a better producer than countries who use migrant labor, though Egypt does suffer from high worker turnover which damages operational efficiency". He said that from his standpoint, there were no labor issues with local labor, the main issues in Egyptian factories are qualitative management issues and a lack of health and safety awareness. (Source: telegraph.co.uk)
Egypt has potential opportunities to expand both in the local and international markets. With much care, effort, and Government patronage, textile sector revenue can be doubled and a sustainable annual growth could be achieved.
References:
Ecrg-trade.de

telegraph.co.uk




Image Courtesy:
virginmedia.com

bp.blogspot.com