Source: Dow Corning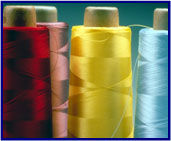 Siliconesare amazing materials with a unique potential to improve the world we share.
Didyou know... silicones have revolutionized the textiles industry! Silicones makeclothing more stylish, comfortable, and easier to care for. They also giveautomotive and industrial textiles high-performance capabilities. With provensilicone technology, manufacturers worldwide can create fabrics, clothing, andsporting goods that are ideal for todays active lifestyles.
Siliconesexcel in both fashion and industrial textiles applications:
Silicone fabric finishes bring a wide range of benefits to fashion textiles. They add softness, reduce shrinkage and improve wrinkle recovery, tear strength, abrasion resistance, and loft recovery. They can also improve water repellency or water absorbency.

Silicone antifoams possess the properties required to control foam in harsh textiles processing environments.

Silicone fabric coatings maintain their flexibility and stability over a wider range of temperatures than organic coatings. So the coatings do not become stiff and brittle in the cold or degrade when exposed to heat.

In apparel, silicone coatings are breathable, comfortable, and suitable for skin contact.

In automotive, manufacturing, construction, and sporting goods applications, silicone coatings are strong, durable, and resistant to heat, cold, moisture, UV rays, fire, and abrasion.

Silicones can be very cost effective to use, because they are easy to process and effective at low use levels.
Silicones enable manufacturers to take textile finishing beyond simple coating,waterproofing, and softening to create functional fabrics, intelligenttextiles, as well as high-performance textiles for industrial applications.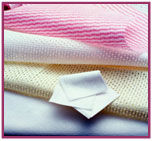 Textile screen printing:Silicones are helping expand opportunities for textile screen printers. Recentadvances in silicone textile printing inks are enabling screen printers andbrand-name apparel manufacturers alike to produce durable, high-quality screenprinting that looks great, feels soft, and is wash resistant. The ink has highelongation (good stretch and recovery properties), so it is well suited for useon fabric with 15-20 percent spandex content.
Traditionalinks can require 12-15 layers to achieve optimal coverage. Screen printers canachieve the same effect with only three layers of the new silicone inks. Theresult is a less bulky finish, lower material usage, faster production cycles,and labor cost savings.
Source: Dow Corning
The new silicone textile printing inks do not contain the organotin, phthalate, formaldehyde, PVC, or solvents common to some other printing inks. So they are safer for workers and the environment. The new inks can be easily applied using existing manual equipment.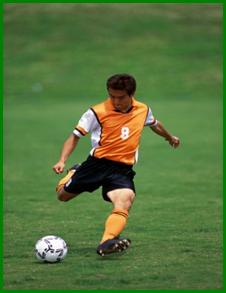 Protective sports apparel: A new fabric system that incorporates silicone technology is now being used in motorcycle suits and ski vests to provide welcome protection to safety-conscious motorcycle riders and skiers in the event of an accident. The protective fabric breathes and flexes with body movement but becomes rigid upon impact, protecting the wearer from injury. When the impact force is over, the material immediately returns to a flexible state.
The patented system consists of a specially formulated silicone coating. Upon impact, the coating instantly hardens, absorbing and distributing energy over the entire protected area. This feature dramatically reduces the force of the impact.
Because the system is soft and flexible, it can be cut and sewn directly into clothing, eliminating the need to insert uncomfortable padding. It can be layered, so garments can be customized with increased levels of protection for specific areas. Further, the system is less bulky than hard armor, allowing for more fashionable and comfortable designs, along with superior comfort and remarkable performance.
Denim processing: Todays denim jeans are soft and wearable the day they are purchased. That is because manufacturers put their denim through a rigorous finishing process that requires time, energy, numerous processing steps, and a lot of water.
A new granular silicone softening technology was recently introduced that has the potential to reduce the amount of water, energy, and labor required for denim processing and to increase productivity. The new eco-softener enables previously incompatible processing steps to be combined. While each company finishes jeans differently, it is estimated that use of the new technology can reduce water consumption as much as 30 to 50 percent. That translates into about 15 liters (3.96 gallons) of water saved on every pair of jeans!
Visit Dow Cornings Fascinating Silicone Discovery Center (www.fascinatingsilicone.com) to see the thousands of ways in which silicones can help improve the quality of our lives and advance innovation.
Source: Dow Corning
About Dow Corning


Dow Corning provides performance-enhancing solutions to serve the diverse needs of more than 25,000 customers worldwide. A global leader in silicones, silicon-based technology and innovation, Dow Corning offers more than 7,000 products and services via the companys Dow Corning and XIAMETER (www.xiameter.com) brands.

Dow Corning in India (www.dowcorning.in) serves customers across the region from our office in Mumbai and our manufacturing facility in Pune. Our Application & Engineering Technical Services laboratory enables collaboration with Indian customers to provide silicone-based solutions that are new to, or customized for India.
Dow Corning in India offers innovative solutions and products to industries as diverse as textiles, construction, automotive, solar, beauty & personal care and many others.