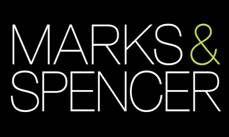 Retail underwent a magic transformation with innovative expansions which kicked their business to a higher gear. While some retailers are falling off the map, and some others struggling for their numbers, a handful of them are able to boost their financial position, and are clobbering their competitors. This state of retail reveals crystal clear information about two factors; return of retail optimism in the post recession era, and guaranteed growth for committed retailers. Performance of Marks & Spencer's has earned the brand, a reputation as a successful achiever in the retail market for the past 127 years.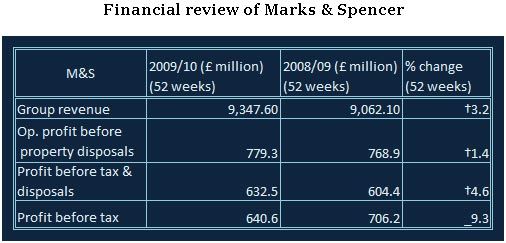 Travelling back in time; one would discover some of the interesting facts that have helped Marks & Spencer to make them, who they are today. Started as a small stall selling every item for a single penny, the business has now branched out; based on their principles of quality, value, service, innovation, and trust.
The Success Formula:
What made Marks & Spencer so successful in the retail arena, and stand out of the box? In 2010, the then Chairman of Marks & Spencer, Sir Stuart Rose said , "We grew because we managed our costs prudently, listened and responded to our customers changing needs and stayed true to our core values of Quality, Value, Service, Innovation, and Trust, reminding our customers of what makes Marks & Spencer different. This year we have worked hard to further improve our quality and our customers have told us they have noticed this improvement."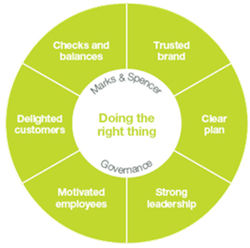 Did the global turmoil affect Marks & Spencer?


In 2010, Sir Stuart Rose confidently asserted no. "Our progress was interrupted - but not altered - by the recession. Last year, we continued to implement short-term objectives to guide Marks & Spencer through the economic downturn. As a result of this decisive action our long-term strategy remains in place. We have built a strong platform for growth and have improved or maintained market share in all our core areas."
Corporate Social Responsibility:
Marks & Spencer nurtures the belief that business can be done ethically, and responsibly to deliver benefits. In 2007, Marks & Spencer launched Plan A, its environmental and ethical programme that takes a holistic approach to sustainability by focusing on involving customers, involving all areas of the business and tackling issues such as climate change, waste, raw materials, health and being a fair partner. In keeping with its Plan A commitment to send no waste to landfill by 2012, Marks & Spencer has been using recycled PET bottles in place of virgin polyester made from oil based polymers. It will be used to make more than 300 million clothing care labels a year.
Gordon Henman, General Merchandise Packaging Technical Manager at Marks & Spencer, says, "This is a fantastic example of how a small step can make a big difference. Using an environmentally friendly material to make a 4cm x 2cm care label makes a big impact when you multiply it by 300 million."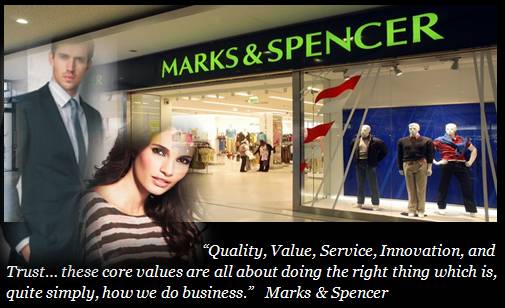 Marks & Spencer aims to become the world's most sustainable major retailer by 2015. As part of these plans, Marks & Spencer has recently announced it will open its most sustainable store to date in April that will incorporate sustainable and innovative design and construction features. The store will feature materials that have been carefully selected to reduce waste and energy use.
While speaking about this upcoming store, Paul King, CEO of the UK Green Building Council says, "Sustainability is increasingly important in the construction and property sector and major companies like Marks & Spencer have a crucial role in driving that process, particularly given the relationship not just with suppliers, but also with consumers. This new Marks & Spencer store at Ecclesall Road is an impressive achievement, not only for its host of environmental features and the positive social effect it will have on the local community, but also the lessons that will be learnt for both Marks & Spencer and the wider construction industry."
Marks & Spencer's International business:
Marks & Spencer currently has 337 stores in 41 territories overseas, and further plans to target International sales (excluding the Republic of Ireland) of between £800m to 1.0bn by 2013/14. The emphasis will be on franchise operations, building stronger partnerships in each territory, using a Joint Venture or wholly-owned model in selected markets where it is appropriate.
Instead of 'planting flags' the retail giant aims to build a leadership position in priority markets. Mark & Spencer has already built a strong presence in markets like Turkey and the Czech Republic by opening a flagship store surrounded by a cluster of smaller, supporting stores. The company plans to continue building local leadership in core markets in this way. They also aspire to enter selected countries with their on-line capability to complement their stores on the ground, setting up tailored websites for specific local markets from 2013.
Marks & Spencer's Joint Venture with Reliance Retail in India:
Marks & Spencer Reliance India Pvt. Ltd is a Joint Venture between Marks & Spencer plc and Reliance Retail, part of the Reliance Industries Group. The Joint Venture was formed in April 2008 with the goal of establishing Marks & Spencer as a major retail brand in India.
Marks & Spencer has a 51% interest in Marks & Spencer Reliance India Pvt. Ltd and Reliance Retail taking the remaining 49%. Marks & Spencer Reliance India Pvt. Ltd has the right to operate Marks & Spencer stores in India, selling items such as womens, mens and childrens clothing as well as homeware.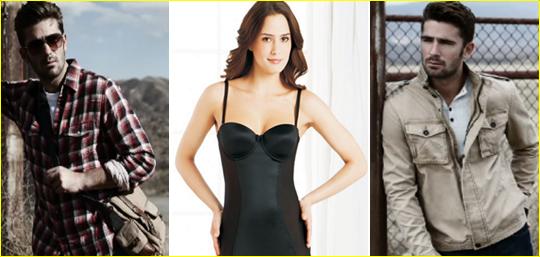 Marks & Spencer Reliance India operates 19 stores in India including the new stores at DLF Promenade and Terminal 3, Indira Gandhi International Airport, Delhi.
What's on the cards? Plans for 2011 & beyond:
Commenting on the Half Year Results, Marc Bolland, Chief Executive, said: "Marks & Spencer has had a strong first half. Profit before tax was up 17%, earnings per share up 21%, and the Board has approved a half year dividend of 6.2p per share, an increase of 12.7%. "In Clothing, we grew market share in all areas as we gave our customers better fashions, more choice and great value. In Food, more customers chose to shop with us recognizing our quality, innovation, and improved values."


By 2013/14, the company plans to:
Deliver group revenues of between £11.5bn and £12.5bn

Focus on the UK business to deliver £1.0bn to £1.5bn of new revenues

Become a leading UK multi-channel retailer with revenues of £800m to £1.0bn

Target International (excl. Republic of Ireland) revenues of £800m to £1.0bn

Project 2020 to be accelerated and deliver an additional 50m benefit

850m-900m additional capital investment over the next three years with target IRR of 12-15%
Over 127 years Marks & Spencer has built its brand to the envy of businesses; worldwide. Never being complacent about their broad customer demographic they strive to offer more. Perhaps the belief that being honest, responsible, and ethical can also be profitable is the secret of success of this retail giant.
Reference & Image Courtesy:
Corporate.marksandspencer.com