TheIndian silk sarees are known for their lustrous beauty and incomparable varietyof designs and colors. These sarees are known to be the traditional bridal wearfor most of the Indian brides. No wedding is complete without the luxurious andexpensive sarees made of pure silk.

A variety of silk sarees are manufactured from different parts of the country.The Indian women wear vibrant colored sarees made of silk during festiveseasons and occasions. The traditional south Indian sarees made of pure silk isknown worldwide for its aesthetic beauty and glamour.

The Various Types of Indian Silk Sarees

The silk sarees manufactured and woven from different states vary in designsand styles. Some of the most popular sarees made of silk include the Banarasisarees, Kanchipuram sarees, Bandhni sarees, Thanchoi sarees, Patola sarees,Paithani sarees and so forth.
The Banarasi Sarees
TheBanarasi silk sarees are among the most expensive and popular sarees woven inBenaras. It is usually made of gold thread and therefore is very expensive.These sarees are popular as bridal wear and includes four varieties mainly: thekora, the katari, the sattir and the georgette. The designs on the Banarasisarees include designs of animals, floral designs, motifs and nature. Weaversrequire a month to complete a single saree.

The Kanchipuram Sarees
Thecontrasting and vibrant color of the Kanchipuram sarees makes it a uniquechoice among othersarees. The traditional designs found in these sarees include floral buttas,checks, stripes, designs of temples and flowers. The pallu, the border and thebody of the saree is woven separately and then joined together in an authenticKanchipuram saree. These silk sarees are popular for its beauty, lustre anddurability.

The Bandhni Sarees
Thesesilk sarees are the popular sarees of Rajasthan and Gujarat. The saree isdesigned by the traditional method of tie and dye which is known as Bandhej.Different colors of designs and patterns are formed on the sarees by using thismethod.

The Thanchoi Sarees
Thesesarees have a unique pallu and the designs include floral motifs. These sareeshave no borders and are exclusively woven from Benaras.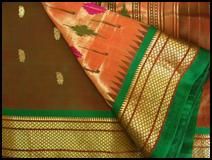 The Paithani Sarees


Another expensive and elegant saree includes the Paithani sarees which is made of both silk and metal. The colors used for these sarees are derived from natural sources like flowers, leaves, soil and so forth. These silk sarees are considered elegant and luxurious as it is made from pure silk and includes metallic designs.
In addition to the above, there are many other states that weave sarees made of pure silk. The Baluchari sarees are made from Murshidabad in West Bengal. The brocades of these sarees are made of untwisted silk thread which makes it even more popular.

The Patola silk sarees are famous for its beautiful geometric designs and vibrant colors. These sarees are made exclusively from Gujarat. Sarees made of pure silk are essentially an integral part of Indian bridal wear. No matter what variety of saree you choose, it is important to identify the authenticity of the silk used to weave the sarees.
Source: http://www.articlealley.com/
Image Courtesy:
kanchipuram.com
glamcheck.com
banarasi.net
indiwo.in.com