The Indian silk sarees are known for their lustrous beauty and incomparable variety of designs and colors. These sarees are known to be the traditional bridal wear for most of the Indian brides. No wedding is complete without the luxurious and expensive sarees made of pure silk.

A variety of silk sarees are manufactured from different parts of the country. The Indian women wear vibrant colored sarees made of silk during festive seasons and occasions. The traditional south Indian sarees made of pure silk is known worldwide for its aesthetic beauty and glamour.

The Various Types of Indian Silk Sarees

The silk sarees manufactured and woven from different states vary in designs and styles. Some of the most popular sarees made of silk include the Banarasi sarees, Kanchipuram sarees, Bandhni sarees, Thanchoi sarees, Patola sarees, Paithani sarees and so forth.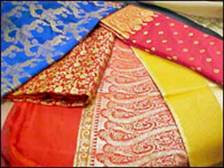 The Banarasi Sarees
The Banarasi silk sarees are among the most expensive and popular sarees woven in Benaras. It is usually made of gold thread and therefore is very expensive. These sarees are popular as bridal wear and includes four varieties mainly: the kora, the katari, the sattir and the georgette. The designs on the Banarasi sarees include designs of animals, floral designs, motifs and nature. Weavers require a month to complete a single saree.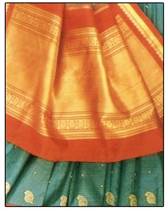 The Kanchipuram Sarees
The contrasting and vibrant color of the Kanchipuram sarees makes it a unique choice among other sarees. The traditional designs found in these sarees include floral buttas, checks, stripes, designs of temples and flowers. The pallu, the border and the body of the saree is woven separately and then joined together in an authentic Kanchipuram saree. These silk sarees are popular for its beauty, lustre and durability.

The Bandhni Sarees
These silk sarees are the popular sarees of Rajasthan and Gujarat. The saree is designed by the traditional method of tie and dye which is known as Bandhej. Different colors of designs and patterns are formed on the sarees by using this method.

The Thanchoi Sarees
These sarees have a unique pallu and the designs include floral motifs. These sarees have no borders and are exclusively woven from Benaras.