For the much harassed UK retail sector during the two years of recession, this would be the unkindest cut. With an endless assortment of choices for the customers, vicious competitors, and a complex economy, retailers have to be on their toes always. Adding to their woes, current trends indicate a forthcoming retail recession.
A research by Northbridge Capital states that, global apparel retail industry grew by 2.1% during 2010 to reach $ 1, 078.2 billion. It further predicts the industry to growth by 13.4% and reach $1,222.7 billion by 2014, an increase of 13.4% since 2009. Retail industry has witnessed a massive growth during the past decade. A significant increase in the amount of disposable income, dual income, globalization, media awareness, and internet has fuelled its growth.
Currently, the industry is going through a tough phase, predicting a bumpy ride for UK retailers during 2011 and 2012. A recent research report released by Nielsen states that the larger and mature markets of UK and US saw declines year-on-year with the retail pressure shrinking the consumer confidence.
Retail sales volume during 2008-2009 & percentage change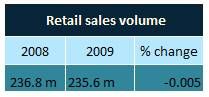 Data source: nielsenbookdata.co.uk
Changes in reported retail sales between December 2009 and December 2010
Standard reporting periods (by size of business)


Data source: statistics.gov.uk
Brand Performance:
After slipping into a negative territory in 2008 and 2009, retailers were expecting growth. On the contrary, 2010 would be a difficult year with concerns far from growth. Highest profits were from Arcadia whose shares grew 0.6 percentage points, mainly due to absorbing Bhs. M&S and Primark acquired a 0.3 % points in womenswear market in 2010. M&S faced a tough market condition in the past years, and, though it appears to have turned a corner, its 2010 womenswear market share of 11.9% is still below its 2006 level. Primark which experienced growth during 2005-10 will see a slow down during 2010-11. Value clothing retailing will see a slow growth during the two years. Entry of new brands such as Morrison, Forever 21, and Argos will further reduce the profit margins of the existing brands.