Singapore, the island city-state, is quickly emerging as one of the unique global fashion hubs for apparels.
Singapore is one of the smallest countries in the world with a population of mere 4.5 million. Amazingly, the city is fast developing into a primary business hub for fashion apparels. It is gaining a strong reputation among global brands. Key apparel brands and retailers from all across the globe have their offices in Singapore. Also, manufacturers who are based in based in Singapore have their production operations overseas.
Singaporeans are fashion conscious and up-to-date on the current styles. Currently, they are getting more brand conscious resulting in more brands and private labels ruling the apparel segment. Fashion industry is gaining new laurels every passing day with bold colors, exotic prints, and creative patterns. Generally, their fashion consciousness is at the peak during festive months. During these periods, exquisitely designed apparels born out of the creativity of fashion designers are seen in the store racks attracting the customers at the vanguard of fashion.
Singapore is regarded by many global brands as an upcoming retail market for luxury brands. Retail apparel industry of this South East Asian country generated a revenue of USD 1.8 million in 2008 building a CAGR of 6.8%. In 2009, the industry generated a total revenue of USD 1,934 million with a CAGR of 7.2%. Kidswear market generated USD385.2 million in 2009 comprising a CAGR of 6.7% for the period 2005-09.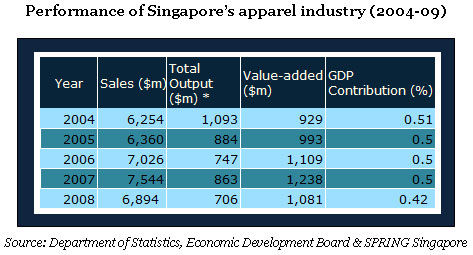 Export Market:
Export markets from Singapore mainly consist of US, and EU. It is one of the biggest suppliers to renowned brands such as Nike, and Gap, and other departmental stores like Macy. International brands, generally are more focused on the quality aspects of their sourced merchandise. Singapores reputation for high quality makes it a preferable sourcing destination. Today, it is recognized as a second largest fashion apparel hub in the Asia Pacific, next to Hong Kong. Total sourcing volume through Singapore is approximately USD 2.5-3 billion.
Growth Drivers:
Singapore has been the hub of renowned global brands such as Gucci, Giorgio Armani, Paul Smith, Valentino, Gianni Versace, Donna Karan, M&S, and many more. Prada is chalking plans to come up with fashion outlets in Singapore.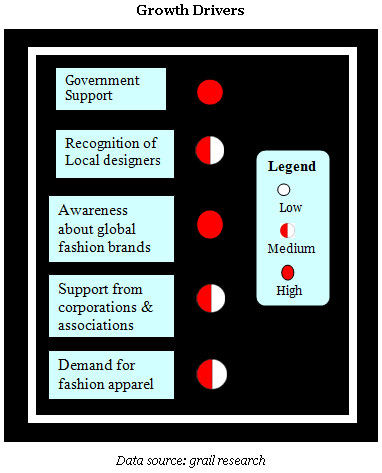 The Government plays a crucial role in the development of Singapores apparel sector. It has organized many fashion shows and has also funded many fashion initiatives to promote the fashion apparel sector. Apparel makers of Singapore focus on creating international brand awareness. With the Government support, they have collectively launched a brand called Apparel Singapore aspiring to create a domestic and international recognition for their merchandise.
Singapores apparel industry is building a strong foundation in the global market duly supported by its Government, and its fashion designers. This sovereign nation is quickly turning into a global fashion hub.
References:
1. Focussingapore.com
2. Taff.org.sg
3. Datamonitor.com
Image Courtesy:


jasonchristopher.com