In today's fashion-conscious world, what you wear plays a key role in shaping up your image. So getting dressed up in proper apparel is of utmost importance to display a presentable appearance. Though looking good is definitely important but along with this you should also have uniqueness in your appearance. Including leather apparels in your wardrobe can make you stand apart from crowd. Nowa-days leather apparels are available in various designs and fabrics giving you a perfect contemporary look. Leather apparels are quite fashionable and have created a niche for themselves.

Huge range of leather apparels are available for women which includes trendy leather pants, leather vests, leather tops, stylish leather skirt, leather bomber,formal leather trousers and of course leather jackets.

Give yourself a stylish look with different types of leather vest like halter vest and front zipper closure vest. These leather vests are usually suitable for any kind of informal meeting.

Other popular leather apparel amongst the women is leather skirts. Leather skirts are unaffected by age and can be flaunted by women of any age. Leather skirts are available in wide range which includes mini leather skirts, knife pleated short leather skirt, long leather skirts, short leather skirts, tight fitting leather skirts, front zipper leather skirts, side lacing leather skirts, fish cut leather skirt etc

Women Leather pants are highly popular as they make you look hot. Leather pants can be used for any occasion. It can be anything from low waist, tight, high waist, bell bottom etc.

Most popular leather apparel is leather jackets. Earlier leather jackets were only part of men's wardrobe but now they are been widely used by women. A leather jacket symbolizes style and can be used for both formal as well as informal occasions.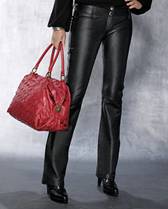 Leather jackets are available in various style and design. When teamed up with the right kind of clothes, they look fantastic. Some of the common types of leather jacket for women are reversible jackets, suede jackets, faux leather jackets, lambskin leather jackets, trench coats, fringes leather jackets, long leather coats, hooded jackets many more.

Leather used for making women leather jackets comprise of calfskin, cowhide, goatskin, ostrich skin etc. Leather jackets for women are also available in embossed style. For embossing patterned leather jacket alligator, crocodile and snake skin are being used.

Women Leather jackets are available in single and double breasted style. They are also available in open, closed and no collar style. Leather jackets are available in 3 or 4 buttoned style. Long trench coats which protect you during harsh weather are available in double button style. Reversible jackets look more stylish when its manacles are folded displaying the contrast colour within. Faux fur attachments are another attraction of women leather jackets.