Spanish retail brand's ability to pull shoppers makes it most-preferred neighbour in malls
World's largest clothing retailer Inditex entered India with its flagship brand Zara on a Friday in May last year and that day the South Delhi outlet recorded the largest single-day sale by an international retailer in the country.
Less than a year later, Zara fever has gripped several retailers who are chasing shop space next to the Spanish brands outlets to leverage on its ability to pull shoppers in herds.
"Zara has nailed it," Natasha Chopra, who heads personal shopping services at Select Citywalk mall in South Delhi where Zara opened its first shop, said. "It's a hot favourite among shoppers because it offers trendy styles between 1,500-2,300."
Zara's ability to chase fashion trends around the world, move a design from a drawing book to shop floor in two weeks and launch new lines sometimes twice a week has helped it ensure steady flow of consumers who now embrace global trends like never before.
It's fast. It's fashionable. And it has won the attention of several apparel brands; both Indian and multinational, that now launch more collections in a year and have stylized their shops.
"Zara has been selling very well over the past ten months in India," said the head of a rival international brand. "Its success has proven that there is definitely a market for fast fashion, especially in western women's wear," the person added, requesting anonymity.
CHASING ZARA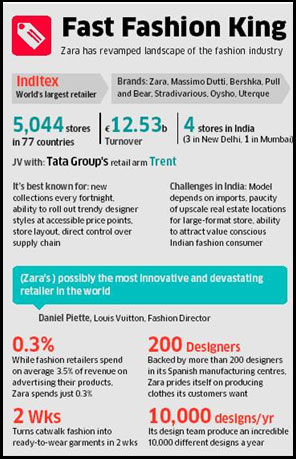 The day Inditex's Indian joint venture with Tata Group's retail arm Trent opened the first Zara outlet; it sold apparel worth a record 90 lakh, according to industry estimates. The 18,000 sq ft shop at Select Citywalk sells 5-6-crore clothes a month. The average sales at Mumbai's Palladium Mall outlet is similar, while it's nearly 4 crore a month at DLF Promenade shop in New Delhi, industry insiders said.
Inditex refused to confirm this. "Please let us leave this in complete confidentialityLet us say that we are really honored by the good reception that our customers are given us in India," its global spokesperson said.
But other brands' rush to become its neighbour and mall developers' keenness to host it reveals Zara's crowd-pulling power. In January, retail planning consultancy Asipac Projects received requests from some international apparel brands, jewellery major and a cosmetics chain have sought shop space bang opposite Zara outlet at Hyderabad's City Capital mall, which will be operational by 2013 end, an official at retail planning consultancy Asipac Projects says.