Rural customers in India do not shop 'just to buy' any longer. They demand brands, and are concerned about quality, and preferences. Indian rural market is growing in an incredible speed.
It is commonly believed that rural life is less exciting than its urban counterpart. But, currently rural segment is emerging as a potential market for many big retailers. A report by the associated Chamber of Commerce states that rural consumer market is estimated to grow at the rate of 40%, while urban market sector growth would be only 25%.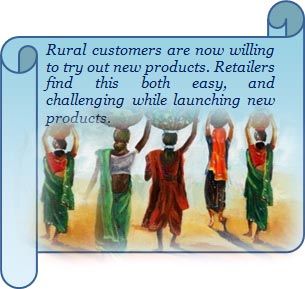 Earlier people in rural areas were travelling to nearby cities for their shopping requirements. Today, they are easily available in their own places. Media takes most of the credit for this magic transformation, making them more aware, and discerning. Television sets are seen in every household, as is the main door. Rural customers get up-to-date information on various brands, and the promises they make. Their lifestyle and shopping patterns are going through significant changes, making them more demanding. This transformation will be a key challenge facing Indian retailers.
Rural population in India:
More than 70% of the sales are made to middle class population, and today more than 50% of the Indian population belongs to the middle class segment. By 2020 urban population in India is predicted by analysts to grow from the current 30.4% to 33.7%. This means that in 2020, 66.3% of the total Indian population will live in rural areas. By the next decade, villages in India will receive lot of development expenses, enriching the rural people.