Retail expansion is a portfolio game. While world's biggest economies are fighting for their growth, developing economies are poised for a remarkable growth. Current trends indicate 10 countries as most promising for apparel retailing.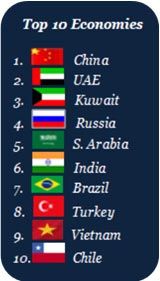 Global market is very volatile, with changes happening in the drop of a hat. International apparel market goes through dramatic changes, having different impact on various markets. Some countries keep growing ahead; some others sustain their pace, while a few of them succumb to the economic upheavals. In todays world, growth of one country affects the economies of some other nations. Hot money flows from one country to another for a short-term causing profit for one nation, which is an expense or loss for another. Based on current market trends, and country-wise performance, 10 countries have emerged as most promising for apparel retail expansion.
A.T. Kearney's GRDI (Global Retail Development Index) has listed 10 countries as promising for apparel retailers. Retail industry in the emerging economies is experiencing a dramatic growth. While the population of these countries increased by 11%, their retail growth increased to an amazingly 225%. Per capita retail income increased 100% and internet access by 400%. Developing nations are changing the balance of power. China tops the list trailed by UAE, and Kuwait. India and China leads the way to global recovery.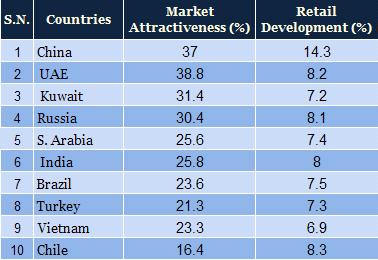 China:

China, as per AT Kearneys 2011 index, ranks to be the most attractive emerging market for apparel retailers. The country has a CAGR of more than 20% during the past years, and the same trend is expected to continue for the next five years. Apparel retail in China is now gaining a positive momentum. Growing amount of disposable income of the Chinese population, developing sense of fashion, and middle income segment which constitute a vast majority of Chinas total population are the causes accounting for the drastic growth of China.
UAE:

China is closely trailed by UAE in the retail apparel segment. GRDI ranks it as the second biggest for its market attractiveness. Consumer confidence is positive with their spending seeing a growth of 9%. UAE is quickly becoming a renowned fashion hub, and is attracting new retailers.
Kuwait:

Kuwait ranks 3rd among the top ten apparel retail markets. A country with 96% of population living in cities, Kuwaits retail growth keeps soaring, and is expected to grow from $8.41 billion in 2011 to reach $11.92 billion by 2015. The country has the highest per capita retail sales. Though, Kuwait proves profitable for international brands, owing to its meager population, entry of foreign brands need to have a regional approach.
Russia: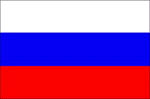 Russia's CAGR is expected to grow at 10% for the next five years. Though the country is struggling to adapt the newly created retail sales area, Russia is predicted by industry experts to become the biggest consumer market of Europe. Russian retail market gets enhanced through mergers and acquisitions at the local level. For entering this market, retailers need a proper understanding of local operating conditions, and logistical challenges. Lack of adequate service quality, inadequate infrastructure, and long distances between large cities are a few challenges present.
Saudi Arabia: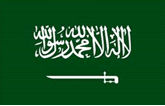 Saudi Arabia has surpassed India to reach the 5th position. The countrys apparel market proves to be a hot spot worth seeking entry by foreign brands. Consumer confidence is rated as high with people inclining to spend more. Retail experts state Saudi Arabian consumers as early adopters. Majority of the population are under the age of 29, and this might also be a reason behind the same. Foreign brands seeking entry should consider the Government regulations of Saudi Arabia such as hiring local employees, and complying with their religious laws.
India: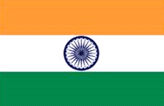 India, along with China has occupied one among the top ten positions for the past few years. Current years trends see a fall back in the trend. Markets of Latin America have surpassed India in the retail competition. Though good growth is expected from the rural regions of India, which comprises of more than 60% of the countrys demography, traffic to stores are still not meeting with the expectations. GDP of India is 9% which is quite encouraging and forecasts state a yearly growth of 8.7% till 2016. Indian retail market is poised to go through a drastic transformation by 2020. Though the country remains a hot market for many international brands, there are also underlying challenges. Small retailers need Indian partner to enter into the market.
Brazil: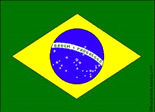 Brazil is the world's eighth largest economy. The country ranked 30th in the 2002 GRDI, and has swiftly climbed up to the 7th position. Outlook for apparel retail industry is very positive. GDP growth of Brazil is 5% and is expected to continue with the same trend till 2013. Forthcoming 2016 Olympic games and 2014 FIFA World Cup are positively anticipated to generate more revenues. The countrys apparel market is expected to remain stable driving retail growth. Malls are seen increasing in numbers, with more on the cards for 2012-16.
Turkey: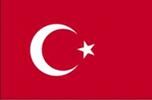 Turkey is on a high growth trajectory regarding its apparel retail sector. Apparel exports accounts for around 18% of the countrys total exports proving to be Turkeys integral engine of economy. The industry has shown stable growth during the recent years. It has a production capacity of 3, 70, 000 tons annually, and enjoys the credit of being ranked 7th among the worlds top 70 cotton growing countries. Its proximity to Europe and Asian markets augment its growth. Apparel is made catering to the demand of healthier and more environmentally friendly lifestyle, making it more popular in the global market.
Vietnam: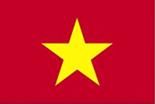 Vietnam proves to be attractive with its market expected to grow by $113 billion by 2012. The country, opening its doors to foreign players with 100% foreign capital has motivated numerous global brands to enter into the market. Traditional channels dominate the market currently, while there is also a welcoming growth of modern retail formats. Consumer confidence is high. But the country lacks good infrastructure, and its expensive retail space are constraints for its growth.
Chile: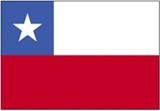 Chile gets to have a strong recovery; post recession, and has successfully acquired the 10th place among the top ten. Stable political environment of the country enhances its market competitiveness. Retail growth has stimulated a 5.2% GDP growth in 2010, which is expected to grow by 6.1% during 2011. Chile encompasses a heavily concentrated market, and entry into this market proves challenging.
Global retailers generally prefer long term expansion strategies. Trends of globalization will continue to dominate the global arena, with e-commerce playing a vital role. Developing nations drive the agenda in global apparel marketplace.
References:
1) Atkearney.com
2) Chainstoreage.com
3) 'The global apparel value chain, What Prospects for Upgrading by Developing Countries', UNIDO (United Nations Industrial Development Organizations), unido.org