Retail expansion is a portfolio game. While world's biggest economies are fighting for their growth, developing economies are poised for a remarkable growth. Current trends indicate 10 countries as most promising for apparel retailing.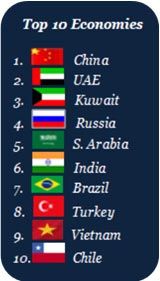 Global market is very volatile, with changes happening in the drop of a hat. International apparel market goes through dramatic changes, having different impact on various markets. Some countries keep growing ahead; some others sustain their pace, while a few of them succumb to the economic upheavals. In todays world, growth of one country affects the economies of some other nations. Hot money flows from one country to another for a short-term causing profit for one nation, which is an expense or loss for another. Based on current market trends, and country-wise performance, 10 countries have emerged as most promising for apparel retail expansion.
A.T. Kearney's GRDI (Global Retail Development Index) has listed 10 countries as promising for apparel retailers. Retail industry in the emerging economies is experiencing a dramatic growth. While the population of these countries increased by 11%, their retail growth increased to an amazingly 225%. Per capita retail income increased 100% and internet access by 400%. Developing nations are changing the balance of power. China tops the list trailed by UAE, and Kuwait. India and China leads the way to global recovery.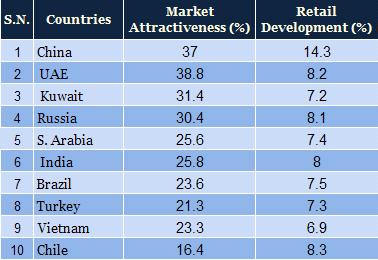 China:

China, as per AT Kearneys 2011 index, ranks to be the most attractive emerging market for apparel retailers. The country has a CAGR of more than 20% during the past years, and the same trend is expected to continue for the next five years. Apparel retail in China is now gaining a positive momentum. Growing amount of disposable income of the Chinese population, developing sense of fashion, and middle income segment which constitute a vast majority of Chinas total population are the causes accounting for the drastic growth of China.