The casual wear has increased its popularity among the women in the apparel industry today. Comfortable casual clothing is considered staple garments in all women's wardrobe as most of them are having a fast paced and active lifestyles in this 21st century. It is important to wear clothes that provide total comfort, relaxation feel, ease of movement and style when we carrying out our daily or weekend activities regardless either we are homemaker or working ladies.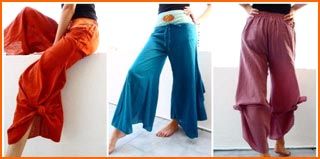 There are many types of casual clothing for us to wear in different occasions. For those career women, the casual garments are definitely great choices for them to wear when they are not working in the office. The formal office attire could restrict their movement when they are running their errands during off days or weekends. Preferably, we can choose to wear the sporty casual wear for this type of activities. These include pairing the cotton pants, capris, drawstring pants, shorts and jeans with t-shirts, sweatshirts, jumpers, polo-styled or button down shirts and pullover sweaters. We can choose to match with sport shoes or sneakers.
Smart casual wear is great to wear in many occasions such as gathering with friends in upscale restaurants and lunch or informal dinner appointments. The top smart casual comprises of long sleeve tees, silk or cotton blouses, turtleneck sweaters, jackets, vests and casual shirts. We can choose to match with long or short skirts, crisp jeans, slacks or black pants. It is great to add some fashion accessories to complete the smart outlook such as belts, earrings and necklaces. A leather jacket is perfect to match with jeans and wear with a pair of ankle boot to create a smart yet fashionable casual outlook. For dressier occasion, we can choose to wear tight fitting sequined jeans with long sleeve blouse and match it with a leather vest.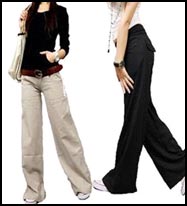 The active casual wear is suitable for those health conscious and active ladies particularly for those who have been working out in the fitness centre or gym. This type of clothing is also great to wear when meeting with friends or doing shopping of after the workout. Track pants, jogging suits, running shorts, tennis skirts, leotards, leggings and biking shorts are great options for this type of casual clothing. It is great to wear with a pair of running shoes. Besides, the classic sweaters designs, hand knit sweaters, cable knit sweaters and cardigans are excellent to wear on chilly days or during colder months for protection of warmth, total relaxation and comfort feel. These are great casual clothing to wear over the weekend activities, normal outings and travelling. The leather jackets, denims and suede coats are suitable choices to wear during winter seasons or on cooler climate.
The casual summer clothing is great to wear during the summer months or on days with warmer temperature. This type of clothing is simple, easy to clean and wear. There are usually made from soft and breathable materials such as cotton, linen, silk, nylon and blends. These casual wears mainly comprise of tank tops, shorts, sleeveless shirts, short skirts, easy shirts, camisoles and floral dresses with short sleeves, sleeveless or halter designs. This summer casual wear usually comes in bright colours such as red, orange, green or pink and with printed floral or pattern designs. Try wearing a strapless printed floral dress with matching colour scarf with a pair of mid heel shoe for a sweet and flattering look.
In view of the growing demand for casual wear, the clothing manufacturers are offering a wide selection of casual clothing with various designs, styles, colours and patterns with competitively pricing. Woman today has to choose the right type of casual clothing that best suits the current lifestyle in order to feel comfortable and relaxed as well as staying fashionable and trendy.
Source: www.articlealley.com/
Image Courtesy:
fourseasonsclothingdirect.com
dinodirect.com
feeds.world-luxury.com