Cotton and cotton yarn; are renowned for its volatile market conditions. After a much spoken price increase, yarn prices are curtly falling; much to the dismay of the spinners.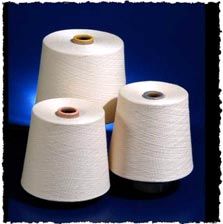 Cotton has dual characteristics of being an agricultural commodity, as well as a textile fibre. Rising costs of cotton and cotton fibre have created worst times for the Indian textile segment during the past year. Decreased supply and more demand had caused the prices to escalate. Spinners were also expecting good profits.
Currently the trend has taken a U turn with the yarn prices witnessing a declining trend. India and China have started selling yarn for cheaper prices. Industry players from the neighboring countries like Bangladesh feel the heat of the situation.
Issues popped up among spinners in the neighboring countries since the end of 2010, when prices of cotton started rising. There was an unusual rise in the price of cotton since August 2010. Garment exports have suffered serious drawbacks due to cost increase, and the division that lies between the buying prices, and the instability of raw material costs, as fabric costs account for 60-70% of the apparel price. Due to this spinners were in a dire strait. With the loans already provided to them by the banks, they were able to buy only less than 50% of their requirements.
There was a significant change in the Indian market during the same time. Indian Government allowed only limited exports. Government laid a ceiling on the total yarn exports for 2010-11 at 720 million kg. This move is taken in order to control cotton yarn prices, and ensure uninterrupted availability of cotton yarn in the domestic market. Due to this, traders outside India who opened letter of credit with Indian exporters could not get most of their products. Even the less quantity they received were of high prices.
Present season is not for cotton harvest, which implies a higher price trend. On the contrary, India, now manufactures cheap yarn, as prices of stocked cotton are low. India is currently selling yarn at a low price of $3.9 per kg. Comparatively, yarns manufactured from other countries are higher; for instance Bangladesh made yarns cost $5 for a kg.
Business Standard reports DK Nair, secretary general, Confederation of Indian Textile Industry saying, "Normally, the yarn price consists of 65 percent raw cotton and 35 percent conversion cost, or 70-72 percent of clean cotton and 28-30 percent of processing charges. Since the yarn prices have come almost to the level of clean cotton, fabric manufacturers are unable to recover the conversion cost. "
In India, average cotton yarn prices ranged between `190-200 for a kg. A decline is seen in the prices of yarn due to high inventories, and limited exports. Prices of cotton have also declined. Consequently, yarn prices have also plummeted. Due to a sluggish demand, spinning mills were selling at a 16% lower price than the production costs. Yarns sold currently were made from cotton procured during the earlier months when the price was high. Now with the prices declining, spinners are feeling the heat.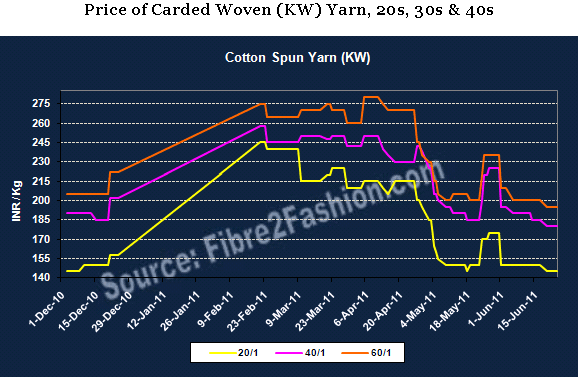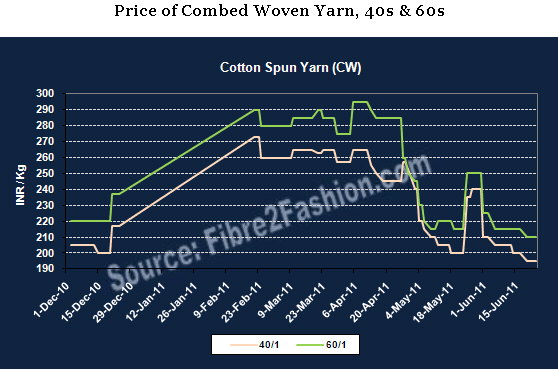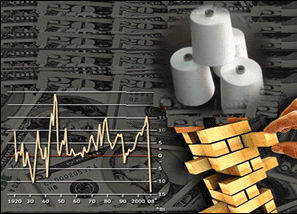 Yarn stocks started spiraling in 2010, when exports were capped at 720 million kg. Later the cap was hiked to 845 million kg, but still stocks were increasing. Spinners were facing serious issues, and went on a strike during May 2011. Exports of yarn had a ceiling of 845 million kg for 2011 too, but the orders were fewer. Due to a decline in the demand for readymade garments, domestic demand too saw a gloomy decline.
Price variations of fibres do have significant impact on the retail market. Economic analysts assert that effects of the fibre price variations depend on the product, and the retail channel of the product. Spinners of the neighboring countries fear the current situation might affect their loan eligibility. Adding to their existing woes, the EU has implemented the GSP (Generalized System of Preference) at the beginning of this year. This facilitates the garment exporter to gain duty free access if he imports fabrics to manufacture garments. Earlier, apparel manufacturers had to import yarn, turn it into fabric, and manufacture apparels. With the current regulations, apparel exporters found it comfortable to use domestic yarn, as they could still avail duty free export facility. Apparel exporters from other countries are importing yarn at cheaper rates from India and China.
Market analysts predict big spinners would be having the capacity to withstand a cutoff in their profit margins up to 15-20%, and only small spinners would be more affected. Some others argue that spinners have withheld the stock instead of releasing them during the time of demand with an expectation of a further price hike. Yarn market is anticipated to remain unstable until September-October of the current year, with a possibility of increase in demand and price thereafter.
Export demand for cotton yarn is also not much, as countries like China are seeking to sell yarn. Global and domestic demand for yarn is also low. This has slowed down yarn sales, pulling the prices down. Textile mills have already decreased yarn prices by 10-15%, and a further decline is feared to hurt their operations.
Global production of cotton is predicted by analysts to exceed mill use in 2011-12. This would end in stocks recuperating to 10 million tons approximately. Industry players positively expect the prices to stabilize soon.
References:
1) Cotton International Magazine
2) Business-standard.com
3) Thedailystar.net