After racing for the past six months, cotton prices have started dipping. With a lackluster demand, spinners, ginners, and exporters are having sleepless nights. But as two sides of a coin, is this; a good sign for the industry in the long run?
Cotton prices are experiencing a falling trend both in the domestic and international markets. Huge inventories, delay in placing orders, and cancellations of existing orders are depressing industry players. Market is anticipating a further decline in the price trends. Cotton prices are in a roller coaster ride. It experienced a peak in the beginning of 2011 at levels unseen in the recent past. Due to a tight supply, and strong demand in the global forefront, market faced a bullish situation and prices shot up in January. But as a sudden twist of trend, prices started declining, losing more than 40% in the second quarter of 2011.
Impact of the Global Price Decline:
Falling price of the commodity, and its disastrous consequences are the major concern for developing countries. The two parties involved in this process, the growers and the merchants; have conflicting interests. Both are in business to acquire profits. Growers seek to maximize their profits by cultivation, while merchants would try to earn more by marketing them. Growers will fix price based on input costs of production while cotton merchants will like to fix prices based on global price trends. When there is a declining price trend, then conflicts rise in deciding the producer price.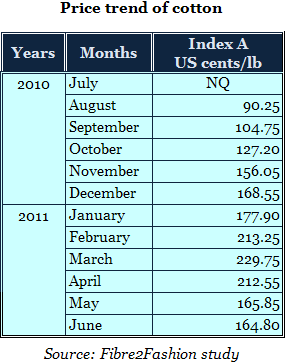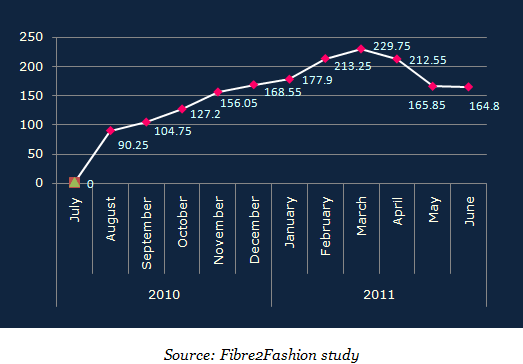 The Apparel Industry Impact:
This is a reversal situation for apparel retailers, who were grappling with higher costs the previous year, and contemplating how much of these increased costs they can pass on to their consumers. Now, with the plummeting costs, retailers still wonder whether this will last, or the roller coaster ride will continue.
Effect of declining cotton prices would not have their impact on the apparel prices till 2012. But still, apparel makers; currently are in a situation to decide prices for their merchandise, whether they would continue to charge more thereby acquiring a wide profit margin, or curtail their prices, giving the consumers, the benefit.
The Industry Plight:
Demand in the domestic, and global market is dipping. This is due to the consumer's fading interest in cotton products due to its increasing prices. Industry experts believe that the sky-scraping prices of cotton during the recent past have dampened the demand for cotton, and cotton products. Furthermore, shortfall of gas and power is also hindering spinners.
The sudden fall has put the industry under pressure. Cotton prices which were ranging around `61,000 per candy (356 kg), fell to `38, 000 per candy. Price of benchmark Shankar 6 variety ranges around `38, 000 per candy. Cotton acreage across India has increased by 15-20%, and there is a stock of more than 6 million tones with trader, ginners and exporters. Currently, the spinning mills are operating in less than 50% of their capacity. With an expected arrival of new crop in September-October, the existing inventory is likely to increase, causing the industry players to have sleepless nights.
Business Standard reports Vinod Ahuja of VRA Cotton Mills saying, "the present situation may have serious repercussions, as farmers have sown larger areas in anticipation of higher prices but the unprecedented price reversal may put them in debt". Exporters feel that exports should be put under open general license, as they cannot take Letter of Credit before knowing their allotted quota.
Due to sluggish demand in cotton, yarn prices have also plummeted. Spinning mills are selling cotton yarn at a price which is 16% below the production costs. These yarns are spun from cotton purchased for `55, 000 `63, 000 per candy. Currently, the prices have dipped to around `44, 000 per candy. 40's combed yarn which was once sold at `240-250 per kg is now sold for `200 - `205 for a kg. Spinners do not have any other option, than to sell the yarn for lower rates.
Is this a good sign in the long run?
It is also asserted that falling cotton and cotton yarn prices will benefit the industry in the long run. Analysts feel that the current situation will increase the demand for cotton, and cotton products. But, companies that have inventory levels at a high value will have to take the heat of the declining prices for a temporary period. Companies that are holding stock cotton will suffer profit margins when prices fall. Companies that are buying cotton at the current stock rates, and selling at the current rates will not be affected by the price decline.
Moneycontrol.com quotes Sunil Khandelwal, CFO of Alok Industries saying in an interview with CNBC-TV18, "At the macro level, and if you look at long-term perspective of the industry, this fall is definitely a good sign. This will lead to the demand for more and more cotton products, but if you look at its micro level, it depends upon how the inventory levels individual companies are carrying. If they are carrying at a high value for some time, then they will have to take a hit of this reduction in the price".
The sudden plummeting of cotton and cotton yarn prices has evoked a mixed reaction among the industry players. While some fear the consequences, a few other are optimistic about the long term benefits, the price decline is likely to bring. Whatever it be, prices are expected to be stabilize soon, resulting in a positive situation in the logistic issues, liquidity crunch, and other aspects.
References:
1) Business-standard.com
2) Moneycontrol.com
3) Online.wsj.com
4) Seatini.org
Image Courtesy:
fineartamerica.com