Malkhafabric is a term derived from malmal and khadi. It is a new age fabric, whichdepicts pure cotton cloth made directly from raw cotton in the village close tocotton fields. It combines thousands of years of traditional Indian principlesof cloth making with modern small-scaletechnology where the whole chain of cotton production is village based thuscombining the properties of malmal and khadi.
Thehandloom textiles are very popular in India as well as abroad due to its hugediversity as each region has its own particular weaves which make themdistinctive in nature. Cotton textile making has long been India's biggestindustry, with hand loom fabric being its major part, but today there is crisisin both cotton farming and in handloom weaving. The reason for this may befirstly, that Indian farmers who are growing cotton are caught in the trap ofhigh input costs, growing only the kind of cotton, which spinning mills canuse, with no safety-net if the crop fails. Almost all the cotton grown today isderived from American varieties, suited to machine processing because of itslonger staple, but which needs irrigation. Traditional Indian varieties on theother hand used to be grown as rain-fed crops, intercropped with pulses. Modernmachinery needs longer and stronger staple to withstand the increasing rigoursof higher-speed processing, but the American cotton that produces the longerstaple does not necessarily produce the best cloth.
Secondly,handloom weavers get yarn in hank form only at the whim of the spinning mills,so there are often unexplained shortages of particular counts. The mills makehigh-twist yarn for mechanical weaving, while hand looms can use yarn with lesstwist which would give the cloth better absorbency and colour holding. Further,the baling and un-baling which are integral parts of conventional spinning addto infrastructural and running costs. These processes damage cotton fibre,diminishing the valuable natural qualities of cotton - elasticity, absorbency,softness, durability.
So,there is a constant demand for bringing the cotton producer and hand loomweavers together. The malkha innovation is said to close the gap between thesetwo. It puts the whole textile chain all through the stages of cleaningaligning twisting drawing spinning and weaving from cotton to cloth in thevillage. The malkha chain links farmer to weaver, maker to user tapping theabundant natural energies and native intelligence of village folk, to make themindependent producers.
Thesefabrics are woven by skilled weaver families on hand looms in the Indianvillages from cotton grown by smallholder farmer families. The malkha processputs the intermediate stage of cotton spinning back in the village, making theentire textile chain from cotton to cloth village-based. The newly designed machines putsophisticated modern technology at the service of the village, on a humanscale. They handle the delicate cotton fibres gently, avoiding the force andviolence of conventional processing, keeping the springiness of the live fibresall the way into the cloth. That's what gives malkha fabric its swing anddrape. Malkha fabric is soft, it breathes, absorbs, holds colour, and reflectsits handmade heritage in its texture.
This initiative is havinga very positive impact in creating rural employment and also it is providing aprofitable marketing outlet for cotton farmers of the area avoids baling andun-baling of cotton by heavy machinery and unnecessary transport. Malkha clothhas tremendous demand in both domestic and export markets and it is creatingentirely new channel for rural employment for weaver families, farmers,unemployed youth etc. Scaling up of this project will create sustainablelivelihoods in different production centers located in rural areas.
As part of non-farm sector livelihoods development, Malkha initiative has been encouraged by Society for Elimination of Rural Poverty (SERP) to stabilise the livelihoods of rural weavers and cotton farmers and skilled youth. DCYT (Decentralised Cotton Yarn Trust) has established three mini spinning units in Chirala (Prakasam), Sircilla (Karimnagar) and Punukula (Khammam) and one unit being constructed at Burugula, Mahabubnagar.
The cumulative outcome of three projects is that, they are running successfully and providing employment to handloom weavers, rural disadvantaged youth and women from BPL segment and also giving tremendous boost to cotton farmers. The first unit has been running successfully in Chirala in Andhra Pradesh for the last six years and the cloth produced through this process is quite in demand.
Renowned Fashion Designer Tarun Tahiliani in his designer's collection for his grand finale show at the Wills Lifestyle India Fashion Week (WIFW) Spring Summer 2011 in Delhi stressed on traditional techniques and showed his collection which was made of indigenous fabrics like malkha (malmal and khadi) for his pret collection.
In fact, for the last six months, Tarun's been working with the team of the Hyderabad-based project malkha for incorporating the fabric in his collection. The resulting ensembles, says Tarun, are stunning. He added, "We've had a wonderful interaction with these people on malkha. It's a beautiful fabric to work with."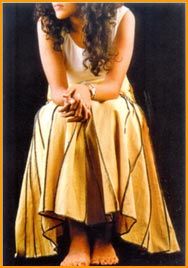 Designers Aneeth Arora, Peter Ascoli and Mayank Mansingh Kaul have also collaborated to present diverse and contemporary interpretations of the fabric, malkha and their joint works were presented at Melange. According to them, malkha is essentially organically grown cotton; the textile hand-manufacturing lends a sustained source of livelihood for the craftspeople, which the malkha project strives for. Ensembles like shirts, kurtas, Indo-Asian tunics, dresses and evening wear made by the designer trio for Melange.
Thus it can be said that the malkha process explores an alternative to the present situation where both farmers and weavers are dependent on spinning mills, a way in which both farmers and weavers could benefit from each other, and in which spinning could also become a rural occupation. Though the process uses the same amount of power per spindle as conventional spinning, it economises by cutting out baling, unbaling and blow-room. Since the use of electricity is distributed, it would be able to use small-scale alternative power sources in the future. Relatively little investment is needed, compared to the huge capital costs that large-scale industry requires, and capital and investment would be distributed since each part of the activity is of proportionate scale.
It is the missing link in a fully rural cotton textile industry using local raw material and local skills. Not only would it create more employment, the links between farming and local production would strengthen rural society both socially and politically. It is an initiative to keep the soul of hand looms alive.
The author is an Assistant Professor with National Institute of Fashion Technology, Mumbai.