"A beautiful blend of Cotton, Silk thread and zari results to Chanderi fabric"
A Chanderi fabric is famous by the name of Chanderi town in Madhya Pradesh. The fabric is a result of traditional methods of hand weaving that have been developed over the centuries and passed down through generations. Chanderi is primarily a weaver's town, located near the river Betwa in Guna district of Madhya Pradesh. Around 60% population of Chanderi are involved in the manufacturing of Chanderi.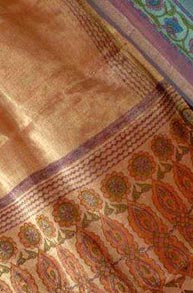 As the fabric is woven by three kinds of threads the Cotton, Silk thread and Zari are imported from other regions in India as well as China, Japan and Korea. The chemical dyes are preferably used due to their fast acting quality. Traditional looms are used as a primary means of production. These include Pit, Dobby and Jacquard Looms. Most Chanderis have a rich gold border and two lines of gold on the pallu. Some have gold checks or little motifs (known as butis). The weavers involved in the process are long standing in trade and are well experienced. The Chanderi fabric is light weight and has intricate designs.
The government from time to time also spends money and conduct work shops to train and educate them about the latest design and its quality control.
The Chanderi Fabric is also well known for its transparency and sheer texture. The transparency is a unique feature, which is not commonly or found in any of the textile product all over the country.
The transparency in Chanderi Fabric products is the consequence of Single Flature quality of yarn used. Flature yarn is the quality of yarn when the glue of the raw yarn is not taken out. The degumming of the raw yarn gives shine and transparency to the finished fabric. This quality is not found in any other fabric of the country and it is exclusive to the Chanderi Fabric. The special transparent yarn is used both in warp and weft of different varieties and configurations. The transparent yarn is cotton and as well as silk also.
The yarn used in Chanderi fabric is of high quality and extra fine. Because of non-degumming of the raw yarn, the finished fabric produced is extremely transparent and which in consequence result into sheer texture.
This type of Fabric producing is family business in Chanderi and all the family members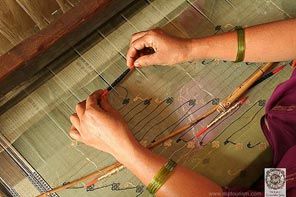 are involved in this process irrespective of caste and creed.
At the Lakme Fashion Week in March this year, Designer Vijay Balhara used the fabric to create his resort line collection and he feels "The sheen and transparency of Chanderi make it feminine and the fabric is so light that even if 20 metres is used in a dress, you won't feel the weight. Its the perfect year round fabric for India"