Nepal lies in the ice-cold mountains, draped along the heights of the Himalayas. The land of yaks, yetis, stupas, and sherpas; the country's apparel sector is currently providing the impetus for strategic industrial policy transformation of import substation into export promotion. Known for its world class artistic, and architectural heritage, Nepals apparel industry has the potential to give a turnaround to its stagnant industrial atmosphere.
Contemporary apparel industry of Nepal is almost a decade and a half old. Earlier the country exported only traditional apparels in limited numbers, and to limited countries. It experienced a meteoric rise due to domestic and foreign interplays. When other Asian countries were hit by the quota system of Europe and America, Nepal's apparel industry got the much needed boost. The industry grew significantly during the last decade.
Most of the apparel factories in Nepal are established with financial and technical collaboration with Indian industrialists. Many apparel factories run on finance from across the border, and for shipment purposes, it is done through Kolkata, or Mumbai sea ports. As Nepal and India have open borders, more number of Indians, work in Nepal's garment factories.
Apparel exports of Nepal into the Indian Market:
Apparel industry of Nepal is mainly export based, and hence faces fierce competition with other countries. Garment sector has made a considerable contribution to the countrys foreign revenues, and consequently for its growth. It provides direct and indirect employment opportunities to more than hundred thousand people, proving itself as the second leading source of foreign exchange. EU, India, US and Germany are the main markets for exports from Nepal.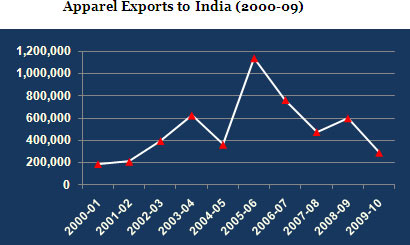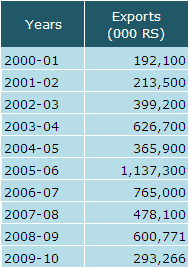 Apparel exports of Nepal increased by 20.8% reaching `1.85 million during the beginning of 2011. Garment manufacturers request Government aid regarding the extra fines on advance payments for raw material imports. Government has been levying an extra fine on the bank guarantee which apparel makers get to offset their losses, if any. They also expect soft loans from the Government.
To get an elaborate idea of Nepal's export market, the News Desk of Fibre2fashion, had a talk with Mr Uday Raj Pandey, President - Garment Association of Nepal (GAN).
How is the current apparel export market for Nepal?
"Since last 4-5 years the clothing export market is very slow from Nepal. Earlier the main market was USA, but now we also export to the European Union (EU). EU for instance, accounted for 60% of exports. The business is slow due to political instability. So, buyers are not sure if they will be able to receive the goods on time. Consequently, Nepal is not receiving big orders, while only small orders are coming, mainly from Europe ".
What initiatives are taken by GAN to boost apparel exports?
"Our target is not to let exports fall, when compared to last year. Now we are concentrating on increasing exports to the US, Europe and India ".
How is the Indian market?
"Currently India is developing in to a big market for Nepali clothing. So, we are targeting India also, because India is very near to Nepal. Big stores from India are also sourcing goods from Nepal for their branded stores.
Fabric from which the apparels are produced comes from other countries like China and Korea, after which the garment is produced in Nepal and then sent to India because, that type of fabric is still not available in India. Secondly, we are catering to the small orders because they are more value added, but can be handled by even small factories in Nepal and hence we are marketing in that sector.
We are talking to the labor unions and trying to negotiate, so that going forward there will be no problems and all shipments can be dispatched on time and in another year, we hope to be able to get big orders. Even now big orders are coming to Nepal but the problem is labor ".
How do you predict exports for 2011?
"This year, in the budget the government has given some 2-4% export subsidies to the exporters. So hopefully, that will benefit us to increase our exports ".
Though readymade garments are one of the biggest export items of Nepal, political instability of the country has hurt the growth of the industry. Power crisis in Nepal has increased the cost of production, thereby causing a considerable decline in profits. Despite the hurdles, garment manufacturers are doing well, and apparels are cheaper, comparatively over Chinese clothes.
References:
1) Data source: Garment Association Nepal (GAN)
2) ganasso.org
3) thehimalayantimes.com
Image Courtesy:
1) crystalgraphics.com
2) xinhuanet.com
3) images2.sina.com