Thedays are gone when kids used to wear everything and anything that their parentsused to choose for them. Now kids always want to be dressed in fashionableclothes as they want to be a fashionable kid. They want to be dresses inattires of their own choice and have their own favourites. Kids wear has a lotof variety which includes kids fashion clothing, kids nightwear, kids readymadegarments, kids rompers, kids tops, kids knitted wear, kids winter clothing,kids summer clothing, organic clothing. It is important for parents toencourage creative choices, it is always better for a kid to choose style theyfeel comfortable as they desire to attract the attention of kids of their age.They want to choose their clothing from designer collection for kids. Alwaysencourage child to choose colours and style they like, as opposed to settingfor what everyone else tells them to wear as eye catching colours andattractive designs tells their personality and style also help them to standout of the crowd and this will attract the attention of people of all agegroups. Childhood is the learning phase of life, where children should take upgood things in life; develop good taste on everything and today kids are veryconscious about dressings and their appearance. On the top of that parents arevery keen to spend on this occasion. A number of factors should be taken intoconsideration before buying clothes for children, some of these are:
1) Comfortable: it is important thatthe clothes should be comfortable. Make them select their clothes as well thiswill be happy wearing what they select, this way they will be happy wearingwhat they select, this will add to their confidence and self esteem and theywill also develop their fashion sense. The fabric should be smooth and notirritate the skin. It should be light weight.
2) Climateand fabric:The fabric should be selected according to the climate to make it more suitablefor eg: during summer cotton clothes should be preferred as cotton absorbsperspiration easily. Now days organic kids wear are in demand and gainedpopularity due to various reasons, the entire cloth is designed from high gradeorganic cotton, which allows the sensitive skin of children to breathe andprevent from rashes and allergies.
3) Easeof Dressing and Undressing: Tight dresses should be avoided; they tend to havelarger stomach. Children wear must have sufficient seam allowances and mustoffer styles so that adults and children should be able to wear and remove thegarment easily.
4) Fasteners: Kids wear should nothave drawstring as they have tendency to wind around the child neck and causedanger. Fasteners should not be attached in the wrong place which may hurt thekid. They should be soft, warm and porous and for babies elasticised garmentshould be avoided.
5) Trimmings: Trim can make agarment special to a child like decorative machine stitching, embroidery,smocking, ribbons, braid, ruffles but keep in mind hard materials having sharpedges should not be used in babies garments as it may harm the tender skin.
6) Opening: For kids full opening should be preferred. Always use Velcro as kids just love having Velcro on their clothes as it is easier for them to change their clothes.
7) Flame retardant: The fabric should be flame retardant as children love to experiment and may play with fire as they are unaware of its harm effects.
8) Ease of dressing: Tight dresses should be avoided as they tend to have larger stomach. Children wear must have sufficient seam allowances and must offer styles so that adults and children should be able to wear and remove the garments easily.
9) Design and Colour: Clothes should express simplicity and at the same time be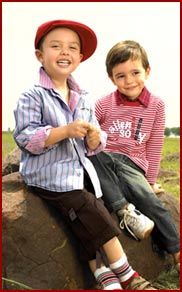 smart. It again depends on occasions and the upbeat style, eye-catching colours and splendid designs of their clothing define their style statement. Kids always like jazzy colours and cranky designs with multiple colours.
No matter how strange you may think their choices, it is always better for a kid to choose styles they feel comfortable in wearing as opposed to following what everyone else is doing. When guiding your child clothing choices, help them to understand the role that certain events play in their wardrobe choices. Encourage them to choose colours and styles they like, as opposed to setting for what everyone else tells them to wear. Dont try to do everything for them before they have a chance to try it out on their own. Its always good to go as per kid choice and also keep in mind the above factors to make the right choice and also make your kid happy as well as satisfied.
The author is faculty with Satyam Fashion Institute, Noida
Image Courtesy:
shalwarkamez.com
ftv.co.in