Benaras (Varanasi) is prominent place for production of unique design fabrics of various kind using different yarns made up of fibres such as Silk, Cotton, Polyester, Nylon, Zari (Gold, Copper, Silver) etc. Field visit across Varanasi in areas such as Lohta, Shivpur, Pandeypur, Mehmoorganj, Nati Imli, Bari Bazar, Mubarakpur, Bhelpur, Visweahwarganj, Kotwan, Belupura etc. during the period from September 10 to August 11 shows that there is decline in demand for Handlooms, but higher demand is for Power loom (1 x 4 Pick and Pick loom) and Shuttleless looms (Flexible rapier weaving machines).


Power looms and shuttleless looms can produce designs akin to handlooms, but handlooms are ultimate for producing unique Benaras design on fabrics, since it is operated manually and technology constraints are less to produce fabrics. Though unique designs are possible in handlooms, there is increase in demand for Shuttleless looms (Flexible rapier weaving machines) preferably and followed by Power loom (1 x 4 Pick and Pick loom). This information was collected from Entrepreneurs who are from different textile field (Respondent) of Varanasi. Figure 1 shows % respondents out of 30 persons interested in installing Shuttleless looms (Flexible rapier weaving machines) in their industry.


Figure 1 shows % respondents interested to install shuttleless looms who are from different textile field.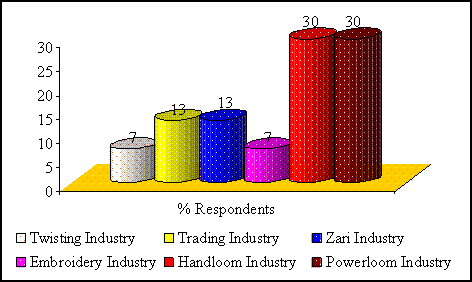 Respondents informed that they prefer the flexible rapier machines based on the following parameters that satisfied them. Figure 2 shows parameters (such as Production, quality, throughput time, maintenance, labour issues, and profit) as % customer satisfaction that indicates rapier looms are in demand at Varanasi compared to other looms (Hand loom and Power loom) which are of less % satisfaction as informed by the entrepreneurs.
Figure 2: Respondents answer for benefits of installing shuttleless loom expressed as % Customer satisfaction.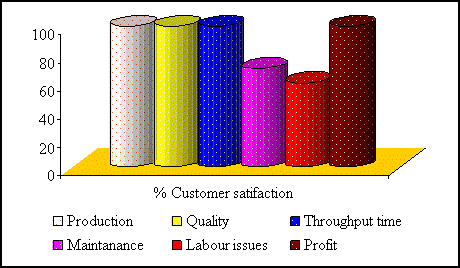 Reasons for shifting from their current business to weaving industry i.e., specifically interested in installation of Flexible rapier weaving machines are as follows:

* Organization focuses mainly on profit making in their business. As there is demand for materials/
fabrics produced at Benaras such as dress materials, Sarees Furnishing etc, in domestic market
(Varanasi, New Delhi, Lucknow, Bangalore, Coimbatore, Gujarat, Chennai, Chandigarh etc.,) as
well as abroad, Entrepreneurs inform that Rapier machines are better technology as it is available
for lower price (24 Lakhs depending on Chinese loom or Branded loom made in India), higher
production, better quality and products are supplied to the customers in specified time and
making profit is possible.

* Zari yarns ( Yarns coated with Copper, Silver or Gold) marketing has become difficult as prices
of Copper, Silver or Gold has gone high and projected market demand is low but marketing of
rapier machine produced fabrics are high.

* Trading Entrepreneurs feel that investment on Rapier machines is low and it is possible to get
better profit as well as they are linked to old customers who need fabrics and search for new
customers need not require, but still they are interested for expansion.

* Entrepreneurs from handloom and power loom sector inform that prices of Silk and other yarns
have gone high, controlling labour issues such as better salary, skilled labour and migration to
other business may be less by investing on rapier machines and products are expected to sell
better in domestic as well as in export market.


To conclude, presently, shuttleless weaving machines (Flexible Rapier) have high demand in Benaras (Varanasi) as it is informed by entrepreneurs from different textile field for their better production, quality and customer satisfaction (products supplied in time). Another point is though focus on handloom is declining at present situation (year 2011) demand for Rapier machines are increasing as evident from our study and installation of these machines are expected from hundreds to multiple of hundreds in few years.


The author is associated with Textile Testing Laboratory, CSTRI, Central Silk Board, IHT Campus, Varanasi.