Cotton and cotton exports have always been a matter of discussion. Following the price increase for natural fibres in the domestic market, the Government had earlier put restrictions on the export of cotton. Currently, the Government has removed the export restrictions, and has put cotton exports under the Open General License (OGL). Under this declaration, exporters are free to export any quantity of cotton they wish. They only need to register with the DGFT (Directorate General of Foreign Trade).
The Government has declared that, there is no export restriction for cotton in the coming season beginning October 1st. This is a joint decision taken by the Ministers of Finance, Agriculture, and Commerce. Indian cotton production runs from October to September. With high seasonal inventory of cotton, and a crash in cotton prices up to 50% in the recent months, Government has decided to relax its restrictions. Cotton production is hooked over 35.5 million bales, while the domestic demand is anticipated to be around 26.4 million bales for the coming season. This is expected to leave enough room for exports.
Cotton price trend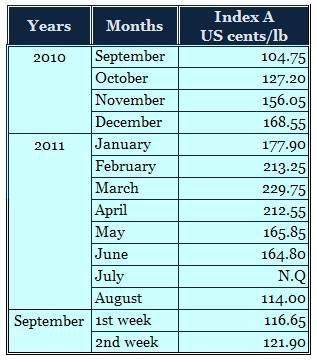 Source: Fibre2Fashion study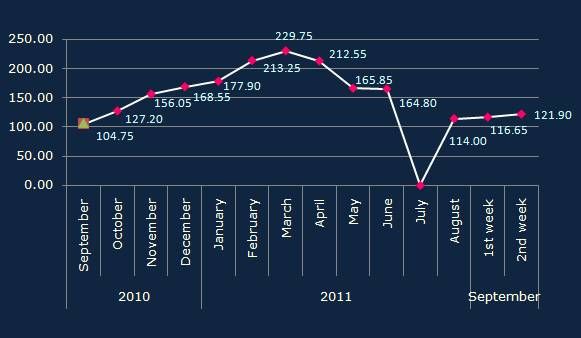 Source: Fibre2Fashion study
During the previous year, India; the second largest producer, and exporter of cotton raised a ceiling on the exports to control the soaring prices. A cap of 5.5 million bales was issued.
Past year's production were 32.5 million bales. There were high inventories of cotton due to which prices crashed. Shankar-6, the benchmark variety, and highest exported variety of cotton from India crashed from `63, 000 per candy to `30, 000 per candy. Currently, prices have stabilized to `38,000.
Resultantly, the Government had permitted an additional export of one billion bales above the permitted 5.5 million bales during July this year. However, this move was highly criticized by many ministers, and finally the Government has declared about removing the export restrictions.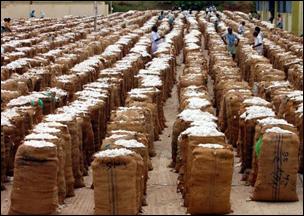 The Government has also declared that it is no longer essential to furnish bank guarantees for the registration, and export of cotton. Earlier a cotton trader, while exporting cotton needed to register a contract with the DGFT. The exporter was required to submit a performance guarantee in the form of bank guarantee for 2.5% for the value of cotton to be exported, or `1 lakh; whichever was more. He also had a deadline to export the
shipment within 30 days. Currently, cotton exports will continue to remain free. This relaxation will be available to exporters from October 1st onwards.
A USDA report states that India is likely to adopt a less restrictive export policy so as to avoid fall in the domestic prices of cotton, due to increased output in other countries such as China. It further forecasts that, following the relaxation, cotton exports are likely to jump 21% during 2011-12 to become 8 million bales.
Unlike last time, the current declaration by the Government has come with a much relaxed criteria. Estimates of the Cotton Advisory Board (CAB) states that total production would be 35.5 million bales against the 32.5 million bales of the previous year. Domestic consumption is anticipated to be 26.4 million bales for 2011-12 against 23.6 million bales of the past year.
Global production of cotton is predicted by analysts to exceed mill use in 2011-12. This would end in stocks recuperating to 10 million tons approximately.
References:
1) Dgftcom.nic.in
2) Theindianawaaz.com
3) Business-standard.com
4) Thehindu.com
5) Textileviews.blogspot.com
Image Courtesy:
thehindu.com