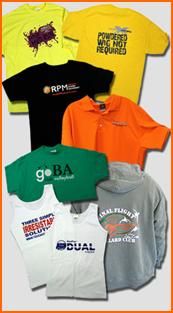 There are thousands ofways to market your company, but investing in logo apparel is a way to reallyget your name out into the eyes of the public. Your company logo imprintedacross various items of clothing will travel everywhere its wearer goes. And asa result, everyone with whom the wearer comes in contact with will take not of your brand.

Due to the fact that logo apparel is seen by many people, it is important topick the right item in order to portray your brand in the best light. However,there is a wide variety of logo apparel available, and it can often be trickyto know how to choose an item that will fit with your target audience orpromotional needs. Shopping for logo apparel online can help you solve thisproblem; a promotional products website allows you to compare items side byside. In addition, many promotional products suppliers have dedicated accountteams that can provide suggestions and help you find items to fit your event.
Areyou attending a trade show and want to increase brand recognition? Logo apparel can provide the perfectsolution. Outfit your employees in matching polo shirts, branded with a companylogo, and opt to give hats or cotton t-shirts to attendees as giveaways. Orperhaps you are looking for logo apparel that can enhance brand loyalty amongststudents on a college campus. Promotional flip flopsand beanie hats are ideal items for younger audiences. Looking for items formore mature audiences? There are many different promotional golf apparel itemsthat are available to be customized with a company name and logo. In fact,spending your advertising dollars on apparel for the golf course can beincredibly cost-efficient and effective, as many important business meetingstake place on the green.
Asyou can see, logo apparel comes in a variety of styles. It also comes in anarray of colors, sizes, and materials too. You can find hats, t-shirts, poloshirts, sweatshirts, jerseys and outwear in varying hues, so you can alwaysmatch your giveaways with your company's logo. You will also find logo apparelin corresponding men's and women's styles, so you can ensure that allrecipients look their best while still keeping your team or department lookingunified. And, logo apparel is an ideal way to promote your brand year-round.For example, lightweight t-shirts and custom caps with moisture wickingtechnology make great giveaways to keep recipients cool during the hot summermonths. Vests and fleece jackets, on the other hand, are ideal corporateholiday gifts during the cold winter months. Due to their high functionality,recipients are likely to keep their logo apparel for months to come. After all,everyone loves a free t-shirt.
Thus,if you're looking for a fun and effective way to market your company, choosefrom the wide selection of logo apparel. And, if you need help finding theperfect item for your event or target audience, be sure to shop online througha promotional products vendor.
Source: http://www.articlealley.com/
Image Courtesy:

smartermediaok.com
angus7retirement.com