Revolutionizing Opinions for Jewellery Designing
It's a good time to think of jewellery designing as a career option. Till barely 10-15 years back, jewellery designing was confined to a few goldsmiths. "But nowadays things have changed"
People are very image conscious. They don't want jewellery as a symbol of financial security but to make a fashion statement and also as trends wear that suits different occasions.
Jewellery worldwide has evolved over hundreds of years and has a rich past, it is difficult to evaluate its profundity or intricacies as a subject. While the east boasts of rich, exotic jewellery, the west has given classic and innovative jewellery. Today, we stand at the threshold of the new and unknown wherein, the new will definitely derive inspiration from the past and the known.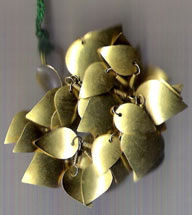 One of the major trends today is the confluence of the east and west. In the desire to the different, we see everybody around us grasping and combining anything they can lay their hands on, the result being confusion. It is easy to create exotic jewellery if we remember the concepts of designing. Different techniques of decoration are used on gold to give added value to the design. Piercing/cutwork/openwork gives different look to Jewellery and during this process area in the metal is cut out to create an openwork effect this gives a design element and makes the piece lightweight. Enameling, Filigree, hammering, texturing, chasing, all can add a lot of meaning. Design cannot be proved that it is good or not but it can be sensed, felt and modeled or simulated and tested through that route. Design is an act of faith and a matter of judgment. Faith by itself is not a bad thing if we can support it with experience in the real world and from our imagination of what can be achieved and what needs to be achieved. However, design thought comes in the first category, faith based on experimental insights and on informed intentions. The depth of design, the fall and the right placement of stones are factors often neglected.
Another point to notice is that surprisingly, theme based jewellery is not attracting much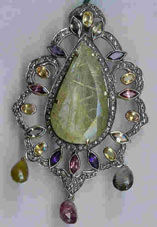 attention. It is time designers came of their own and launched experimental collections with new concepts. The ideal situation would be if all jewelers could dedicate a section of their showrooms to new, experimental jewellery, and encourage new talents and ideas whether from craftsmen or designers. To work on a particular concepts designer should collect images and styles to show how their creation will look. Designers can apply a concept to your entire collection of different concepts can be used for to different occasion or collection. Still designers are working on theme based designing because creating a theme is easy, and they can make any design into a theme within minutes. Some themes recently used by designers are 'a journey' through colours, Dancing Peacock, autumn, Ethno Contemporary.
Jewellery in ancient era was an art form and had a deep significance. The people considered gold the abode of God or Goddess, while silver had an association with the Moon. The form of ornaments revealed status and position but today, jewellery has been relegated to an object. We must preserve our tradition. Though a lot of our present jewellery retains from which are ancient, we do not know their importance.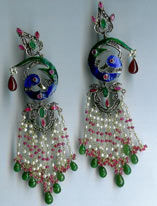 There is not much attention being paid to the study of jewellery. There are very few books and magazines available on Jewellery, a subject so close to the heart of all around world. There should be more schools which houses a museum and research centre dedicated to this study, its evolvement over the centuries and, to the development of modern forms and techniques. It can then publish research papers and interactive journals. All prominent jewelers, craftsmen and designers could come forward to aid in this mammoth task. Besides jewellery industry innovative design action, we can look forward to new initiatives in the social and public space if the real benefits of design are to reach the public at large.

Another issue of concern is hallmarking. It is very important for the government to intervene and bring about standardization in levels of gold purity because it is a growing issue of concern to all consumers. The trust in jewelers is somehow misplaced and in uncertainty, people go showroom hopping. The importance of the family jeweler seems to be diminishing. One of the other reasons for this trend is design hunting. Design is gaining prominence. Hence, as an industry, we need to pay more importance.

This can only happen if we are able to take the understanding of design and layer it with a new strategy of innovation that can be set in motion in a cooperative framework going forward. Jewellery Design schools have a role to play in shaping these frameworks and much of the initial explorations that are needed by society can happen within the classrooms of the future and these in turn will help us build scenarios that will be moderated by the community to actually build a desirable future for Jewellery industry.

Jewellery also need to be designed and with the growing realization of the value of differentiation through branding the sector has opened up new opportunities for the visual merchandising skills and graphic design in the retail space as well as in the print and web based promotional materials. All these applications would need an understanding of the unique needs of the high value jewellery marketing sector and procedures that could be incorporated at the point of sale as well as in the manufacturing situations.
To bring revaluation we should make international quality ethnic jewellery, & create a new stream of innovative, contemporary jewellery, both for the domestic and international markets. While we make inroads with new jewellery, we can work on creating a niche for our ethnic section in the same international markets. Sooner or later, we will achieve it.
The author is HOD & Asstt. Professor in Department of Jewellery design in The IIS University, Jaipur