Retail segment where 'Customer is the King' requires astute judgment of the shopper's mindset in terms of purpose and shopping budget. Understanding these key factors, and serving the customer accordingly, proves the key for success.
Retail has become a challenging business, with competitions popping out of the blue. Retailers who are able to create a distinct identity for their stores in the minds of consumers will be able to sustain in the market profitably in the long run. This requires building a customer-centric culture and monitoring the global trends on a continuous basis. It seems a distant memory to believe that, with all the available money, people just spend and buy everything they want. Every single cent is more valuable, and consumers are more focused on how they spend the money, and what they buy. Today's customer wants to be proactive, rather than reactive. Shopping on a budget has become popular. The key for successful retailing lies in three factors:

Generate customer value,
Provide perceived value and,
Be difficult to copy.
Market and customer segmentation is a management concept that keeps continuously evolving. This ever changing nature of retail makes it mandatory for the retailers to alter their selling modals so as to stay relevant in the market. Retailers need to predict their business performance accurately, and plan their strategies over a period of time.


Spending pattern of customers during periods of financial concern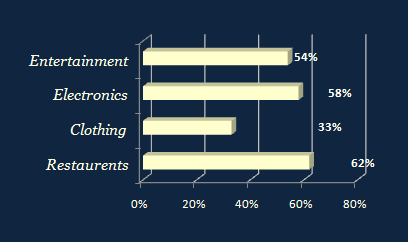 Many a times, there is a gap between what the customers expect, and what the retailers offer. In India, market segmentation is still at a budding stage making customer centric business approaches a little difficult. Indian shoppers tend to strike a balance between his affordability, and purpose; i.e., his wants.
13% of the Indians are habituated to wear similar clothing to work; wedding, formal parties etc. 50% of them have the opinion that international brands are more superior in quality. Unlike a consumer from UK or US, apparel shopping is a family event for an Indian consumer. Indians are proven group shoppers; either they prefer to go with family or with friends. Almost 70% of the Indians prefer to go shopping along with their family members, and feel that it is the best way to spend time with their family.
Customer centric approach in Apparel Retail: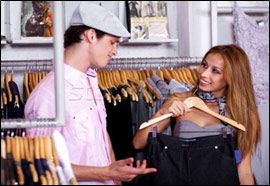 Connecting with the customers is one of the biggest challenges facing retail business today. Customer acquisition and retention are the key factors that decide the success of a business. Converting marketing leads into customers, and coming up with creative strategies to promote and advertise the product are the two areas which is vital for every business.
Traditionally retailers always ask the customers the purpose of purchase, and the budget. Merchandise is shown according to the requirement of the consumer. Retailers need to build a one-to-one relationship with their customers through personalization strategies to create a repeat and loyal customer base. They need to find out the preferences, on which their customers would be willing to spend money. Products such as clothing, food, footwear can be tailored as per the expectations of the customers.
Successful customer relations are mutually beneficial and long lasting. Retailers need to follow a harmonious equation of the customers requirement, and their shopping budget.
References:
"Leading on the Edge of Chaos", Emmett C. Murphy and Mark A. Murphy.
Image Courtesy:
stockfresh.com